Hazon Educational Library
Curricula, sourcebooks, and other educational resources from and for the field of Jewish Outdoor, Food, Farming & Environmental Education
This open source collection includes resources produced by individuals and organizations throughout the JOFEE field. While this resource will continue to grow and evolve, it currently includes:
• Hazon's online educational resources (forthcoming)
• Curricula produced by JOFEE Fellows during their Fellowship year
• Curricula and resources shared from partner JOFEE organizations
All materials are available for free download. Most are available for use and adaptation under creative commons license. Please cite authors and organizations on any materials used or adapted from these resources.
Use the filters in the bar below to narrow your search.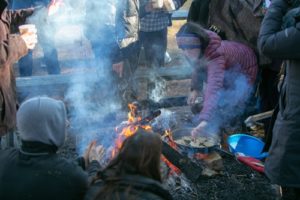 by Ryan Kaplan
Jewish Federation of Greater Atlanta
Participants will engage in an immersive reflective experience, through guided and silent meditation in a nighttime desert setting.