Hazon Educational Library: Food Systems & Food Justice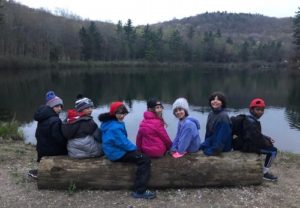 by Shani Mink
Pearlstone Center
This program presents students with the opportunity to delve deeply into the hidden messages of verse 50b of the Bava Kama (the stones text). Through text study, discussion and a hands-on activity, students will explore their relationship with the public domain. After investigating the myriad ways in which we might violate the public domain, students will actively nurture the public domain through shared intentions for community prosperity hidden inside a seed ball or planted beneath a tree.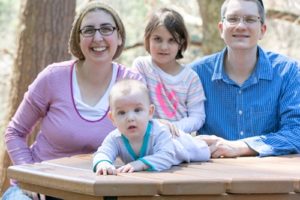 by Josh Kleymer
Mayerson JCC of Cincinnati
Through a small discussion and watching a Curious George video, the children will learn about how everyone produces trash and ways to keep said trash out of the landfill. The children will learn about composting and how it will benefit their garden. Each child will then get a piece of trash to separate into a trash bin, recycling bin or composting bin. While they are separating trash into the compost bin they will be making their own composter out of a soda bottle to keep for their classroom and watch the compost turn to fertilizer. We will then gather together for a wrap up where they will see some broken down compost and hear what they will keep from their class to put in the composter outside.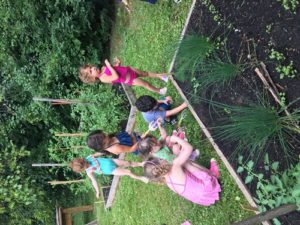 by Margot Sands and Elizabeth Dubinsky
Ekar Farm
In this program participants have the opportunity to think beyond their own garden and analyze two food systems at play in the world--local and global.Once students grasp these two simplified food systems that represent how our food is currently produced, they will explore which system aligns best with Jewish values.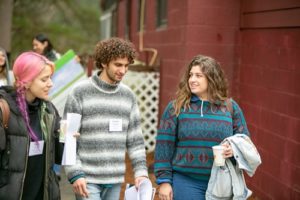 by Michael Fraade
Jewish Community of Louisville
This program brought members of the Jewish community together for a Shabbat dinner that highlighted local and ethically sourced ingredients while educating participants about issues of food justice in our city. The dinner included sharing stories, discussion questions, and conversations about ways to help promote equal food access. We partnered with a local food justice nonprofit to help facilitate the discussion and publicize upcoming partnerships between their organization and the JCC.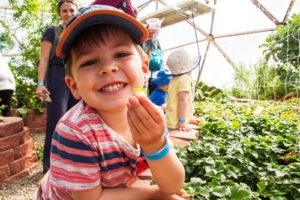 by Sofia Marbach
Wilderness Torah
This is designed as a one evening program that frames Shabbos as an earth-based technology of connection. This collective welcoming of Shabbat is designed for young adults ages 22-39 across the spectrum of religious observance (Jewish and non-Jewish alike). This 45 minute program is crafted to lead into Shabbat dinner or another gathering and can function both as a basic introduction to Shabbat practice for those for whom it is new, and a new earth-based framework for those already at home in Shabbat ritual. Also note this program is designed based on the 8 Shields model.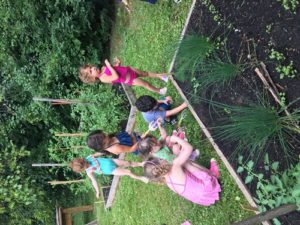 by Rebecca Remis
Eden Village West
Learn about and enact the value of peah through harvesting a delicious summer treat and decide how much to donate. Share the remaining bounty with the camp community. Experience the joy in working hard and sharing the abundance (through recognition in the dining hall, working with a community organization, and leaving camp for a field trip)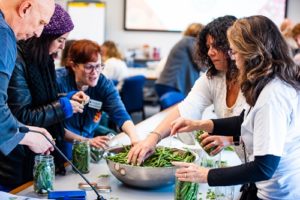 by Rachel Aronson
Hazon
This program provides an introduction to pickling and an overview of food justice issues. Participants will leave with a jar of pickles and knowledge of the pickling process, and with deeper insight into the importance of local food and workers' rights in the food system.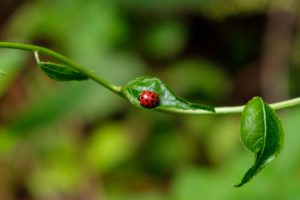 by Brenden Jackson
Amir / Shalom Farm Houston
This program uses worms to explore how all of G-d's creatures work together to create a functioning garden/society/world. Participants will get the chance to explore the diverse ecosystem of healthy soil, specifically worms, and how it is because of this diversity that our garden can thrive. Students will also draw connections to their own differences between classmates, other community members, etc to see how all folks have a role to play creating a happy world. Using a simple prayer, participants will be able to connect how a praise to G-d for ?varied creatures? can apply to both humans and animals/insects.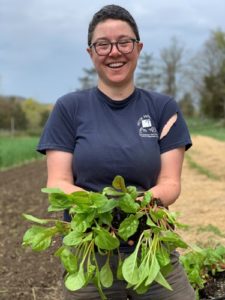 by Michael Fraade
Jewish Community of Louisville
This program celebrates the holiday of Tu B'Svhat and includes both traditional rituals and modern connections to environmentalism and eco-friendly Jewish practice. The seder takes place as a full multi-course dinner, incorporating the four traditional types of fruit into four courses. Between each set of courses is a relevant activity or discussion, including a keynote panel with representatives from local environmental nonprofits.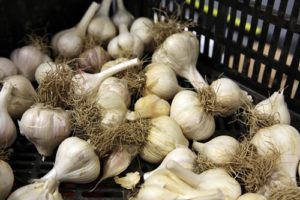 by Rose Benjamin
Urban Adamah
This program is an introduction to the workers within the American food system, ranging from migrant farm workers, to CEOs of large GMO's, to the average consumer in Berkeley, CA. This program reflects on the Jewish morals of Oschek (how to treat laborers) and explores this morals' relevance to our American food system. Lastly, this program encourages participants to reflect on their role as a consumer, and how to use their privilege and power in a positive way.
by Alex Voynow
Jewish Farm School
A pickling workshop taught with the magic of clowning pedagogy!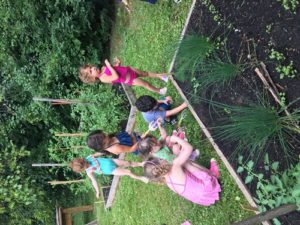 by Rachel Binstock
Urban Adamah
This program is an introduction to Jewish agricultural law. Pairing them with sustainable agriculture projects offers a taste of what it might have been like for our ancestors to follow these laws. Participants will have the opportunity to farm in small groups and to learn how many of our earth based laws also help us help our communities today.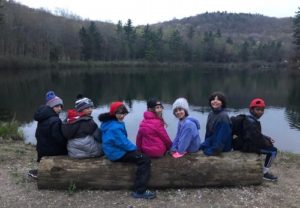 by Rachel Aronson
Hazon
This program can be incorporated into holiday programs for a harvest holiday (Sukkot, Passover, or Shavuot) especially during a Shmita year. It provides an interactive introduction to Shmita, including the basis of Shmita in Jewish text and the connection between Shmita and sustainable agriculture.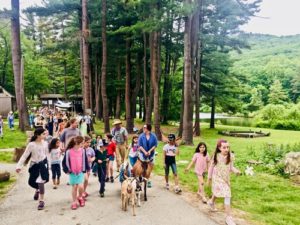 by Jared Kaminsky
Shoresh
This event is Shoresh?s 4th annual fundraiser celebrating our ten year anniversary. We gathered over 400 people to learn about our organization and our impact while enjoying delicious food in community. Our internal goal was to raise money to support our efforts, introduce new community members to our organization, and honour the many people who have been involved over the years.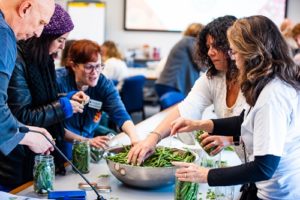 by Henry Schmidt
Shalom Institute
Understanding pollinators is an hour-long educational program that teaches about the importance of pollinators in our habitat. This program uses honeybees as a ?gateway pollinator? to teach not only the wonder of honeybees but also that their story is part of a much larger ecological phenomenon.