Hazon Educational Library: Food & Climate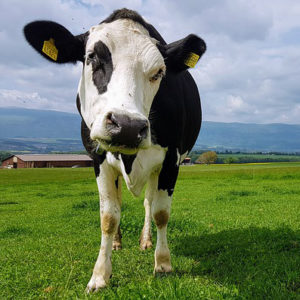 Hazon
The connection between industrial animal agriculture and climate change is significant. But why and how is that so? This two-page source sheet presents a string of data that tells a concise and compelling story of the connection between industrial animal agriculture and climate change. Based on the writings of Jonathan Safran Foer in his book We Are the Weather: Saving the Planet Begins at Breakfast.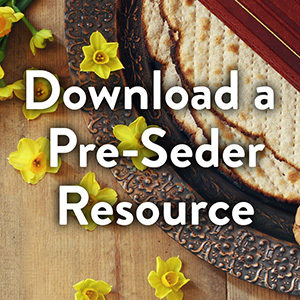 JIFA and Hazon
As you prepare for the Passover seder this year, consider using these four questions to help inform your own conscious food choices, and to enhance your discussions with family and friends during the holiday.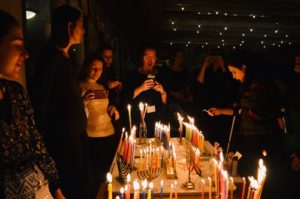 by Liana Rothman
Isabella Freedman
Three-fold workshop, which involves delving into the history of dairy on Hanukkah, making cheese and butter, and a discussion about the dairy industry and striving towards greater ethical consumption under capitalism, under the lens of our environmental crisis.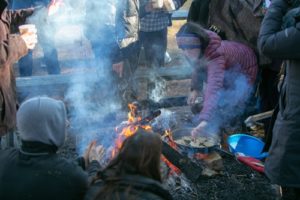 by Hannah Fine
Hazon Detroit
Breaking Bread Together was a community event of cross-cultural engagement over local, regeneratively grown, heritage grains.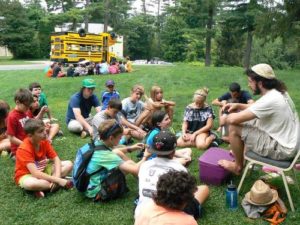 by Jessica Wolfe
Isabella Freedman
Students will learn how the Jewish holidays relate to the water cycle. We will look at the water cycle of North East United States & Israel to compare and contrast the differences between the water cycles in each region and the holidays that occur during those times.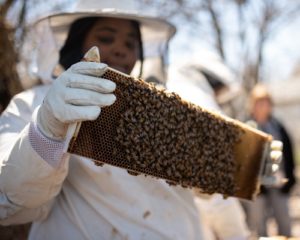 by Beth Denaburg
Shoresh
The series of programs focuses on the interconnections between Judaism, nature, and food - aiming to explore the threads of interconnectedness that bind people, plants, pollinators, soil, and Jewish traditions.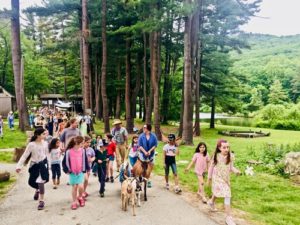 by Molly Sease
Milk and Honey Farm
This is a scavenger hunt style program designed as a celebration of Tu B?shvat, the New Year for the Trees. Through a variety of hands-on activities and exploration, students will connect with the holiday through the lens of contemporary Jewish environmental values and will learn the importance of self-and earth care as a whole.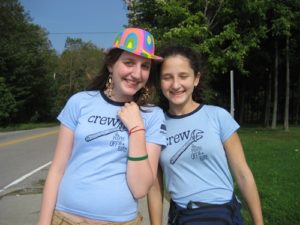 by Stephanie Salem
de Toledo High School
The goal of the program is to educate students and faculty about the global climate crisis and provide them with tangible tools as individuals and as a community to help combat the issue.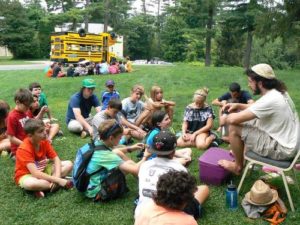 by Hannah Fine
Hazon Detroit
This curriculum engages students with the Topsy Turvy Bus and its sustainable attributes and teaches about sunlight and vegetable oil as alternative energy sources.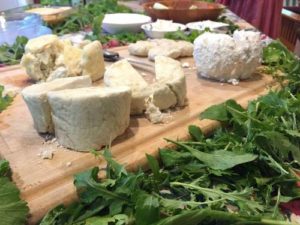 by Cole Siegel
Isabella Freedman
Participants will learn to make ricotta cheese from fresh goat milk, while digging into various Jewish and secular texts, guided by the question: ?Why do we eat dairy on this holiday??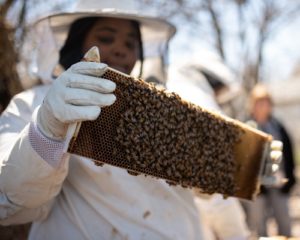 by Allison Blonder
Shalom Institute
This curriculum introduces honey, honeybees, and their connection to Jewish tradition.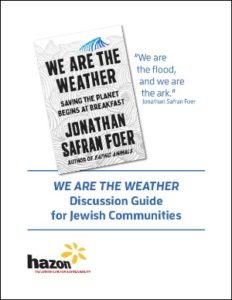 Shalom Institute
A discussion guide to We Are the Weather, the latest book by bestselling author Jonathan Safran Foer. Hazon created this guide to be used by Jewish educators to explore how Judaism compels us to respond to the current climate crisis.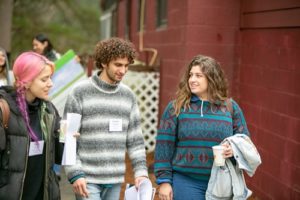 by Josh Kleymer
Mayerson JCC of Cincinnati
A Tu B'Svhat Seder is a fun experiential way to connect to a little known Jewish holiday, bringing to life ecological teachings, enjoying fruit from around the world, drinking good wine and of course fostering social connections. This year, with the help of the JCC Rabbi, the Mayerson JCC hosted their first Tu B'Svhat Seder for Young Adults.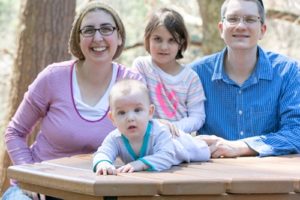 by Josh Kleymer
Mayerson JCC of Cincinnati
Through a small discussion and watching a Curious George video, the children will learn about how everyone produces trash and ways to keep said trash out of the landfill. The children will learn about composting and how it will benefit their garden. Each child will then get a piece of trash to separate into a trash bin, recycling bin or composting bin. While they are separating trash into the compost bin they will be making their own composter out of a soda bottle to keep for their classroom and watch the compost turn to fertilizer. We will then gather together for a wrap up where they will see some broken down compost and hear what they will keep from their class to put in the composter outside.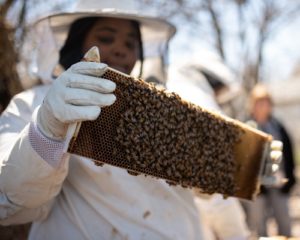 by Darya Watnick
Edlavitch DC JCC
This program is an opportunity for families with young children to engage in the Jewish rituals and traditions surrounding the holiday of Rosh Hashanah. They will be able to meet families like themselves while spending the morning creating a meaningful and educational connection with a Jewish holiday.