Jul 21, 2020 - Aug 23, 2020
Hazon Detroit is thrilled to announce the launch of our Food Festival In A Box!
In collaboration with your favorite vendors and community organizations from previous Food Festivals, Hazon, the Jewish Lab For Sustainability, has procured specialty food items and meaningful community/justice opportunities for a delicious and interactive Food Festival experience to be enjoyed at home or gifted to others. Everything you love about the Food Festival, now in a box! We know this isn't the same as being together at Eastern Market, but we're confident that this will provide just the right kind of taste that makes the Food Festival so special!
Boxes will be available for safe, easy, and contactless pick-up on August 23rd, 2020 from 12-3 p.m. at The Jewish Federation (6735 Telegraph Rd, Bloomfield Hills), and we will be sure to send pick-up details in a follow-up email.
If you have any questions and to view the full list of items that will be included in each box, please scroll down to see more information below, or reach out to Marla Schloss at marla.schloss@hazon.org.
The deadline to register for a Food Festival In A Box has passed. We are thrilled that over 160 people signed up for this program.
If you were unable to sign up in time, we may sell another round of Boxes for our program, if there is enough interest. Please complete the form below and we will be in touch.
Box Content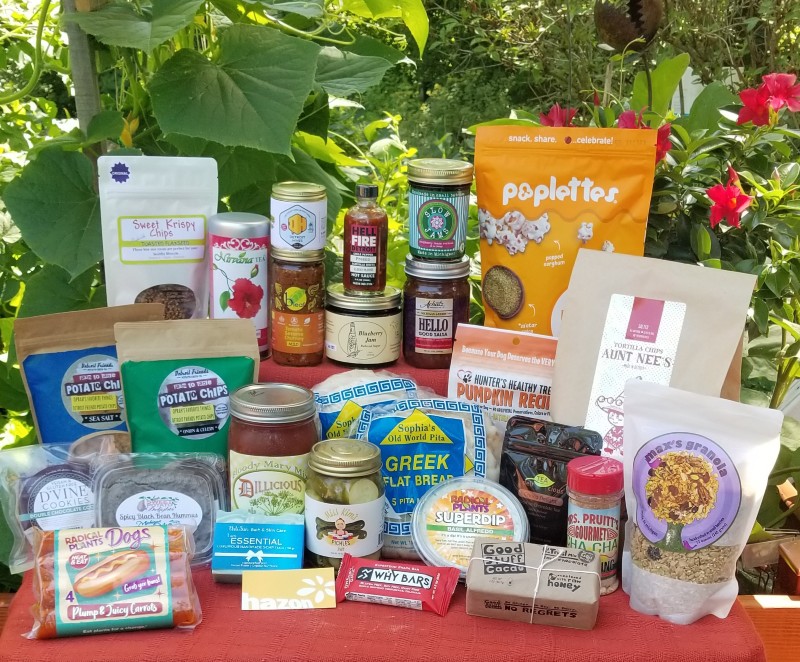 The following products will be included in Festival In A Box:
Achatz Handmade Pie Co
13 oz jar of 4-Berry Salsa (Locally-sourced, organic, gluten-free, vegan)
ArtiSun Bath & Skin Care
One bar of I Am Essential Soap (Gluten-free, vegan)
Aunt Nee's
12 oz bag of Corn Tortilla Chips (Locally-sourced, gluten-free, vegan)
Bleaf
8 oz bottle of Tomato Sesame Chutney (mild) (Gluten-free, vegan, nut-free)
Debrasfoods
– OR –
Teffola
12 oz bag of Max's Granola
(Vegan)
13oz bag of Granola made with Ancient Grain Teff (locally-sourced, vegan)
DeliTEAcious
1.5 oz bag of Choco Delight (chocolaty rooibos loose leaf tea) (Gluten-free, vegan, non-GMO, no added sugars, artificial flavors or preservatives)
Detroit Friends Potato Chips Co
3 oz bag of Onion and Celery Potato Chips (Locally-sourced, gluten-free, vegan)
3 oz bag of Sea Salt Potato Chips (Locally-sourced, gluten-free, vegan)
Detroit Hives
4 oz jar of Local Raw Honey (Locally-sourced, organic, raw)
Dillicious
32 oz bottle of Bloody Mary Mix-(add ice and libation of choice) (Low sodium and no preservative)
D'VINE Cookies
3 oz Vegan Double Chocolate Cookie (Gluten-free)
Good Stuff Cacao
3 oz Hit The Trail Mix Dark Chocolate (Soy free, dairy free, gluten-free, certified kosher, organic, non-gmo, Michigan born and made with Michigan raw honey.)
Hell Fire Detroit
4 oz bottle of Poblano Hot Sauce (mild) (Locally-sourced, gluten-free, vegan,all-natural, low sodium. no preservatives, gums, extracts, fat, or sugar)
Hunter's Healthy Treats
6 oz bag of small Natural Pumpkin Treats for Dogs (Vegetarian)
Miss Kim's Pickles
16 oz jar of Dill Pickle Slices (Locally-sourced, gluten-free)
Mrs. Pruitt's Gourmet CHA CHA
3.2 oz container of Specialty Seasoning (Locally-sourced, gluten-free, vegan)
Nirvana Tea
3 oz tin of 'Heavenly Hibiscus' Herbal Wellness Dry Loose Tea (Gluten-free, vegan, immune support blend of elderberries & ginger root)
Poplettes
2.5 oz bag of Mediterranean Magic Flavored Poplettes (Gluten-free, vegan, nut-free)
Radical Plants
8 oz container of Basil Alfredo Superdip
(Locally-sourced, vegan)
4 pk of Carrot Hot Dogs NEW
(Locally-sourced, vegan)
Slow Jams
10 oz jar of Raspberry Lemon Verbena Jam (Locally-sourced, vegan)
Sophia's Bakery
15 oz pk of 5 Greek Whole Wheat Flatbreads
(
Certified kosher, locally-sourced, vegan)
15 oz pk of 5 Greek Flatbreads (Certified kosher, locally-sourced, vegan)
Sweet Potato Delights
8 oz container of Spicy Black Bean Hummus
(
Organic, gluten-free, vegan)
Sweet Thoughts
1.7 oz bag of bite size Sweet Krispy Chips packed with fiber, protein and omega 3
(
Locally-sourced, vegetarian, nutritional)
Thyme & A Bottle
10 oz bottle of Reduced Sugar Homemade Blueberry Jam (Vegan,locally-sourced)
Why Bars
Cherry Chia Snack Bar (Gluten-free, dairy-free, vegan, certified kosher, soy-free, non-gmo)
Community Partners
Get Involved with Our Partners!
Attorneys for Animals, Inc.
As an organization of legal professionals and animal advocates, we believe the legal system is an important tool in protecting animals and bettering their lives. We advocate for animals and provide resources for people who care about them. Connecting animal advocates with animal law, we are working on legislative training and updates; and launching the "Animal Writes: Essays for Animals" youth program.
https://www.attorneysforanimals.org
Beth Israel Congregation (Sponsor)
Beth Israel is an egalitarian Conservative congregation in the heart of Ann Arbor. Members find meaning and connection through meaningful worship, the study of Torah, programs, and activities of Tikkun Olam We are dedicated to connecting our members to Torah and each other.
www.bethisrael-aa.org
B'nai Israel Synagogue of West Bloomfield, Michigan (Sponsor)
B'nai Israel Synagogue is an egalitarian, Conservative congregation with a hameishe, welcoming atmosphere. Due to Covid-19, we currently offer all of our services, classes and activities via Zoom and soon on livestream. We are a member-driven congregation where Shabbat, holiday, and daily minyan services are lay-led and highly participatory. Our inclusive, multi-generational congregation encourages Jewish lifestyle, life-long learning, and Tikkun Olam. We embrace all who wish to be part of our community. We welcome all of our members and participants to be part of planning and implementing all aspects of our synagogue life.
www.bnaiisraelwb.org 
Brilliant Detroit
Brilliant Detroit is dedicated to building kid success families and neighborhoods where families with children 0-8 have what they need to be school ready, healthy and stable. We do this by providing proven programming and support year round out of Brilliant Detroit homes in high-need neighborhoods. We are currently working on different ways to support kids and families virtually and making sure they do not fall behind in school and have all the resources they need to be safe and healthy.
brilliantdetroit.org
Cohn-Haddow Center for Judaic Studies WSU (Sponsor)
A non-denominational academic and cultural resource center at Wayne State University serving the Metro Detroit Jewish community.
judaicstudies.wayne.edu
Congregation Beth Ahm (Sponsor)
Formed in 1892, Congregation Beth Ahm was established to provide opportunities to explore and practice Judaism in a warm and approachable environment. We believe in the value of promoting an inviting, caring, and welcoming environment where we demonstrate compassion toward others through derech eretz, tzedakah, and tikkun olam. Beth Ahm BaBayit provides ongoing ways to be Jewishly connected while physically distant. Join our virtual educational, social, and ritual enrichment from your home.
www.cbahm.org
Congregation Shaarey Zedek (Sponsor)
Congregation Shaarey Zedek is a community, a home, and a family. We celebrate all of life's experiences together: raising our families, building friendships, and being there for each other throughout the full spectrum of life-cycle events. Our Judaism is practiced traditionally, innovatively, and inclusively, and we connect with the greater community to support Jewish lives and experiences that resonate through the generations. CSZ is a spiritual home for a wide range of ritual observance, and we welcome all members or not. We are a judgement-free community dedicated to Torah, inclusion, sustainability, and g'milut chasidim.
www.shaareyzedek.org
Dorothy & Peter Brown Jewish Community Adult Day Program
The Dorothy & Peter Brown Jewish Community Adult Day Program is a nonsectarian dementia specific adult day program dedicated to supporting people living with dementia and their family care partners. The Brown Center is designed to enhance the dignity, self-esteem, and well-being of each participant through engaging programming and socialization, provided in a warm, safe, and secure environment. The Brown Center also supports care partners by providing resources, support, and respite services. In collaboration with family care partners, participants receive support to age in their chosen community while enhancing their quality of life. The program provides innovative and stimulating activities to keep participants purposefully engaged. Currently The Brown Center is providing regular virtual programming for people living with dementia such as music, movement, poetry, trivia and more. Care partners are invited to bi-monthly support groups, bookclub, and connections (social time), as well as weekly exercise.
www.jslmi.org/the-dorothy-peter-brown-jewish-community-day-program
FoodLab Detroit
The mission of FoodLab Detroit is to build a more equitable, nourishing, and sustainable food system by investing in culinary leaders by providing them with education, peer-to-peer mentoring, access to market opportunities, and a 6-month stipend–based fellowship. FoodLab's monthly virtual roundtable discussion series entitled, "On The Table" kicked off on Zoom on July 20th.  We have reached out to twenty-two of our friends and colleagues in the industry across the nation who we admire to share, inspire, provoke, critique, and think about a range of plural futures for the restaurant industry post COVID19 & mass protest, sparking our hearts and heads, and imagining together what could be possible.
www.foodlabdetroit.org
Frankel Jewish Academy (Sponsor)
Frankel Jewish Academy is a rigorous college preparatory high school pursuing academic excellence and Jewish literacy. We inspire students to think critically, creatively, and compassionately; to dedicate themselves to Jewish tradition, peoplehood, and the State of Israel; and to become lifelong learners and leaders.
www.frankelja.org
Great Lakes Bioneers Detroit
GLBD supports individuals and organizations working on sustainability, a balance between environmental, social, economic, and spiritual aspects in our lives. We are currently working with University of Detroit Mercy and they have agreed to prepare and sponsor GLBD's annual conference beginning in 2021.
www.udmercy.edu/programs
Green Living Science
Green Living Science's mission is to transform Detroit by teaching about waste and recycling. GLS is dedicated to increasing awareness of environmental issues and personal responsibility through education. GLS is looking to expand our in-person learning to a virtual platform given the uncertainties during this time. Our youth education programming will go on to help increase the knowledge of waste reduction and environmental awareness. We are also expanding our BEE Green Business program offerings to provide an all encompassing approach to supporting businesses in reducing their impact on the environment through community efforts.
www.greenlivingscience.org
Hadassah Greater Detroit
Hadassah, The Women's Zionist Organization of America, is a volunteer organization that inspires a passion and commitment to: Israel and Jewish Values, healthcare and research, and women's empowerment. Our wellness events create healthier communities, while our advocacy advances women's health equity. We are proud to share our Zionist passion for the future of the state of Israel. Hadassah empowers women in every congressional district in the nation to be activists, fundraisers and visionaries.
www.hadassah.org/midwest
Isaac Agree Downtown Synagogue (Sponsor)
The Downtown Synagogue serves as a beacon for the entire Jewish community of Metropolitan Detroit by maintaining an egalitarian synagogue, rooted in Jewish tradition and affirming of pluralistic practice, in downtown Detroit. It encourages inter-generational engagement and promotes broad-based participation by offering a wide range of programming and acting as a conduit for Jewish activity in the city. It is committed to supporting the revitalization of Detroit; and assuring accessibility to all.
Downtownsynagogue.org
JARC (Sponsor)
JARC is dedicated to enabling people with disabilities to live full, dignified lives in the community.These are trying times for everyone and we are doing everything we can to keep JARC's vulnerable community safe.
www.jarc.org
Jewish Community Relations Council/AJC (Sponsor)
JCRC/AJC's mission is to represent the metropolitan Detroit Jewish community, Israel, and Jews throughout the world to the general community, and to establish collaborative relationships with other ethnic, racial, civic and religious groups. JCRC/AJC educates and advocates on important issues, seeking consensus with a commitment to Jewish values.
jcrcajc.org
Jewish Ferndale (Sponsor)
Jewish Ferndale is dedicated to provide for the needs of the greater Ferndale Jewish community through services, programs, festivals and celebrations. This happens through non-judgmental practices regardless of race, creed, religion, political affiliation, disability, sexual orientation or national origin. Jewish Ferndale provides a dynamic environment to increase the awareness of community by its divergent members. It provides a venue where people can express their creativity, learn of each other's needs and cultures,  and promote understanding. It is a venue for spiritual growth through programs that enrich mind and body. Programs offered are Torah classes, women's only Yoga, community garden, Shabbos dinners, holiday programs, Yiddish and Hebrew classes, art classes, and music lessons.
www.jewishferndale.com  
Jewish Senior Life (Sponsor)
Jewish Senior Life of Metropolitan Detroit is the provider of choice for outstanding residences and compassionate services that enable older adults to live healthy, joyous and purposeful lives. Jewish Senior Life nurtures a sense of community and enriches the lives of older adults while embracing Jewish values and celebrating life.
Jslmi.org
Limmud Michigan (Sponsor)
An inclusive festival of unexpected Jewish learning run totally by volunteers. Our fifth annual event will take place via Zoom, Sunday, November 1st, 2020.
limmudmichigan.org
Make Food Not Waste
Make Food Not Waste helps you make your food go further, saving money AND the planet. Join us for Make Food Not Waste Month this September. Live episodes with local chefs sharing dishes that make the most of food on Make Food Mondays, tips to waste less at home on Waste Free Wednesdays, and Feast Fridays at local restaurants featuring waste free menu items.
www.makefoodnotwaste.org
Moms Across America
We are a national coalition of unstoppable moms. Our motto is "empowered moms, healthy kids."
Our mission is to educate and inspire mothers and others to transform the food industry and environment, creating healthy communities together. We support local activities, initiate campaigns, and share solutions nationwide to improve our health and the health of our planet.
Supporting local and organic farmers, initiatives to stop aerial spraying in our communities, empowering citizens to take action against 5G in our neighborhoods, creating initiatives to discontinue the use of glyphosate based herbicides, and educating families on the importance of eating and buying organic are some of our areas of focus.
www.momsacrossamerica.com 
National Council of Jewish Women, Michigan (Sponsor)
NCJW|MI is a grassroots organization of volunteers and advocates who turn progressive ideals into action. Inspired by Jewish values, NCJW strives for social justice by improving the quality of life for women, children, and families and by safeguarding individual rights and freedoms. Our programs include Kosher Meals on Wheels, backpacks for homeless children in Oakland County, Back to School Store for Detroit school children, Jewish Youth Awards, Election 2020 – Get Out the Vote, Teen Yellow Pages, 313 Baby, Adult Guardianship, Court Matters, All Kids Playground, Wrapped in Love Blankets for children, etc!
NCJWMI.org
Repair the World Detroit (Sponsor)
Repair the World mobilizes Jews and their communities to take action to pursue a just world, igniting a lifelong commitment to service. Detroit Repair is especially committed to food justice in and around the city. We work with several local organizations to support volunteer efforts in the pursuit of healthy, affordable, and culturally appropriate food for all.
werepair.org/detroit
Strawbale Studio 
Strawbale Studio seeks to connect people and nature through workshops and activities focusing on sustainable skills & natural building. Internships & workshops in sustainability are tentatively being planned for the Fall. We will do an online foraging class, and perhaps create other online classes on natural building and sustainable skills. The Winternship, a 1 month natural building program, is scheduled for Jan 5 to Feb 5, 2021. Participants live on-site and participate in classes & activities during the week. Weekend workshops will also include the public.
Strawbalestudio.org
Tamarack Camps (Sponsor)
Tamarack Camps, established by the Fresh Air Society, builds a vibrant community by providing enriching Jewish camping experiences for children and families, respectful of financial ability. Tamarack Camps is incredibly proud of the partnership between Hazon Detroit and the Farber Farm at Camp Maas. Year-round programming at the Farm emphasizes our Jewish agricultural heritage, values and traditions, sustainability, and environmental stewardship. Each year, thousands of pounds of produce grown at the Farm are donated to local food banks and shelters to help feed the community and combat food insecurity. We're committed to growing a better tomorrow.
Tamarackcamps.com

Temple Beth El (Sponsor)
Temple Beth El is a caring, welcoming, and inclusive community committed to Jewish values and culture. The congregation fosters and strengthens personal and congregational identification with Judaism and recognizes and practices Reform Judaism as a means by which to make knowledgeable choices with regard to religious practices. We are committed to the welfare of Jews in Israel and throughout the world, and promote unity with other religions through greater cooperation and understanding. Beth El is a place to share joy and sadness as an extended family, to seek support, respite, prayer and peace. We are a sanctuary that is alive with activity centered in Judaism, and lifelong learning for all family members.
tbeonline.org
Temple Israel (Sponsor)
At Temple Israel, our mission is to create an inclusive center for spiritual fulfillment and community building through the lens of Reform Judaism. That's why we're devoted to encouraging an atmosphere of lifelong learning and appreciation of Jewish culture. We support our homeland, the State of Israel, and are passionate about helping Jewish communities across the globe. During Covid-19 we are offering all of our services, classes and programming virtually via Zoom and Facebook Live.
www.temple-israel.org
Temple Kol Ami (Sponsor)
We are a congregation in West Bloomfield and have been a sponsor of the Jewish Food Festival since its start. A Hazon  Seal of Sustainability member and a LEED certified building, we have also developed a Community Food Project as a response to our times. Temple Kol Ami is an intimate congregation driven by social justice and sacred relationships.
www.tkolami.org
Yad Ezra Giving Gardens
The Giving Gardens are attached to Yad Ezra, Michigan's Kosher Food Pantry. The garden's goal is to provide educational opportunities and resources to address hunger in our Jewish community, at its roots. We are focused on healthy and sustainable practices, as well as providing produce for the pantry. We are always growing food for the clients of our pantry as well as offering resources to our community. Another goal is to help alleviate any barriers our clients might have in order to grow their own food, whether at their own home or if they lack space, in our community garden beds.  We offer transplants and seeds in the spring, compost, a tool share, and educational workshops.
www.yadezra.org 
Volunteers for Israel (Sponsor)
Volunteers for Israel (VFI) connects Americans to Israel through volunteer service. You will meet volunteers from around the world, working on an IDF base. You will enjoy kosher meals with Israeli soldiers, wear fatigues, sleep in barracks, and help out doing non-military tasks such as packing medical supplies, sorting equipment, and doing base maintenance jobs. We really help out the soldiers. There are 1-3 week programs with additional opportunities to work at an archaeological dig site and tour. Ages range from 17-90+.
www.vfi-usa.org
2020 Sponsors
A goal of the Food Festival has always been to provide a platform for local vendors and community groups to share their work with a broad audience. More than ever, we intend to continue supporting our partners. This year, our sponsors are creating an opportunity for so many to have an amazing Food Festival experience safely in their homes.
Sign up to be a sponsor here.
Leslie Cohn Magy Philanthropic Fund
Ben N. Teitel Charitable Trust