As we worked on the Hazon Seal, I was tremendously amazed by how our Hillel was able to find new students who had felt left out in other Jewish spaces because of their sustainable ideals. And as I learned more, I was personally surprised by the extent to which Jewish ideals really align with sustainability.
Would you like your synagogue's weekly kiddush to be healthier, more delicious, and less wasteful? Want to cut the energy costs of an aging building? Advocate for clean energy in your community as part of an interfaith coalition? Or reignite students' curiosity about Jewish tradition through hands-on, outdoor learning?
Many institutions want to engage in healthier, more humane, and more sustainable behaviors, but don't know where to start. Others have already begun – be it starting a garden, composting food waste, or installing LED light bulbs – but don't know how to keep up the momentum. The Hazon Seal of Sustainability provides a roadmap to advance sustainability-related education, action, and advocacy in the Jewish community and beyond.
From 2016 – 2018, the Hazon Seal of Sustainability engaged over five dozen organizations across the country. Synagogues, day schools, camps, social service agencies, Hillels, and other Jewish institutions each made meaningful, measurable steps towards increasing their sustainability.
Check back soon to apply for the Winter 2018-19 cohort of the Hazon Seal of Sustainability.
View application questions
Updates
Special Recent Posts
The Hazon Seal of Sustainability provides guidance and support to advance sustainability-related education, action, and advocacy in the Jewish community. Participating institutions receive:
A

roadmap

to healthier food, less waste, meaningful JOFEE education, a lower carbon footprint, and more

A

network

of Jewish and other faith-based organizations committed to sustainability, learning with and from one another

An

annual certification

to celebrate success and highlighting the progress of leaders in the field of sustainability
Why join the Hazon Seal?
Be at the forefront of a movement in the Jewish community and beyond towards a healthier and more sustainable world

Excite existing community members and bring new members in the door

Save money through increasing efficiency and attract new donors for sustainability work

Improve your organization's brand through publicity, awards, and recognition
Frequently Asked Questions
Cohort Process
Timeline & important dates for sites applying to the Winter 2018 Cohort:
January 12

: Applications close

January 22

: Applicants notified of status

February 12

: Deadline for returning signed LOA and payment

February 13, 3-4 PM Eastern

: Orientation webinar

March 13

: Deadline for first Green Team meeting

April 10

: Deadline for taking an audit

February – March

: First consulting call

February – December

: Project implementation

October – December

: Second consulting call

January 11, 2019: Deadline for submitting renewal forms
See below for a detailed explanation of the Hazon Seal certification process. We encourage you to read through all of this material.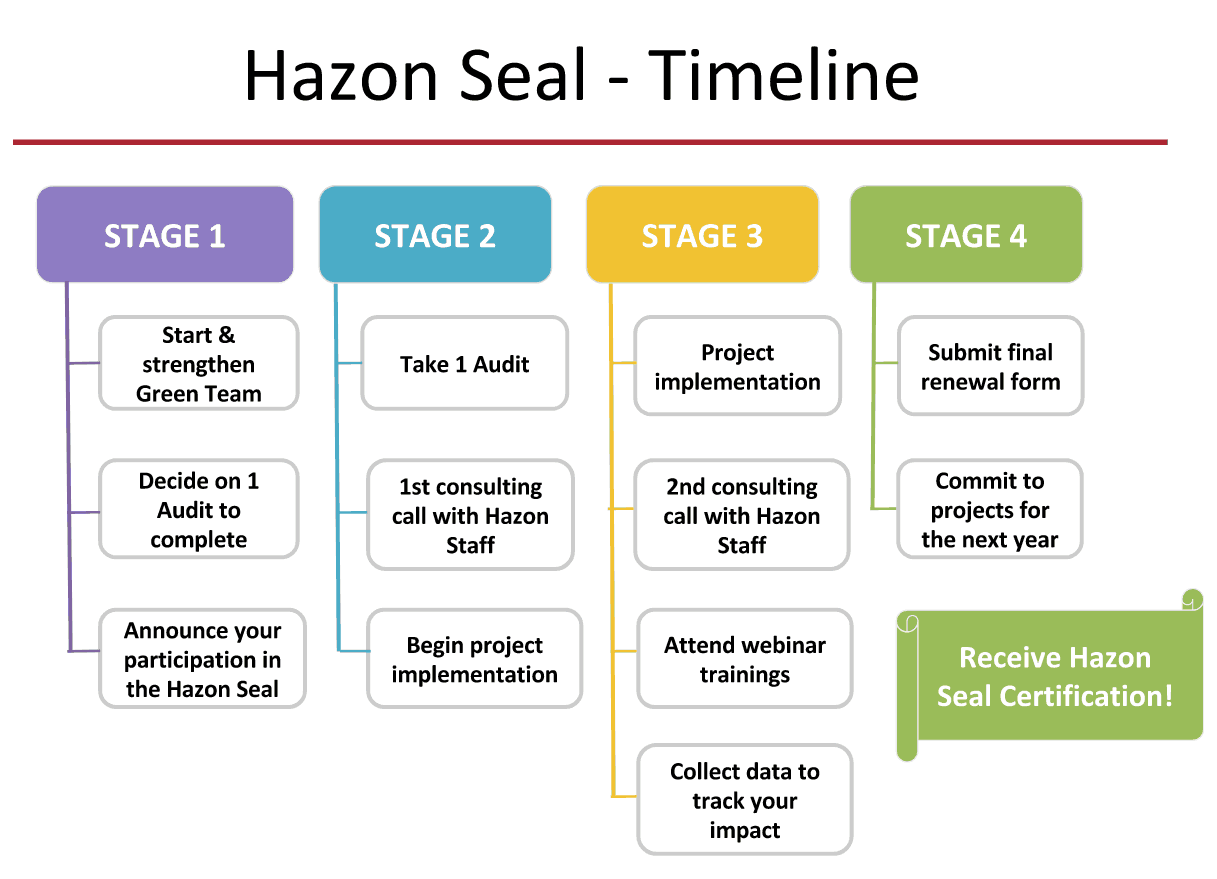 Detailed Process
Pay a Sliding Scale Fee to Hazon to Offset Program Cost
Form a Green Team  

– Build a green team, or strengthen an existing team. The green team should include one specific Hazon Seal point person who is ideally a staff member

.

Choose an Audit

– The green team and/or leadership choose which of the three audits (food, energy, or ecosystems) will be most helpful to the institution, based on its needs and goals. Of course, you may take two or three, but you are only required to take one.

Take an Audit

 – The audit benchmarks the institution's current performance and highlights its stronger and weaker areas, while providing ideas and inspiration for new sustainability projects. Each audit has 50-75 potential activities/projects.

Consulting Calls with Hazon staff

– The organization participates in at least two phone calls with Hazon staff t

o review progress and receive support and resources.

Publicize your participation

– An executive leader (rabbi, ED, principal, etc) announces participation in the Hazon Seal to members, the board, and other constituencies. Organization publicizes its participation and sustainability work, including posting the Hazon Seal logo, to community via social media, website, and/or newsletter. Organization commits to writing 1-2 blog posts for publication on Hazon website and beyond.

Implement three substantive sustainability projects

– The green team, in conjunction with institutional leaders, commits to and executes at least three substantive sustainability projects

.

Cohort training webinars

– Join greening support and training webinars with other Seal institutions to learn about a variety of sustainability topics.

Track impact

– Collect statistics on project impact, such as number of people affected, amount of food composted, etc. Document your work through photos and video

.

Renewal and Evaluation  

– Submit an end-of-year progress report (with photos) to confirm that you have successfully completed your projects, or made substantive progress in executing them. Your organization commits to three sustainability projects for the following year, and has the opportunity (strongly encouraged) to

continue participating in the Hazon Seal of Sustainability.
Sample Projects
Institutions that take a Hazon Seal audit gain access to a menu of education, action, or advocacy project ideas. In order to receive Hazon Seal certification, institutions need to complete three projects with lasting impact on their institution. Sample project ideas include:
Food, Animal Welfare, & Food Justice
Hillel Day School

(Farmington Hills, MI) is expanding their garden to provide fresh produce throughout the winter to supply their salad bar and feed the entire school population. Students and staff are working together to assemble the protected winter garden as a community-building exercise. The school received a mini-grant from Hazon to buy the necessary equipment, including seeds, soil, and pots and is receiving guidance with a nearby farm. The fruits of their labor will hopefully include local, organic spinach, lettuce, radishes, and even strawberries.

Colorado State University Hillel

(Fort Collins, CO)

is working to source the majority of its food, including eggs, from local farms — and their own backyard. They built a small vegetable garden and received a donated CSA share. Students are participating in trainings to prepare for building a chicken coop and raising egg-laying hens, with guidance  from the Jewish Initiative for Animals (JIFA). Over 300 students benefit from this more sustainable food served at Hillel meals…and the scraps end up in Hillel's new composter. 

B'nai Jeshurun

(Manhattan, NY)

started hosting regular Green Kiddushes after Saturday morning services. They purchased reusable tablecloths, silverware, and dishware, which will save thousands of dollars and prevent

the use of 26,000 disposable paper plates, 5,800 single-use tablecloths and 24,000 pieces of plastic cutlery from going to the landfill annually.  The purchase of the reusable items was funded by their sustainability-themed #GivingTuesday campaign, which was designed with input from Hazon staff. B'nai Jeshurun also completed an LED lighting upgrade.
Facilities & Energy
Adat Shalom Synagogue

(Farmington Hills, MI) changed all the lights in their main sanctuary to LED bulbs, saving money, energy, and carbon emissions. To continue the upgrade, they will be swapping out the older energy-intensive lights on their

Yizkor

memorial

wall to energy-efficient LEDs.

Oshman Family JCC (Palo Alto, CA) purchased all compostable utensils across campus, and created consistency among all garbage and composting receptacles. After learning about the importance of signage on a Hazon Seal webinar, staff and campers created catchy signs that encourage recycling and composting. These changes will allow them to properly dispose of compost during large-scale events on campus.
Greenburgh Hebrew Center built solar panels on-site as part of Hazon's Jewish Greening Fellowship, thereby saving money, cutting its contribution to the climate crisis, expressing its commitment to Jewish values of stewardship, and setting an early example for families and other congregations.
Healthy Ecosystems
 2016 Sites
Adat Shalom Synagogue, Farmington Hills, MI
B'nai B'rith Beber Camp,  Mukwonago, WI
B'nai B'rith Perlman Camp, Lake Como, PA
Camp Zeke, Lakewood, PA
Congregation Bonai Shalom, Boulder, CO
B'nai Jeshurun, New York, NY
Congregation Shir Tikvah, Troy, MI
CSU Hillel, Fort Collins, CO
Congregation Shaarey Zedek, Southfield, MI
Eisner Camp, Great Barrington, MA
Habonim Dror Camp Galil, Ottsville, PA
Hazon, New York, NY
Hillel Day School, Farmington Hills, MI
Hillel DU, Denver, CO
Hebrew Institute of Riverdale, Bronx, NY
Hannah Senesh Community Day School, Brooklyn, NY
JCC of Staten Island, Staten Island, NY
Jewish Family Service of San Diego, San Diego, CA
Moishe House Boulder, Boulder, CO
Oshman Family JCC, Palo Alto, CA
Pearlstone Center, Reisterstown, MD
Ramah in the Rockies, Denver, CO
Yad Ezra, Berkley, MI
Spring 2017 Sites
B'nai Havurah Denver, CO
Congregation Nevei Kodesh Boulder, CO
Congregation Shir Shalom of Northern Westchester and Fairfield Counties Ridgefield, CT
The Emanuel Synagogue Hartford, CT
Congregation B'nai Moshe Bloomfield, MI
Isaac Agree Downtown Synagogue Detroit, MI
Jewish Ferndale Ferndale, MI
Temple Beth El Bloomfield Hills, MI
Joyce and Irving Goldman Family Foundation New York, NY
CSI – Briarcliff Briarcliff, NY
Hebrew Union College-Jewish Institute of Religion New York, NY
Makom Hadash New York. NY
Moishe House Upper West Side New York, NY
Moishe House Park Slope Brooklyn, NY
Repair the World NYC Brooklyn, NY
Beth Sholom Cherry Hill, NJ
Congregation Kol Ami Elkins Park, PA
Congregation Ohev Shalom Wallingford, PA
Mishkan Shalom Philadelphia, PA
Oregon Hillel Foundation Eugene, OR
Jewish Federation of Greater Atlanta Atlanta, GA
Jewish Community of Louisville Louisville, KY
Kenesset Israel Torah Center Sacramento, CA
Fall 2017 Sites
Allegheny College Hillel Meadville, PA
Ben Porat Yosef Paramus, NJ
JDC New York, NY
Kibbutz Detropia Detroit, MI
Mechon Hadar New York, NY
SAR Academy Bronx, NY
Shalom Institute Malibu, CA
Temple Beth Shalom (FL) Vero Beach, FL
Temple Sinai Saratoga Springs, NY
Temple Solel Hollywood, FL
UVM Hillel Burlington, VT
Weber School Atlanta, GA
Winter 2018 Sites
Edlavitch JCC Washington, DC
Temple Beth Hatfiloh Olympia, WA
Congregation Har Shalom Potomac, MD
Congregation Ohav Shalom Albany, NY
UChicago Hillel Chicago, IL
Hillel Community Day School Rochester, NY
Hillel at Virginia Tech Blacksburg, VA
Detroit Jews for Justice Detroit, MI
Temple Kol Ami West Bloomfield Township, MI
Repair the World Detroit Detroit, MI