Hazon Educational Library: Food & Climate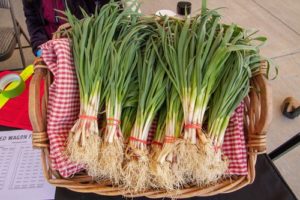 by Amanda Herring (OneTable), Mollie Sharfman (GatherDC), Elizabeth Heyman (Jews United for Justice)
Experience Sukkot as a celebration of the seasonal harvest while in an urban setting! Join us on an urban farm in downtown D.C. to celebrate the season's bounty with hands-on workshops and a farm-to-Sukkah feast grounded in the themes of the agricultural harvest festival. We invite you to end your week by taking a pause from the busyness of the city to connect with nature and eat from the harvest at Common Good City Farm. From a pickling lesson to tasting local seasonal ciders, we will come together and celebrate abundance both on the farm and in our lives.
Tags:
20s & 30s
,
cider
,
collaboration
,
community
,
farm and garden
,
local sourcing
,
ritual
,
seasonality
,
Shabbat
,
Stations
,
Sukkot
,
urban agriculture
,
young adults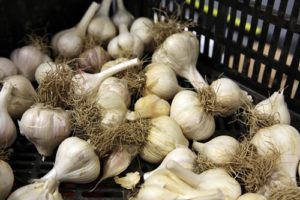 by Rose Benjamin
Urban Adamah
This program is an introduction to the workers within the American food system, ranging from migrant farm workers, to CEOs of large GMO's, to the average consumer in Berkeley, CA. This program reflects on the Jewish morals of Oschek (how to treat laborers) and explores this morals' relevance to our American food system. Lastly, this program encourages participants to reflect on their role as a consumer, and how to use their privilege and power in a positive way.
by Alex Voynow
Jewish Farm School
A pickling workshop taught with the magic of clowning pedagogy!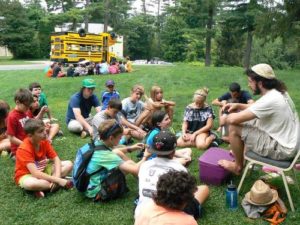 by Emily Glick
Hazon - Teva
The Topsy Turvy Bus facilitates rethinking the current, nonrenewable, and often damaging systems of the world we live in. This summer's theme was focused on water usage and conservation. Through hands on activities, the programs aims for participants to understand how we can keep our resources in the cycle. Specifically, this curriculum touches upon the carbon cycle, the soil cycle, and the water cycle. This station was one stop on a 4 station rotation.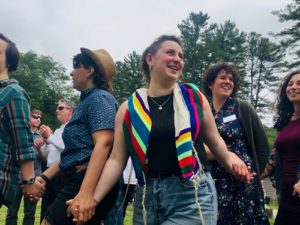 by Ze'ev Gebler
Pearlstone Center
This program combines a group walk to compost piles, and a look at vermicomposting bins, with a conversation about the Jewish value of distinguishing between rest and work. Participants will engage in text study and discuss the relationship between adding intention to our time with Shabbat, and adding intention to our space with the placement of compost.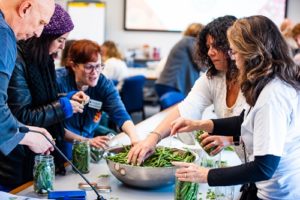 by Amanda Herring
OneTable
This program is an interactive grilling lesson connected to the celebration of Lag B'Omer. Participants will have the opportunity to make several seasonal salads, learn about grilling methods and outdoor cooking, and learn what Lag B'Omer is in relation to the counting of the Omer and the Jewish Calendar.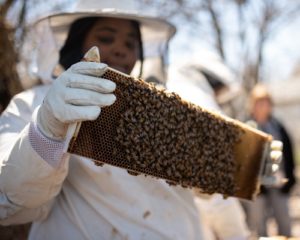 by Josh Kleymer
Mayerson JCC of Cincinnati
Using Rosh Hashanah as a springboard, the children will learn about bees and how they make honey. They will participate in a hide and seek type game before a wrap up discussion and honey taste test.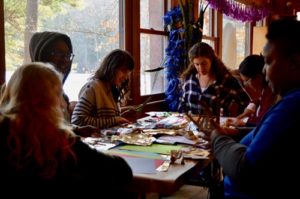 by Alex Voynow
Jewish Farm School
This program is an informational and hands-on dive into artisanal/DIY chocolate making. Participants will learn all of the steps in the process--from how cacao trees were first cultivated in ancient mesoamerica, to how to wrap their gelt in foil. Taste, touch, history, mysticism, and science are all called upon to make coherent the relationship between chocolate, ecology, and Judaism.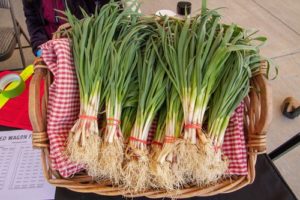 by Bailey Lininger
Tamarack Camps
This program is a unique, interactive activity for a festival-style event that combines knowledge of local wild edible plants and the Jewish tradition of Shmita. For this program, the educator creates four unique "trading cards" to pass out at the event, and two examples of local, foraged food. The trading cards serve as a way to get participants interested in the connections between wild edible plants and Shmita, and the food samples demonstrate the ease and accessibility of foraging.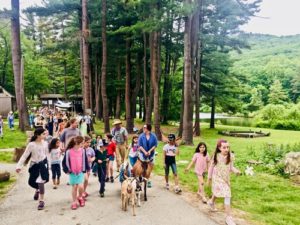 by Jared Kaminsky
Shoresh
This event is Shoresh?s 4th annual fundraiser celebrating our ten year anniversary. We gathered over 400 people to learn about our organization and our impact while enjoying delicious food in community. Our internal goal was to raise money to support our efforts, introduce new community members to our organization, and honour the many people who have been involved over the years.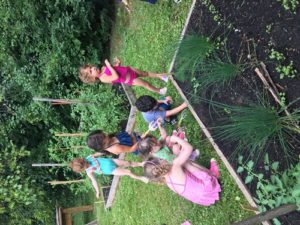 by Michael Fraade
Jewish Community of Louisville
Children planted seeds in a soil-filled wagon, which could easily be transported from classroom to classroom, and watched them grow over the course of four weeks. The culmination of the program was to bring the children and wagon out to the J's main garden to see how their plants fit into a larger picture and to allow them to sample many of the things they helped grow. The program also touched on topics such as where food comes from, Hebrew vocabulary, composting, using the five senses, and making observations.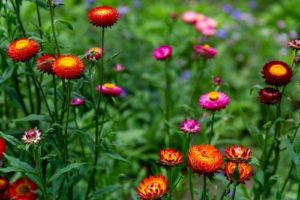 by Henry Schmidt
Shalom Institute
Understanding pollinators is an hour-long educational program that teaches about the importance of pollinators in our habitat. This program uses honeybees as a 'gateway pollinator' to teach not only the wonder of honeybees but also that their story is part of a much larger ecological phenomenon.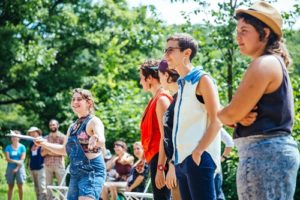 by Amanda Herring
OneTable
Shabbat is a time to sit and enjoy good food and good company, sourcing your food intentionally can bring a new level of mindful gratitude to your dinner table. It can also be delicious and filling! Shabbat rituals can be adapted to be relevant to your life, and the season. Local urban farms are doing amazing work in the D.C. area and our Jewish values teach us to support their work in any way we can. You can replicate this celebration at your Shabbats by thinking sustainably and seasonally, and reaching out to local farms.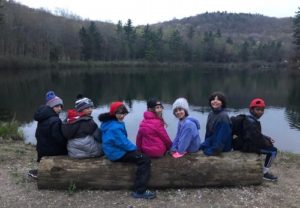 by Bailey Lininger
Tamarack Camps
This is a program that is intended to serve a large audience with a wide age range and little or no experience in the natural world or with nature-based Judaism. It is a stations-based program in which small groups (in this case, groups of 4-8) travel from activity to activity on a rotation, spending about twenty minutes at each station. In order to serve such a wide age range and interest/experience level, the stations are diverse in topic and activity, with the intention that all participants will find themselves challenged and engaged in at least a few of the activities, if not all.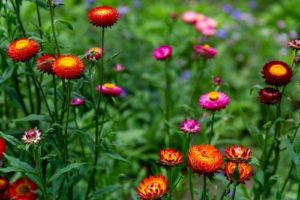 by Rebecca Remis
Eden Village West
Before the flood while Noah was readying the animals, a midrash says his wife Naamah was collecting seeds and plants. Through this lens, we'll explore plant life cycles, seed saving, and Jewish ideas of sustainability.