Hazon Educational Library: Jewish Agricultural Traditions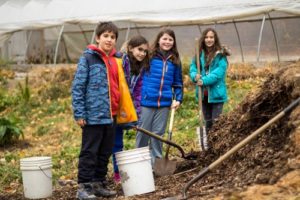 by Jessica Wolfe
Tamarack Camps
This Tamarack Camps program is an introduction into the wide array of soil types and different life forms that exist in our soil. Participants will have the opportunity to explore different soil types, learn methods of sustainable and organic farming practices and explore the Jewish connection to the soil.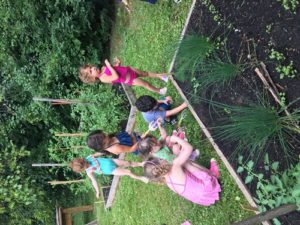 by Sarah Julia Seldin
Jewish Farmer Network
This program is an introduction to the intersection of Judaism and agriculture, woven through the experience of a Shabbat dinner with blessings, food, conversation Jews as a people of the land.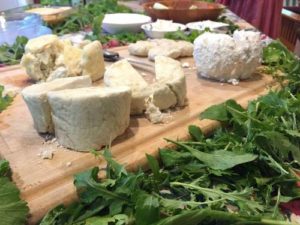 by Cole Siegel
Isabella Freedman
Participants will learn to make ricotta cheese from fresh goat milk, while digging into various Jewish and secular texts, guided by the question: ?Why do we eat dairy on this holiday??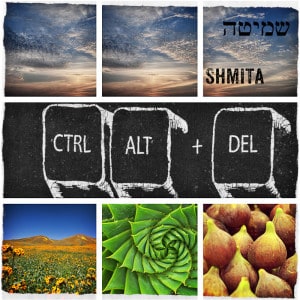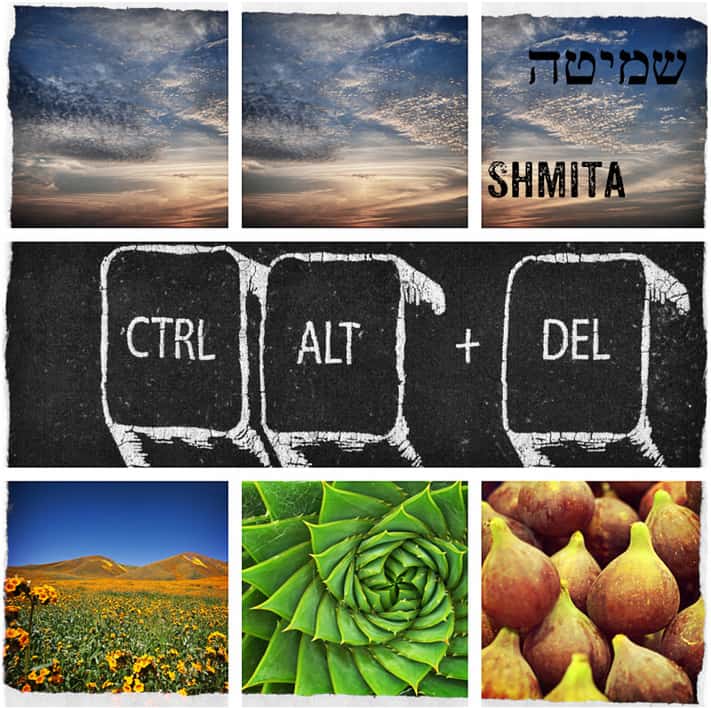 Isabella Freedman
This is a collection of shmita resources from all across the internet that Hazon has brought together in one place. Curricula, educational materials, essays, articles, audio, and video.
by Yigal Deutscher, Anna Hanau, and Nigel Savage
Hazon
The Shmita Sourcebook
is designed to encourage participants to think critically about the Shmita Cycle – its values, challenges, and opportunities – and how this tradition might be applied in a modern context to support building healthier and more sustainable Jewish communities tod
ay.
The Shmita Sourcebook
 is a 120-page sourcebook that draws on a range of texts from within Jewish tradition and time, tracing the development and evolution of Shmita from biblical, historical, rabbinic, and contemporary perspectives.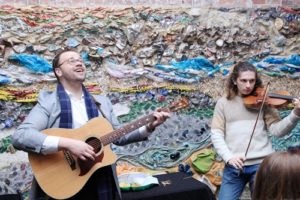 by Darya Watnick
Edlavitch DC JCC
This program is designed to engage families with young children with the holiday of Sukkot and the festival's connection to nature and the environment. Through stories, activities and arts & crafts, families will begin to develop a relationship to the rituals and traditions of Sukkot and think about their own connection to the natural world.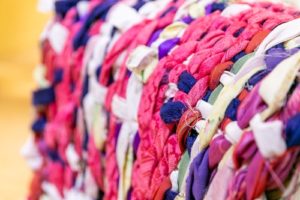 by Ashley Davenport
Abundance Farm / Gan Keshet Preschool
Traditionally, weaving has deep roots in the Jewish culture. The craft of weaving is one of the 39 crafts that the Jewish people used to create the Mishkan (tabernacle) in the desert. Weaving, and many of the actions associated with weaving are mentioned specifically in the 39 Melachot, the list of labor forbidden on Shabbat. Although many of the traditional Jewish weaving techniques have been lost to exile, modern day ritual objects are often still made from woven materials, including challah covers, kippot and tallis. Looking back, history shows us that the nomadic Israelites used what fibers they had on hand, such as camel, goat, and sheep, to create their clothing and dwellings. These ancestral methods were simple. Using this simplicity as inspiration, the loom for this project is crafted from sturdy cardboard, the warp is made using cotton string, and the weft consists of long pieces of recycled fabric. Simplicity is often key in introducing new textile art projects to preschool age children. These projects are multifaceted and engaging to young minds, integrating core skill sets such as language and literacy development through oral storytelling, problem solving, pattern recognition, and fine motor development.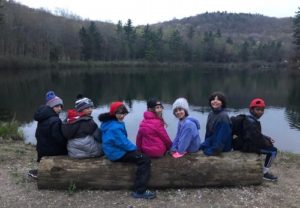 by Shani Mink
Pearlstone Center
This program presents students with the opportunity to delve deeply into the hidden messages of verse 50b of the Bava Kama (the stones text). Through text study, discussion and a hands-on activity, students will explore their relationship with the public domain. After investigating the myriad ways in which we might violate the public domain, students will actively nurture the public domain through shared intentions for community prosperity hidden inside a seed ball or planted beneath a tree.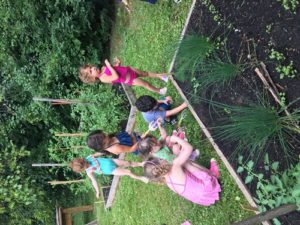 by Margot Sands and Elizabeth Dubinsky
Ekar Farm
In this program participants have the opportunity to think beyond their own garden and analyze two food systems at play in the world--local and global.Once students grasp these two simplified food systems that represent how our food is currently produced, they will explore which system aligns best with Jewish values.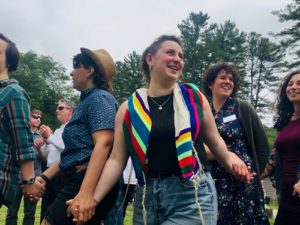 by Rachel Binstock
Urban Adamah
This session activates participants with a philosophical framing of holiness in time and space using Heschel's The Sabbath. Participants then map out the holiday cycle and follow its path around the seasons, moons, solar cycle, and cardinal directions illuminating the layers of connection between the Jewish concept of time and nature's. This brainstorm then leads participants into chevruta to dive deeper into learning of the main harvest holidays using Waskow's Seasons of Our Joy. All of this sets participants up to make a physical representation of Jewish time in the form of a multi-layered calendar. This calendar will hang in our office and will be used as a teaching tool to help us orient visitors to what's alive in time, both Jewishly and environmentally.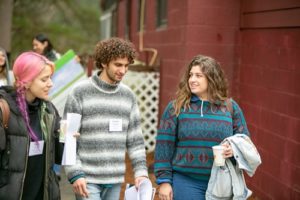 by Michael Fraade
Jewish Community of Louisville
This program brought members of the Jewish community together for a Shabbat dinner that highlighted local and ethically sourced ingredients while educating participants about issues of food justice in our city. The dinner included sharing stories, discussion questions, and conversations about ways to help promote equal food access. We partnered with a local food justice nonprofit to help facilitate the discussion and publicize upcoming partnerships between their organization and the JCC.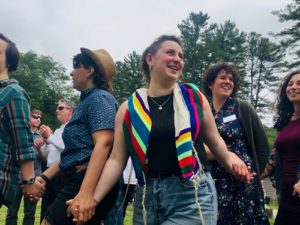 by Anika Rice
Urban Adamah
This lesson makes a connection between how both plants and people live in community. On the farm, plants and other organisms are giving and receiving help from one another all of the time. This is reciprocity. Companion planting is the technique of sowing two crops together for a specific purpose, often pest control, space use or yield maximization. Native Americans have been planting the Three Sisters (corn, beans and squash) in one plot for generations. Not only does this trio help each other grow and use nutrients efficiently, but they have higher yields when planted together, and form a nutritious diet. People also need each other: to learn, to pray and to live a spiritual life. When we work in chevruta (learning partners) or are part of a minyan (prayer group), everyone involved can benefit from the group. We are individuals, but our communities are greater than the sum of their parts.
by Rebecca Remis
Eden Village West
Learn about and enact the value of peah through harvesting a delicious summer treat and decide how much to donate. Share the remaining bounty with the camp community. Experience the joy in working hard and sharing the abundance (through recognition in the dining hall, working with a community organization, and leaving camp for a field trip)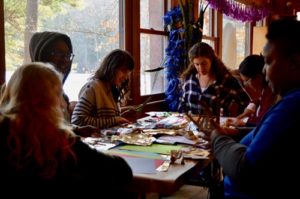 by Becky Adelberg
JCC Chicago
This program is an introduction to greening in early childhood classrooms through teaching about the Jewish ritual of havdalah.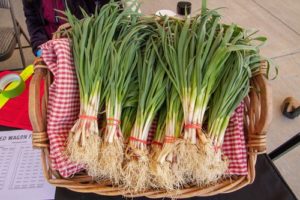 by Amanda Herring (OneTable), Mollie Sharfman (GatherDC), Elizabeth Heyman (Jews United for Justice)
JCC Chicago
Experience Sukkot as a celebration of the seasonal harvest while in an urban setting! Join us on an urban farm in downtown D.C. to celebrate the season's bounty with hands-on workshops and a farm-to-Sukkah feast grounded in the themes of the agricultural harvest festival. We invite you to end your week by taking a pause from the busyness of the city to connect with nature and eat from the harvest at Common Good City Farm. From a pickling lesson to tasting local seasonal ciders, we will come together and celebrate abundance both on the farm and in our lives.
Tags:
20s & 30s
,
cider
,
collaboration
,
community
,
farm and garden
,
local sourcing
,
ritual
,
seasonality
,
Shabbat
,
Stations
,
Sukkot
,
urban agriculture
,
young adults