Educational Resource Library
Updated Shmita Sourcebook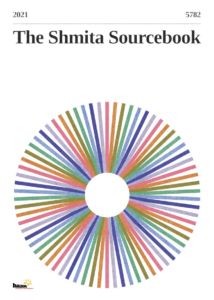 Purchase the Shmita Sourcebook
Download the Shmita Sourcebook
Translated as "Release," Shmita is integral to the Torah's vision of a just society. Though the specifics of Shmita observance have changed throughout Jewish history, its inherent values remain prescient. Shmita, with its dual acknowledgment and transcendence of the agricultural and economic realm, offers an opportunity for social reset and renewal to the entire Jewish world – and beyond.
The Hazon Shmita Sourcebook presents a guided exploration of the history, concepts, and practices of Shmita, from debt forgiveness to agricultural rest, economic adjustment to charitable giving. The updated sourcebook explores texts and commentaries that build the framework of Shmita within the biblical and rabbinic tradition, as well as contemporary voices that speak to Shmita as it relates to our modern world.
This 3rd edition is completely redesigned with the user experience in mind, many additional sources, and more thorough commentary and explanations. This comprehensive, accessible sourcebook is well-suited for individual, partnered, and group study, with guiding text and discussion questions to enhance your learning, regardless of educational background. The Hazon Shmita Sourcebook offers a holistic understanding of Shmita, from the depth of Jewish tradition to the most pressing issues of our time.
Purchase a hard copy from the Hazon Store or enjoy a digital download of the Hazon Shmita Sourcebook and consider donating in support of the work of Hazon.
Download the Shmita Sourcebook
Fill out this form to be sent a digital copy of the Shmita Sourcebook.
Creating resources that explore the intersection of Jewish tradition and modern life require financial support. After submitting this form you will be automatically redirected to a donate page. We recommend a gift of $18 to offset the production of the Shmita Sourcebook.
‹ Return to main library