Educational Resource Library
Fit to Eat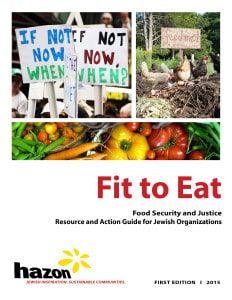 by Alli Rosen and Liz Traison
Hazon
Purchase a hard copy of Fit to Eat
Download a digital copy of Fit to Eat
Without sustenance, there is no Torah. Without Torah, there is no sustenance.
—Pirke Avot 3:21
The link between food and faith obligates us as Jews to challenge the injustice of hunger, champion the right to food, and steward the land on which our sustenance depends.
For Jewish institutions, aligning with the food justice movement and local food security efforts challenges your institution to be relevant and respond to your community's needs, to live Jewish values, and to provide meaningful opportunities for members, congregants, and students to mobilize change.
Fit to Eat: Food Security and Justice Resource and Action Guide is a resource for Jewish institutions to self-organize actions that deepen and broaden efforts to create a more just, fair food system.
This guide provides a framework to learn more about our food system and Jewish traditions surrounding food justice; identify challenges specific to your local community; and create a plan for action that builds on the existing programs, skills, and assets of your Jewish institution. We welcome your feedback and suggestions and hope this guide can be a forum for all Jewish institutions to share best practices around food justice and food security action.
Click on the chapter titles below for summaries.
There is undeniably a growing passion for food system transformation in our country– from changing what is in our own refrigerators to revising national policy and practice. Just as the peace movement captured the imagination of my generation in the late 60's, so the food movement and food justice issues are calling many of us to take action now. Breakthrough ideas and inventive solutions are emerging, both here in the U.S. and worldwide, to advance the field and reinvent our food system. The Hazon Food Action Guide is a blueprint for the Jewish community in our efforts to restore the fundamental relationship with the earth and the food that sustains us.  It is based on the foundational principles of food justice and the creation of a fair food system.
Our health and economic vitality depend on creating a more just and sustainable food system. An equitable food system benefits all, strengthening our communities and our nation. Everyone must have equal access to safe, fresh food as well as fair access to good jobs and healthy working conditions.  In an era where food safety, diet-related chronic illness, pollution, and water scarcity are major issues, we have a powerful opportunity to learn from each other and address these interrelated challenges. The tasks at hand require ambitious ideas, bold leadership, and coordinated action to move us forward, faster.
Many institutions and individuals nationwide are wholeheartedly addressing food access issues and reinvigorating local food economies—making a lasting impact in their community. The Hazon Food Action Guide presents ideas that have been successfully tested in communities, based on what these places and people know to be effective. The replicable, scalable model programs shared here can help communities, organizations, synagogues, and other institutions and groups continue to engage their constituencies and drive change. The programs range from awareness building activities, advocacy actions and service-learning, to establishing farmers' market and community gardens, where members dig deeply, on a variety of levels, to grow food for their neighbors and the larger community.
Fair Food Network's healthy food incentive program, Double Up Food Bucks is just one example of a program making it easier for low-income residents to eat fresh fruits and vegetables, while also supporting farmers and growing local economies. Through programs such as Double Up, and the others you will read about in this guide, motivated individuals are tackling the job of reinventing their food system within our own Jewish institutions as well as in the public schools, college cafeterias and hospitals in their communities to create healthier and more resilient models of change.
As an alum of Hazon's 2013 Israel Sustainable Food Tour and a Hazon board member, I am continuing to learn more about the diversity and power of the inspiring and practical visions of what is possible for our nation's food system. We, as Jews and as members of our larger communities, can be continuously inspired, and reinspired, to take a meaningful part in the growing food justice movement.  Thank you for taking the time to delve into this guide, and even better, for acting upon what you learn. Change is possible– together we will create a more just and sustainable food system.
Dr. Oran Hesterman is the President and CEO of the Fair Food Network , a national nonprofit pioneering multi-win solutions that increase access to healthy food in our most underserved communities, support farmers, and stimulate economic activity. In just five years, Fair Food Network's signature program, Double Up Food Bucks, has become a national model for healthy food incentives. 
While food justice has a rich history of its own, Jewish values of tzedek (justice) and tikkun olam (repairing the world) provide a framework for meaningful conversations within the Jewish community about how to mend the holes and gaps in the food system. When we think about food justice, or advocating for justice within the food system, we must take into account all aspects of this complex web. This chapter will provide an overview of terms and frameworks you will encounter as you dig in deeper to the challenges facing our food system and the changes needed to make it more just for everyone.
There are many ways to mobilize your community around food justice, whether it's community organizing, direct service, or advocacy work. This chapter will start you on the journey toward all these types of action. While food justice may be the issue that your community chooses to focus on, these techniques will work to help any community gather momentum around any particular issue.
The action stage is where your institution's existing skills and assets seek to meet the needs your community has identified in your listening campaign. Working with a local community-based organization (CBO) and your Food Action Team, plan actions that both leverage your assets and address the greatest needs in your community.
Always remember, you are not alone. While the work may seem daunting, many communities have found innovative and effective ways of enacting fair food policies and effecting real change. This chapter will expose you to the good work that people around the world are doing, and ways to engage in or replicate this work in your community.
More resources can be found in this section.
The Food Justice Discussion Points is a series of four activities designed to assist your Food Action Team in deepening their understanding of food justice, the food system, and the meaning of eating and growing food. These discussions were developed to take about 20 minutes at the start of a meeting to allow for the group to learn and grow together in their understanding around these issues. Each activity consists of educational elements from the diagram below. The Food Justice Discussion Points offers key pieces of insight while teasing out the knowledge and experience already present in the group in order to develop a deeper understanding of food justice and Jewish tradition.
Links to resources referenced in this chapter can be found here.
Food Justice Discussion Point 1: When Values Collide
Somebody, Please Find Me an Organic Etrog (thejc.com, 2010)
Down on America's Next Big Etrog Farm (JTA, 2012)
Food Justice Discussion Point 2: Wellness, Body and Mind
Vandana Shiva: Traditional Knowledge, Biodiversity and Sustainable Living (video)
Food Justice Discussion Point 3: Race, Culture, Place, and Security
Of Permaculture and Pastoralism: Heroes and Villains? (Permaculture Activist, 2013)
A Guerilla Gardener in South Central LA (video)
Food Justice Discussion Point 4: Economics and Finance, Sovereignty
We'd love to hear from you. If you have questions about Fit to Eat, or want to share your challenges, successes and stories, send us a note at foodeducation@hazon.org.
‹ Return to main library