Hazon Educational Library: Sustainability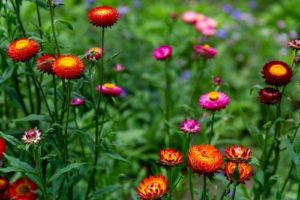 by Mira Menyuk
Pearlstone Center
This program is an interactive color exploration through natural dyeing. Participants will learn about the symbolism and holiness associated with certain colors in Judaism, specifically the blue of tekhelet that is found in Tzitzit. They will also learn how to harvest and use different parts of plants to create their own dye and take home a self-dyed bookmark.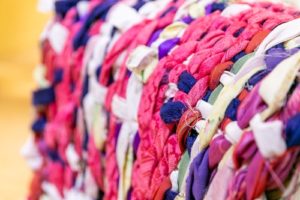 by Ashley Davenport
Abundance Farm / Gan Keshet Preschool
Traditionally, weaving has deep roots in the Jewish culture. The craft of weaving is one of the 39 crafts that the Jewish people used to create the Mishkan (tabernacle) in the desert. Weaving, and many of the actions associated with weaving are mentioned specifically in the 39 Melachot, the list of labor forbidden on Shabbat. Although many of the traditional Jewish weaving techniques have been lost to exile, modern day ritual objects are often still made from woven materials, including challah covers, kippot and tallis. Looking back, history shows us that the nomadic Israelites used what fibers they had on hand, such as camel, goat, and sheep, to create their clothing and dwellings. These ancestral methods were simple. Using this simplicity as inspiration, the loom for this project is crafted from sturdy cardboard, the warp is made using cotton string, and the weft consists of long pieces of recycled fabric. Simplicity is often key in introducing new textile art projects to preschool age children. These projects are multifaceted and engaging to young minds, integrating core skill sets such as language and literacy development through oral storytelling, problem solving, pattern recognition, and fine motor development.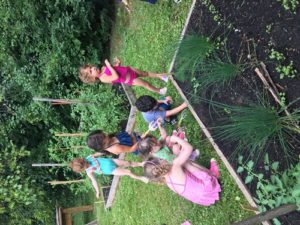 by Sofia Marbach
Wilderness Torah
Although most JOFEE (Jewish Outdoor, Food, Farm, and Environmental Education) organizations weren't born of a mission to tackle them head on, we encounter questions of social justice in our work every day. While our programs may be boiled down into descriptors like ?outdoor education,? ?pickling workshop,? or ?holiday retreat,? JOFEE organizations exist within a broader world of Judaism, human socialization, and all their globalized complexities.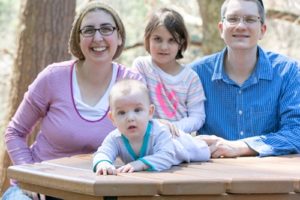 by Josh Kleymer
Mayerson JCC of Cincinnati
Through a small discussion and watching a Curious George video, the children will learn about how everyone produces trash and ways to keep said trash out of the landfill. The children will learn about composting and how it will benefit their garden. Each child will then get a piece of trash to separate into a trash bin, recycling bin or composting bin. While they are separating trash into the compost bin they will be making their own composter out of a soda bottle to keep for their classroom and watch the compost turn to fertilizer. We will then gather together for a wrap up where they will see some broken down compost and hear what they will keep from their class to put in the composter outside.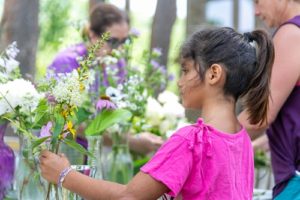 by Brenden Jackson
Amir / Shalom Farm Houston
This program uses storytelling as an introduction into the importance of seeds and the connections foods play to different people and cultures. Participants will have the opportunity to connect with a specific seed/plant and learn how plants and the foods created from them, can act as a living conduits for these stories. It is also an opportunity for participants to see the connection between their Judaism and a specific plant/food, or create their own new and important connection. Lastly, using seed stories as a framework within the garden offers the opportunity to create a sense of connection and continuity between multiple groups of campers.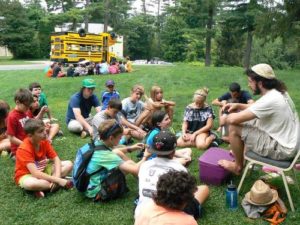 by Margot Sands
Ekar Farm
This program is an interactive introduction to the environmental Jewish value of Bal Tashchit, not destroying or wasting valuable resources. Participants will have the opportunity to explore creative ways we can reduce our carbon footprint by reducing and reusing everyday materials through a solar-oven baked shrinky dink project.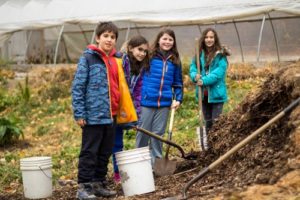 by Sarah Rovin and Shani Mink
Pearlstone Center
This program is an introduction to earthworms and their necessary place in decomposition and soil health as well as looking deeper into cycles that renew the earth and where we see this in Jewish text.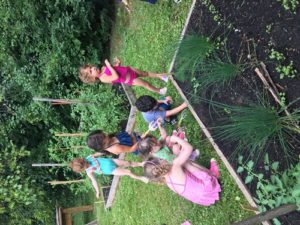 by Rachel Binstock
Urban Adamah
In this lesson we explore waste as a concept, how nothing really ever goes away. We learn about the Jewish value of ba?al tashchit which helps us remember that being wasteful is a bad policy and has always been understood as such. And lastly, instead of dwelling on the problem of landfills or the environmental impact of using too much energy, we learn how to use two technologies that help us circumvent the often wasteful systems in which we live. We will play games that help us think about linear versus cyclical systems, we will explore cob, an alternative method for building our world with resources sourced in our own backyard, and we will build a compost pile and meet the Ba?al Tashchit Heroes that help divert tons of organic matter from the landfill. We are teaching in this lesson about closed loop systems and we are doing it in an embodied way.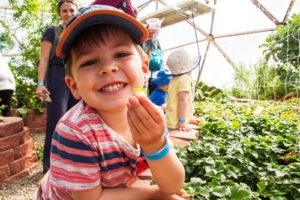 by Sofia Marbach
Wilderness Torah
This is designed as a one evening program that frames Shabbos as an earth-based technology of connection. This collective welcoming of Shabbat is designed for young adults ages 22-39 across the spectrum of religious observance (Jewish and non-Jewish alike). This 45 minute program is crafted to lead into Shabbat dinner or another gathering and can function both as a basic introduction to Shabbat practice for those for whom it is new, and a new earth-based framework for those already at home in Shabbat ritual. Also note this program is designed based on the 8 Shields model.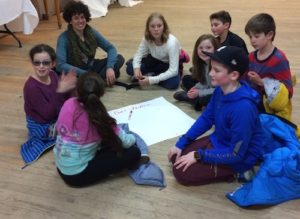 by Nicole Cruz
Peninsula JCC
'The Stones' text, from Talmud Bavli, Masekhet Bava Kama 50b, brings its readers back to ancient times. However, the lessons that can be learned from this text transcend time. In this program, participants will delve deep into 'The Stones' text, making connections relevant to today's world. Through this discussion, participants will discover what defines a community, and how in order to make an impact in a community, we must find a balance between protecting the Earth and meeting our own personal needs.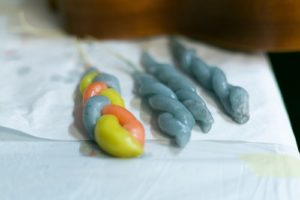 by Danielle Smith
Eden Village Camp
This program is an introduction to Havdallah and DIY candle making. Participants will learn about a Havdallah candle and leave with their own candle. Students will leave with an understanding of what renewable resources are.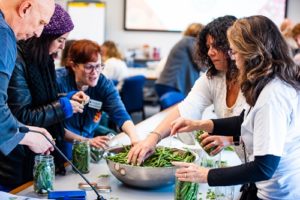 by Rachel Aronson
Hazon
This program provides an introduction to pickling and an overview of food justice issues. Participants will leave with a jar of pickles and knowledge of the pickling process, and with deeper insight into the importance of local food and workers' rights in the food system.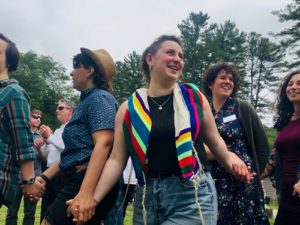 by Ze'ev Gebler
Pearlstone Center
This program combines a group walk to compost piles, and a look at vermicomposting bins, with a conversation about the Jewish value of distinguishing between rest and work. Participants will engage in text study and discuss the relationship between adding intention to our time with Shabbat, and adding intention to our space with the placement of compost.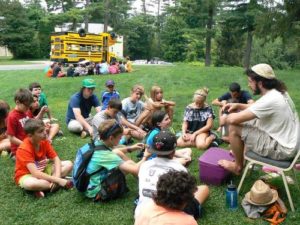 by Emily Glick
Hazon - Teva
The Topsy Turvy Bus facilitates rethinking the current, nonrenewable, and often damaging systems of the world we live in. This summer's theme was focused on water usage and conservation. Through hands on activities, the programs aims for participants to understand how we can keep our resources in the cycle. Specifically, this curriculum touches upon the carbon cycle, the soil cycle, and the water cycle. This station was one stop on a 4 station rotation.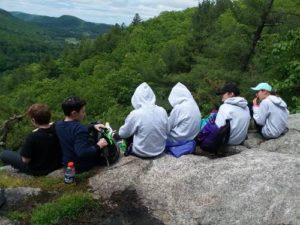 by Eli Goldstein
Bridgewater JCC
This program is a physically active introduction to The Stones text from the Talmud Bavli, Masekbet Bava Kama, which raises many questions about land, responsibility, and ownership using text and soccer cones.