Hazon Educational Library: Workshop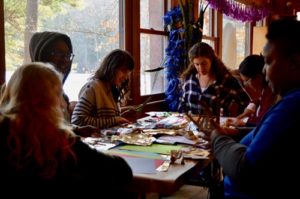 by Elizabeth Kaplan
JCC of Greater Boston Discovery Club
This program offers a guided cooking workshop that integrates Jewish food practice and provides tools for families to use at home.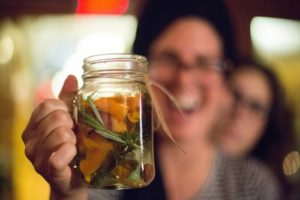 by Nicole Cruz
Peninsula JCC
Explore new ways to preserve and eat seasonal food with your children in this easy and fun hands-on workshop. Learn about the history of pickling and its connections to Jewish traditions. In this workshop, we will create two different types of pickles- a 'quick' pickle using vinegar and a fermented pickle that you can take home to watch develop.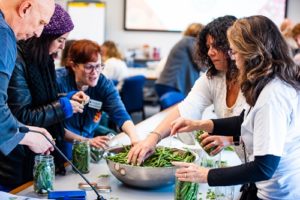 by Amanda Herring
OneTable
This program is an interactive grilling lesson connected to the celebration of Lag B'Omer. Participants will have the opportunity to make several seasonal salads, learn about grilling methods and outdoor cooking, and learn what Lag B'Omer is in relation to the counting of the Omer and the Jewish Calendar.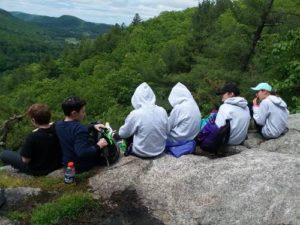 by Danielle Smith
Eden Village Camp
Students will learn how to make flour from wheat and make matzah from the flour.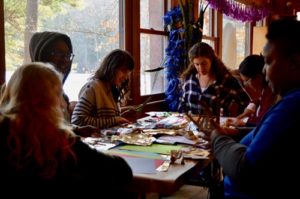 by Alex Voynow
Jewish Farm School
This program is an informational and hands-on dive into artisanal/DIY chocolate making. Participants will learn all of the steps in the process--from how cacao trees were first cultivated in ancient mesoamerica, to how to wrap their gelt in foil. Taste, touch, history, mysticism, and science are all called upon to make coherent the relationship between chocolate, ecology, and Judaism.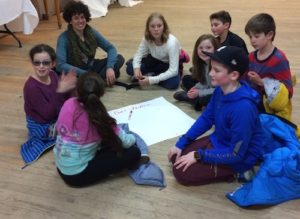 by Anika Rice
Urban Adamah
Cob is a structural composite of earth-based materials: clay, sand, straw and water. People all over the world have used cob for centuries to sculpt buildings by hand. Learning to build with earth-based materials can broaden participants' understandings of how the earth provides everything that humans need to live. Mixing cob, making cob bricks, or applying cob directly to a larger structure is an embodied means for empowering participants to make things on their own and to source materials sustainably. This lesson also touches on the importance of place in natural building, with a map exploration about how different cultures build with different things based on their environments.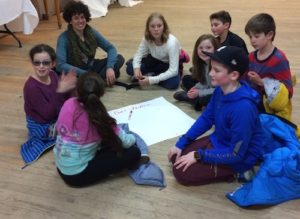 by Ren Feldman
Eden Village Camp
The participants will reflect on their personal experiences with 'good' and 'bad' education. Participants will practice learning by making their own personal connections to things and by allowing themselves to notice without making assumptions or conclusions. The participants will read texts about Jewish laws, practice making their own connections, and in teams will create short experiential programs about the texts for each other. Participants will express when and how to apply these methods in educational settings and casual settings.
by Hannah Slipakoff
Jewish Farm School
This program is a facilitated conversation and recipe sampling focusing on culinary traditions across the Jewish diaspora. Emphasizing the significance of diversity in the diasporic food cannon, participants will have the opportunity to share life stories, explore cookbooks from around the world, and learn about local crop seasonality. Optional components include on-site farm tour and a cooking class. This curricula can be adapted depending on local crop availability/harvest.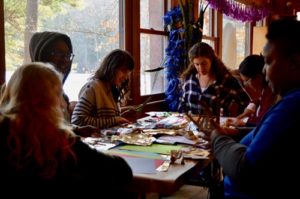 by Emily Blustein
Jewish Federation of Greater Atlanta
This program is an exploration into the Jewish tradition of Torah making. Through learning the traditional process of a sofer, the participants will get a hands-on painting/calligraphy activity.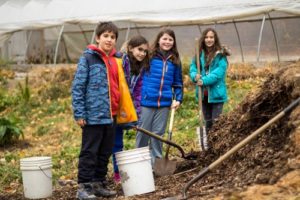 by Hannah Slipakoff
Jewish Farm School
This program is an in-depth exploration of composting- from basic biology to implementing systems on a home-scale. Participants will be guided through the Jewish spiritual significance of composting and principles of sustainability while having the opportunity to apply their learning by problem-solving in a ?compost clinic? and constructing a functional compost bin.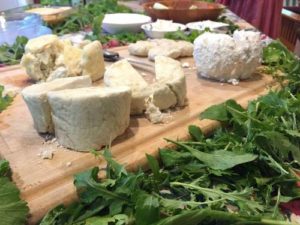 by Emily Glick
Hazon - Teva
This workshop explores the history of dairy in the context of Judaism and Jewish tradition. It teaches participants how to easily make their own cheese and butter (they will leave the session being able to try both), while touching upon the modern-day dairy industry and its relation to Kashrut.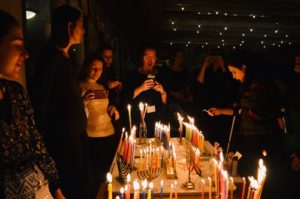 by Hannah Slipakoff
Jewish Farm School
This program is a hands-on workshop focused on cultivating joyful connections between participants while upholding sentiments of empowerment and spiritual reflection. Emphasizing sustainability, self-care, and political resistance, participants will have the opportunity to share holiday memories, learn about chanukah and other earth-based Jewish winter rituals, and create their very own set of hanukkah candles.