Hazon Educational Library: Jewish Ritual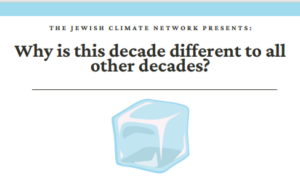 From the Jewish Climate Network: We are asking our community to place an ice block beside the Seder plate and open up a conversation about climate change this year, while linking it to the fundamental themes of Pesach. The ice block represents the rapidly melting ice caps and sheets throughout the world caused by human activity. As the ice block shvitzes on our Seder table, we are reminded that time isrunning out for action. It becomes a physical prompt to ask questions, much like the other Seder table objects prompt questions. To support these questions the JCN has created a printable Ice Block Challenge guide that can be incorporated into Seder night.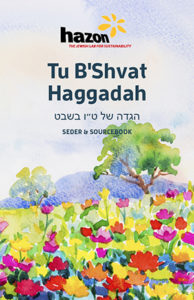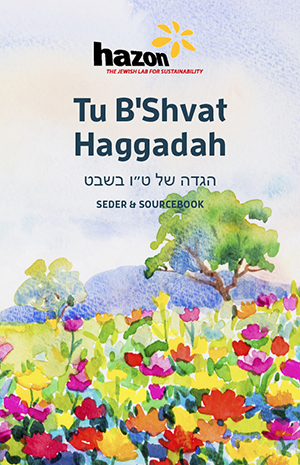 Hazon
The Hazon Tu B'Shvat Haggadah offer thoughts and ideas to help you celebrate Tu B'Shvat in your home or community. The texts, questions, activities, and suggestions can serve as guides for viewing Tu B'Shvat through fresh eyes and recontextualizing traditions.
Hazon
This Guide is designed to be an interesting educational resource and discussion stimulator as well as a practical set of tips and tools for you to adopt. The goal is for you to more closely align your Shabbat practices with your sustainability and Jewish values.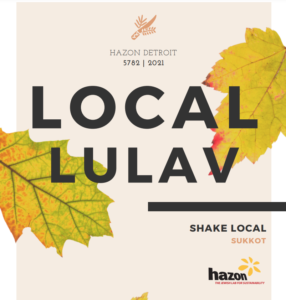 Hazon
A Sukkot resource packet with everything you need to shake sustainable, local lulavim. Filled with relevant educational materials, practical shaking and assembly instructions, and accessible spiritual and environmental insights. Created for the Metro Detroit community.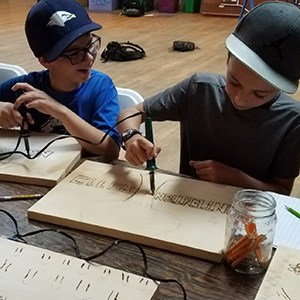 Teva
Betzalel's Workshop involves creating and working with ritual objects from local, organic, ethically sourced, and recycled materials, participants will learn both the centrality of environmental responsibility to Jewish life, as well as a sense of ownership and pride over their participation in Jewish ritual. We feel that, by creating the basic object of a ritual, with all its flaws, character, and uniqueness, children are drawn closer to ritual. By creating an alternative to mass-produced, store-bought Judaica, we create an avenue towards creative, participatory Judaism.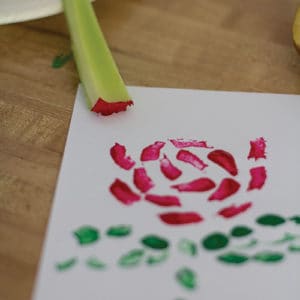 Teva
Instead of buying stamps made of plastic or styrofoam, use the unique and natural patterns found in nature to create beautiful art to send to friends and family. If this activity is being run in close proximity to a Jewish holiday, postcards can be framed specifically for these occasions. For example, use oranges, apricots and figs around Tu B'Shvat, use apples for Rosh HaShanah, and use a lulav and etrog after Sukkot.
Teva
Developing ritual objects can bring a depth of meaning into our lives. Create your own blended Havdalah spices to bring home in its own sachet. Learn about different herbs and spices and how they connect to the world around us!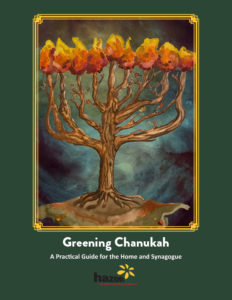 Teva
The Greening Chanukah Guide offers an overview of  Chanukah through the lens of sustainability. Find tips and tricks for greening your holiday and learn more about the environmental implications of oil production to help create a healthier and more sustainable world for all!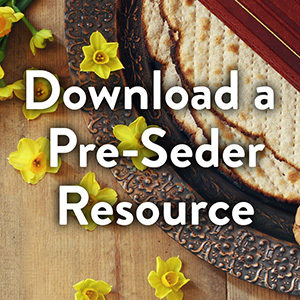 JIFA and Hazon
As you prepare for the Passover seder this year, consider using these four questions to help inform your own conscious food choices, and to enhance your discussions with family and friends during the holiday.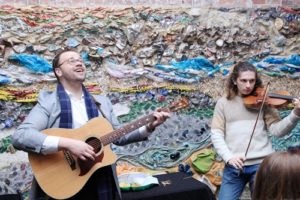 by Sarah Julia Seldin
Jewish Farmer Network
This program leads a discussion through text of the significance of joy to Sukkot and how Jewish tradition teaches us to inhabit that joy through generosity and hospitality.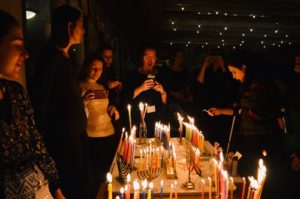 by Liana Rothman
Isabella Freedman
Three-fold workshop, which involves delving into the history of dairy on Hanukkah, making cheese and butter, and a discussion about the dairy industry and striving towards greater ethical consumption under capitalism, under the lens of our environmental crisis.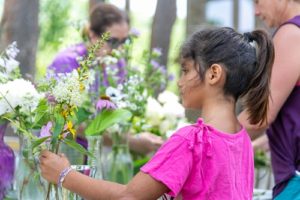 by Noah Weinberg
Gann Academy
This program is a snappy rotational way for lots of young people to experience the farm.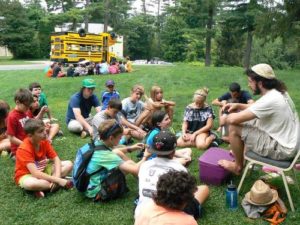 by Jessica Wolfe
Isabella Freedman
Students will learn how the Jewish holidays relate to the water cycle. We will look at the water cycle of North East United States & Israel to compare and contrast the differences between the water cycles in each region and the holidays that occur during those times.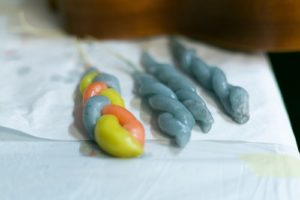 by Aliza Heeren
Eden Village Camp
In this program, participants explore the intention of Shabbat and the traditional and modern meaning and purpose of lighting Shabbat candles. Participants learn about the value of making Jewish ritual objects by hand, and get a small taste of the exciting world of bees!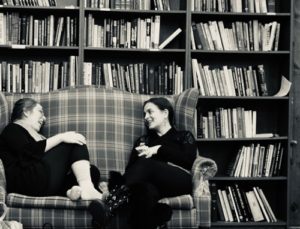 by Chelsea Taxman
Eden Village Camp
Allow intuition to guide you. Explore what resonates for you. Leave behind what does not resonate. Ultimately, the oracle cards are you ? your connection, intuition and interpretation.