Educational Resource Library
Shavuot Sustainable Resources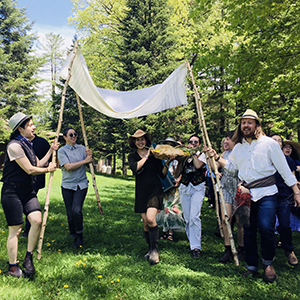 What is Shavuot?
Shavuot, the Festival of Harvest, not only is a celebration of the first harvest of fruits and vegetables, but also a celebration of the gift of the Torah at Mount Sinai. Shavuot is a time we are encouraged reflect on the gift of Torah and the gifts that the earth provides.
Shavuot is also an exciting opportunity to think about the impact our dietary choices have on our environment. Jewish tradition encourages dairy meals during Shavuot celebrations and an abstinence from meat consumption. As we think about the impact that meat consumption has on the global climate crisis, we are encouraged to take up the task of tikkun, or repair. This makes Shavuot an excellent opportunity to educate about the benefits of limiting meat consumption and consuming sustainable and ethical fruits and dairy.
Shavuot is celebrated in 2023 from sundown on Thursday, May 25, through sundown on Saturday, May 27.
Shavuot in the time of Covid-19
Experience the spirit of Shavuot at Isabella Freedman through these 2020 videos:
Pre-Tikkun Reflections – Rabbi Art Green
Shavuot Visioning Session – Rebbetzin Eve Ilsen
Go Go Goats! – Arielle Aronoff
Dairy on Shavuot: Farmer's Cheese Demo & Learning – Eli Weinbach
Adamah Farm Tour – Janna Siller
Shavuot Meditation – Christine Bloom
Finding Your Identity – Angela Himsel
Shavuot Nigun – Itai Gal
---
Complete the Counting of the Omer – From Passover to Shavuot we count the Omer every day to mark both the passage of time between celebrations and the time between the barley and wheat harvest and offering at the Temple. This is a time for spiritual preparation as we prepare to receive the Torah and celebrate the first fruits of the season.
During this moment of introspection and preparation, consider counting the Omer with The Omer Workbook from Gold Herring. The workbook is a powerful guide for engaging in Jewish self-care, connection, and action.
We're Up All Night to Learn Torah – Tikkun Leil Shavuot, studying and learning Torah until the wee hours of the morning, is a Shavuot tradition, stemming from our ancestors' mistake of sleeping in the morning we were to receive the Torah. This year, make sustainability a part of the conversation during your learning session.
Look through Food for Thought, Hazon's Sourcebook on Jews, Food, and Contemporary Life, for sources to use at your Tikkun or Shavuot table.Dive into Jewish Initiative for Animal's "Dairy on Shavuot" source sheet. One of the better known Jewish holiday customs is eating dairy on Shavuot, though, strangely, many people struggle to produce a reason for this custom!
Reconnect with the Land – How do we celebrate Shavuot in modern times? As one of four harvest holidays mentioned in the Torah, Shavuot presents a wonderful opportunity to connect with the world around you. Take a look in your neighborhood at what is blooming; think about what fruits and veggies are showing up in your produce aisle or farmers' market; feel the turning of the seasons and embrace the colors, textures, and flavors of a bountiful growing season. 
At your holiday table, embrace seasonality and the harvest near you – shop local, choose vegetarian, and consider the source of the food you consume. When we think carefully about where our food comes from we practice another element of Kashrut and provide points of connection for the blessings and traditions associated with our holidays.
What can Shavuot teach us about the connections between Jewish tradition and agriculture? This text presents one farmer's take on seeing Jewish rituals as they connect to the cycles of planting, harvest, and eating, which is useful to think about when considering the connection between Shavuot and farming.
Consider Fruit Over Dairy – Shavuot is replete with dairy foods, from cheesecake to blintzes to burekas, but it originated as a celebration of first fruits. Use this Shavuot as an opportunity to educate yourself and others about making better food choices for your health, animal welfare, and the environment.
Shavuot Recipes
‹ Return to main library