Dear Hazon Seal Sites,
We hope all is well! Here are some announcements that we believe you'll find helpful and interesting. Also, please see below to get inspired by a new community spotlight!
Shabbat Shalom,
Merav, Ariel, and our new summer intern Rebecca!
DAYLIGHT HOUR – This Friday 6/21
"Daylight Hour is an annual social media campaign to raise awareness about using natural daylight in lieu of electric lighting in offices. Launched by the Building Energy Exchange in 2014, this simple campaign asks offices to turn off non-critical lights in day-lit spaces from noon until 1 pm on the Friday nearest to the summer solstice."
As the Jewish lab for sustainability, Hazon is excited to participate in this campaign.
We will be turning off the lights in our Makom Hadash offices tomorrow, Friday 6/21, from 12-1 pm. Will you join us?! Encourage your school/shul/office to acknowledge the environmental footprint of our everyday energy use! Also, we would love if you could take a selfie with the natural sunlight (or your flash!), and send it to us at seal@hazon.org so that together we can promote this awesome campaign.
RECRUIT TO STRENGTHEN YOUR GREEN TEAM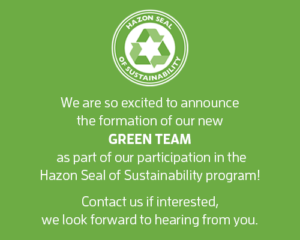 A Kol-Koreh means 'a calling voice'. Use this ready-to-go graphic to call upon your community to join the green team and help align your community's practices with its Jewish values (also available to download from our Resource Bank if you are a Hazon Seal site).
Hazon Seal of Sustainability ETHICAL EATING MINI GRANTS extended!
Hats off to Hebrew Institute of Riverdale (NY), Edlavitch DCJCC (DC), and Town and Village Synagogue (Manhattan) for taking advantage of this great opportunity!
In case you missed it, our ethical eating mini grant applications are still available, the aim of which is to help Hazon Seal sites inspire institutional change in the areas of higher-welfare animal consumption, food policy, and plant-based options. We have extended the deadline and are now offering Hazon sites up to $1,000 per site. The applications will be considered on a rolling basis. Apply today!
Have Questions? Let us know and we will coordinate a Q & A video-chat to address them. Just email us at seal@hazon.org.
HAZON SEAL SPOTLIGHT!
Hazon would love to share your work with other Hazon Seal sites participating in the Hazon seal to help inspire more wonderful programming. Please click here for the latest Hazon Seal Spotlight, by Congregation Agudath Israel of West Essex (NJ).
"The speaker, Greg Mattison, provided much to learn about climate change. He focused on what we know, why we should care, and what we can DO."
Please email seal@hazon.org if you would like to be in the Spotlight and inspire others!
INTERESTING ARTICLES AND NEWS
FOOD AND SUSTAINABILITY
Check out this upcoming online webinar by the Post Carbon Institute! On June 26, gather with your institution to learn what the future of food sourcing can look like and what we can collectively do to help achieve sustainability and better health in our food system.
HAZON SEAL OF SUSTAINABILITY EMAILS
We strive to facilitate smooth communication between you and us, and to encourage a community conversation that supports sharing resources and best practices with each other. With that, we would like to avoid flooding your inbox. So – we will be monitoring and approving every 'reply-all' email to make sure they are relevant to many of you. For any questions, please email Hazon at seal@hazon.org.
STAYING ON TRACK WITH THE HAZON SEAL
If you have not done so already:
Get your team together to complete your audit (shorter and easier than last year!)
Schedule your first consulting call with us: book here
Submit your annual participation fee
And remember: The Hazon Seal Resource Bank** is rich and super helpful. If you can't find what you need, please let us know.
**Only open to Hazon Seal of Sustainability Sites