By Jake Wilkenfeld-Mongillo, Communications Manager, Hazon
A version of this originally appeared on Alefnext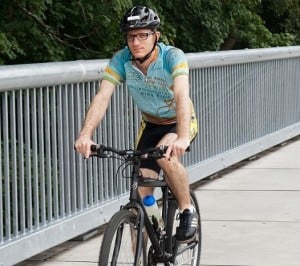 When did bike-riding as an adult become a "thing?" One moment I was riding around the suburban Connecticut neighborhood where I grew up, the next moment I was old enough to drive, and my bike was rust. Now that I'm in my late 20s, it's a "thing." I don't necessarily mean a thing as in a trend (though it's clearly trendy in some spheres). I had to get a bike, a helmet, get a lock-because how is it ever going to fit in my tiny Brooklyn apartment-and learn to ride in traffic-to work! Let's not forget that I was not even a particularly athletic kid to start. Energy and endurance are at a premium now.
And what's so Jewish about biking?
I've always considered myself environmentally conscious, but only recently an activist. One of the most fundamental values of Judaism is Tikkun Olam, or fixing the world. This means different things to different people. "Environmentalism" is possibly just the most literal translation. The best part about fixing the planet is that it really means helping people. We can't let the planet go down the tubes because we need a place for our kids to live. Getting out of my car onto a bike is one simple way to minimize how much damage I do to the world while I'm here.
Two years ago I began working for Hazon, a Jewish environmental organization and home of the aptly named "People of the Bike." One of our flagship programs is our New York Ride and Retreat, a two-day retreat over Shabbat in upstate New York followed by two days of cycling into Manhattan, now in its eleventh year. Participants raise money to benefit innovative Jewish environmental projects. As staff, I was told I would have the privilege of cycling alongside riders and crew (the crucial support team for the riders) of all different ages, backgrounds, and levels of experience. I had a few short months to get a bike, start training, and begin fundraising. I was excited but incredibly nervous. I wasn't up on my bike lingo, my body wasn't exactly a well-oiled machine, and the thought of riding with traffic left me concerned to say the least. My only goals at the time were to survive this ride, not embarrass myself, and ultimately to begin commuting to work by bike. Needless to say, Hazon got me there.
The group ride was incredibly powerful. The two-day retreat that precedes the ride builds the community and sets the tone. Buzz words like pluralism and inclusiveness get thrown around, but I saw and stood by 300 people of every type of Jewish observance level and background eat a meal together without starting a fight. Diversity truly felt more than tolerated, but appreciated and encouraged.
I felt the same once we hit the road. I rode with the group going the shortest distance. There were beginners, families, and what seemed the largest age spread. There was no judgement, only smiles and encouragement. We cheered each other on, stopped for breaks together, walked when the hills were too steep, and made sure no one had to ride alone. At some level, it was a demonstration. We represent the Jewish community, we care about the environment, we care what Judaism has to say about healthy and sustainable living, and we're going to be very public about it. The times I've felt united with a large group of Jews about anything are few and far between. This was for sure one of them.
At the end of our 36 mile route for day one, I wish I had picked a longer route. More importantly, I felt like I had the tools I needed to make biking a part of my daily routine. My commute is just a fraction of the mileage of the New York Ride route, and I now do it a few days a week. The benefits keep surprising me. The days I ride to work usually my most productive-by the time I arrive, I've already accomplished something. I feel like I'm in the best health of my life. When I need to run an errand, my mind jumps to the time and distance of riding before I think about the bus or the subway. More importantly, I feel less destructive and less passive as a member of my eco-system. I'm living a healthier lifestyle and using a highly sustainable form of transportation.
I still take the subway, I still ride buses, and I've been known to rent a car. There's no pretending that I've got this completely figured out, but I've made some critical changes that have turned out to be pretty simple. Riding my bike makes me feel like a better person and a better Jew. Really, it's just like riding a bike, only it's even better with a bit of cavanah, or intention. If I can do it, anyone-really, anyone-can do it.
Learn more about Hazon Bike Rides or get tips and advice for cycling.
Jake Wilkenfeld-Mongillo was born and raised outside New Haven, CT, and consequently went to UConn for undergrad. He made the mistake of picking up bass guitar in high school which proved to be one of the greatest distractions of his life. After college, he spent two years working for Hillel as part of the now defunct JCSC Fellowship. He spent a year at the University of Arizona in the desert of Tucson and year back at UConn where he had the privilege of working with some of the most inspiring Jewish professionals and meeting the most extraordinary students. Jake can be found at Hazon updating the website, creating mass emails, updating facebook, and improving your event registration experience.