Get on your bike and ride!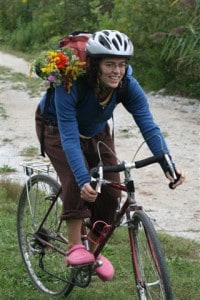 May is National Bike Month, a time to appreciate all that is wonderful about bicycles and the many reasons to ride them. Whether you're a seasoned cyclist, or it's your first time in many years, now is the perfect time to start riding. There are no special skills required beyond the knowledge of a few hand signals. You don't even need a separate wardrobe; just a bike.  It's not only the most environmentally-conscious way to travel, but it's often the most convenient way to get around, and it is enormously satisfying to know that you've traveled somewhere using your own two legs. Cycling gives you a deeper appreciation of your surroundings; you'll see the world around you with new eyes from the seat of your bike. Many who commute by bike will say it's the best way to start the day.
And did we mention it's just plain fun?