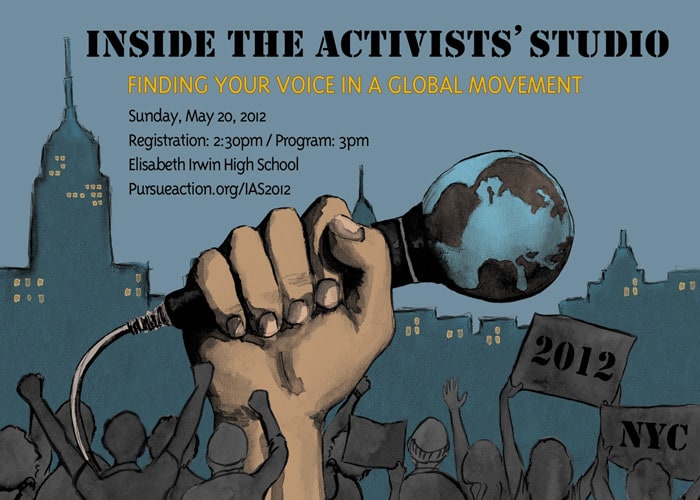 Sunday, May 20th, 3 PM – 8 PM
2:30 PM Registration
The Elisabeth Irwin High School
40 Charlton St, Greenwich Village, New York, NY
$8-$18 Sliding Scale
Join us to learn from and be energized by local Jewish change-makers and to celebrate the multitude of ways we are working to create a more just world.
Inside the Activists' Studio 2012 will help us explore the parameters of a global movement and find our place as Jewish social justice activists within it. Learn tools to help reflect on what's most important to you, amplify your voice, and participate in a meaningful way in the global effort towards a more just world.
Emceed by Jenny Romaine and moderated by Sara Ivry. Panelists include: Dasi Fruchter, Yotam Marom,Karen Abravanel, and Phil Aroneanu. Skill building workshops with Simon Hanukai, Tal Beery, Sarah From, Eric Eingold and more! Plus, YOU!
Register Today
Inside the Activists' Studio is brought to you by Pursue and our partners, the New Israel Fund-New Generationsand the Young Leaders of the Hebrew Immigrant Aid Society.
Co-sponsored by Adamah/Isabella Freedman, AJWS Global Circle, Bend the Arc: A Jewish Partnership for Justice, B'nai Jeshurun, Bronfman Youth Fellowships in Israel, Brooklyn Jews, Congregation Beit Simchat Torah, Hazon, Jewish Labor Committee,Jews for Racial and Economic Justice, Jewschool, Kehilat Hadar, Kolot Chayeinu, Mechon Hadar, Moishe House-Murray Hill, PresenTense, Romemu, Teva Learning Alliance, and Uri L'Tzedek.