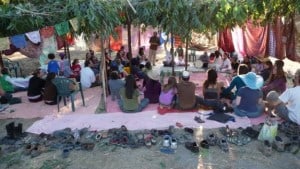 Thursday, October 13th, 5 PM to Sunday, October 16th, 12 PM
Early Bird Registration closes August 22nd!
Register at wildernesstorah.org
For those observing chag, please join us on Wednesday before sunset.
Wilderness Torah invites you to gather in multi-generational community for the fifth annual Sukkot on the Farm Festival – a three-night campout and celebration of the fall harvest at Green Oaks Creek Farm in Pescadero, CA. Come co-create our village and enjoy a long weekend of farm-fresh organic food, Shabbat and Sukkot celebration, bonfires, music, learning, kids and teens activities, meditation, movement, and more. Reawaken the Water Festival, Simchat Beit Hashoevah, where we honor and call in the waters for the coming year and dance and celebrate with live music on Saturday night. Participants should be comfortable in the outdoors and committed to a shared group experience.
More information and registration.

Full Calendar
Next 30 Days