By David Krantz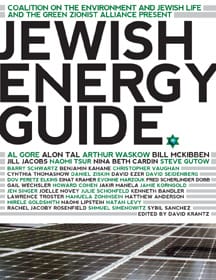 NEW YORK (Jan. 16, 2014) — The next Shmita year is scheduled to begin in September, so we need to get ready! The Jewish Energy Guide is designed to help the Jewish community become more environmentally sustainable and help reduce our energy consumption in preparation for the next Shmita year. And in honor of Tu B'Shvat, the Green Zionist Alliance and the Coalition for the Environment and Jewish Life are releasing the complete Jewish Energy Guide as a PDF today.
The 100-page Jewish Energy Guide features articles by fellow Siach members Rabbi Nina Beth Cardin, Mirele Goldsmith, Einat Kramer, Jakir Manela, Evonne Marzouk, Rachel Jacoby Rosenfield, Rabbi David Seidenberg, Rabbi Lawrence Troster and Gail Wechsler, as well as Siach advisory-board member Naomi Tsur. Other contributors include Al Gore, Bill McKibben and Rabbi Arthur Waskow.
Siach means conversation, and although the Jewish Energy Guide is being released today, the publication began simply with a conversation between me and COEJL Director Sybil Sanchez at the first Siach in 2011 at Isabella Freedman Jewish Retreat Center.
So this Tu B'Shvat, read the Jewish Energy Guide, begin preparations for Shmita, and start a conversation with someone new about Jewish environmentalism. Because you never know where something as simple as a conversation can lead.
Activism in Israel: Yahel – Israel Service Learning
by Samantha Sisisky and Rachel Olstein Kaplan
"I have learned an enormous amount and will walk away with a deeper connection and understanding of my relationship with Israel. The imperfect promised land is a place even more meaningful in my life after this experience."- Ariel Amaru, Yahel participant
Many young adults in the Jewish world with a deep commitment to social justice struggle to connect with Israel, particularly as the conversation around Israel has become more complex and challenging in North America. Yahel – Israel Service Learning has designed programs which appeal to young people who struggle to reconcile their passion for social justice with their desire to connect with Israel.
The 9-month Yahel Social Change Program places post-college participants in an Ethiopian-Israeli neighborhood in Gedera, a small town an hour south of Tel Aviv. The program is run in close partnership with a local Israeli non-profit, Friends by Nature. The Yahel participants provide fundamental support to their programs in the neighborhood. One such program is Homework at Home, a tutoring program in which mentors go to students' homes to provide homework support in English, math and other subjects, while at the same time reinforcing positive study habits in the home.
Yahel has also been partnering with grassroots organizations throughout Israel for its short term (10-day to 6-week) programs. While many of Yahel participants have been to Israel in the past on programs like Birthright, they come to Yahel looking for an experience that will introduce them to real life in Israel and offer the chance to meet with some of the changemakers working within Israel's communities to promote social justice.
One of Yahel's newest partners is Ofekim L'Atid, an organization based in the Druze village of Maghar which is working to empower the local community and create opportunities for youth. Through the partnership with Ofekim l'Atid, Yahel participants have been able to stay in local Druze community members' homes and briefly immerse themselves in their culture. One participant, Hannah Stonebraker, said of the experience, "I left the community feeling truly baffled, amazed, and inspired by these girls and young women with whom I met and lived albeit briefly. It was amazing to see a group of mostly 14 and 15-year-old girls so mature, aware, open, and honest." Not only were the participants able to better understand Druze culture and life, but they were able to hear it from the perspective of Druze youth. This winter, Yahel will be running an alternative winter break program in Maghar.
By connecting young people to activists involved in Israel's own social justice challenges, and inviting them to actively contribute to social change initiatives, Yahel gives participants the awareness that they do not have to choose between loving Israel and pursuing tikkun olam.
Instead, participants reconcile their newly established personal connection to the Jewish homeland and their deeply held values relating to social justice. In this way, Yahel holds the promise and the potential to develop a generation of Jewish social justice leaders who feel connected to–instead of alienated from–their Jewish homeland.