Without sustenance, there is no Torah. Without Torah, there is no sustenance.
Our Rabbis teach us that sustenance and food security are inextricably intertwined with scripture as the foundation of Jewish life. The link between food and faith obligates us as Jews to challenge the injustice of hunger, champion the right to food and steward the land on which our sustenance depends.
As Jewish Americans, we recognize that our country's food and agricultural policies have a profound impact on people at home and abroad. Reforming our broken food system would constitute a major step forward in repairing a world where too many needlessly suffer from hunger and poverty.
The undersigned national Jewish organizations urge the U.S. Congress and Administration to take the opportunity presented by the reauthorization of the Farm Bill to prioritize policies that reduce hunger and poverty, and encourage sustainable stewardship. To promote food justice in the United States and worldwide, we support the following principles for the 2012 Farm Bill:
Strengthen and expand programs that reduce hunger and improve nutrition in the United States.
Strengthen and increase investment in policies that promote conservation and good stewardship of the land.
Reform support systems to enable farmers in both the United States and the developing world to earn sustainable livelihoods.
Protect the health, safety and dignity of those responsible for working the land.
Promote research on clean, renewable energy sources that do not negatively impact food staple prices and availability or the environment.
Reform the international food aid system in ways that encourage flexibility and promote local food security.
Adamah
American Jewish World Service*
Association of Jewish family
and Children's Agencies
Coalition on the Environment
and Jewish Life*
Ekar Farm
Green Zionist Alliance
Hazon*
Isabella Freedman Jewish Retreat Center
Jewish Council for Public Affairs*
Jewish Community Centers
Association of North America
Jewish Council on Urban Affairs
Jewish Farm School
The Jewish Federations of North America
Jewish Reconstructionist Federation
MAZON: A Jewish Response to Hunger*
National Council of Jewish Women
The Rabbinical Assembly
UJA-Federation of New York
Union for Reform Judaism
Uri L'Tzedek

*Member of the Jewish Farm Bill Working Group
---
An interesting Jewish perspective on the Farm Bill is through the lens of another agricultural cycle, Shmita. Shmita and other mitzvot teach us about Jewish values and connect to various aspects of the Farm Bill. The below Torah portions are two examples of how to make these ties and what questions arise when doing so.
Vayikra (Leviticus) 25:1-6
"When you enter the land that I assign to you, the land shall observe a Sabbath of God. Six years you may sow your field and six years you may prune your vineyard and gather in the yield. But in the seventh year, the land shall have a Sabbath of complete rest, a Sabbath of God: you shall not sow your field or prune your vineyard. You shall reap the aftergrowth of your harvest or gather the grapes of your untrimmed vines; it shall be a year of complete rest for the land. But you may eat whatever the land during its Sabbath will produce."
Vayikra's concerns are both agricultural and theological. In this setting, we are strangers permitted to reside on God's land. The land is then able to rest just as many do on Shabbat. During the Shmita, everyone has equal access to the land; this reinforces the notion that ownership is a human illusion and that what we produce from the land signifies God's blessing. Although nothing is planted during the Shmita, there is no starvation. The abundance of food during the sabbatical is partly related to the observance of God's laws.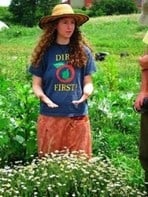 What Jewish values can we learn from this?
Regular care for the land is our responsibility, in part because it belongs to God.
Doing so is part of our economic system, not an afterthought. The land gets a Shabbat just like we do.
Accessibility to the land and its produce is part of the common good.
Treatment of the land will affect what it offers us in return.
How does this apply to the Farm Bill? Here's another look at the Torah:
Devarim (Deuteronomy) 15: 1-11
"Every seventh year you shall practice remissions of debts. This shall be the nature of the remissions. Every creditor shall remit the due that he claims from his fellow; he shall not dun his fellow or kinsman, for the remission proclaimed is of God. You may dun the foreigner, but you must remit whatever is due from your kinsman.
There shall be no needy among you since Adonai your God will bless you in the land that Adonai your God is giving you as a hereditary portion if only you heed Adonai your God and take care to keep this Instruction that I enjoin upon you this day. For Adonai your God will bless you as God has promised you; you will extend loans to many nations, but require none yourself; you will dominate many nations but they will not dominate you.
If, however, there is a needy person among you, one of your kinsmen in any of your settlements in the land that Adonai your God is giving you, do not harden your heart and shut your hand against your needy kinsman. Rather you must open your hand and lend him sufficient for whatever he needs. Beware lest you harbor the base thought, "The seventh year, the year of remissions, is approaching," so that you are stingy to your needy kinsman and give him nothing. He will cry out to Adonai against you and you will incur guilt/have sinned. Give to him readily and have no regrets when you do so, for in return Adonai your God will bless you in all your efforts and in all your undertakings. For there will never cease to be needy ones in your land, which is why I command you: open your hand to the poor and needy kinsman in your land."
Devarim speaks about debt remission: during Shmita, all debts, including to foreigners, were cancelled. It presents an ideal, blessed society without poverty while acknowledging that poverty will never fully disappear. Fear of debt does not drive one's behavior; lending to the poor is of the utmost importance. Some of the above verses may challenge us and present contradictions between personal virtue and collective policy. The Farm Bill represents today's version of this same conversation thousands of years ago.
From this perspective, we created broad goals for the Jewish Food Movement for the end of the Shmita cycle (Rosh Hashanah 5776/September 2015).  An American Jewish community that is:
Measurably healthier and more sustainable
Active in helping the world become healthier and more sustainable
Strengthened and renewed by the work of the Jewish food movement.
These goals can be implemented on personal, communal, and policy levels. We are building individual awareness, learning how to take action, and strengthening the Jewish community by becoming involved with broader discussion about agricultural policy.
Work to pass the next Farm Bill is happening now. Nigel Savage, Executive Director of Hazon, believes it is important for you to act. 

I first raised the topic of the Farm Bill at our very first Food Conference in 2006. As an organization we've been learning and teaching about it every year since then. If we're serious about a healthier and more sustainable Jewish community, and a healthier and more sustainable world for all, then it makes sense that we'd want to learn about the Farm Bill – because it has a greater impact on food systems, and the relationship between people and food – than anything else the government does.  Read More…
Resources
Stay Connected
If you want to continue learning about Hazon's programs and updates, please sign up for our mailing list. If you have questions, please contact judith.belasco@hazon.org
The Shmita Project is a joint venture of Hazon and the Jewish Farm School.