In This Email
Not receiving our newsletters? Join our mailing list.
---
New (Goat) Kids on the Block
Many of you will remember Aitan Mizrahi, the Adamah Dairy Manager, who has lovingly taught so many new pairs of hands how to coax milk from a goat's teat. Aitan is moving on and two lively apprentices are taking his place—they introduce themselves in the following blog post. Visiting the goats is one of the greatest parts about Isabella Freedman—we hope to see you there at the New York Ride & Retreat and at the Food Conference. (Registration is now open!)
New Kids on the Block at the Adamah Dairy
By Stephen A. Sherman and Glenn Katz
Aitan Mizrahi lifted up Schlomo in both arms. The tip of the man's pitch-black beard brushed the buckling's back, which was equally dark.
"Okay, it's time to pass the buck," he said…
Continue reading "New Kids on the Block at the Adamah Dairy Farm…"
Congratulations to the Boulder Jewish Commons Community Farm on the arrival of their new baby goats!
---
California Ride Grantees Announced
Hazon is proud to announce the recipients of mini-grants from this year's California Ride.
Each year a series of mini-grants are distributed to organizations and projects which share Hazon's mission. We are thrilled to support this year's California Ride mini-grant recipients!
Berkeley Midrasha/Netivot Shalom
Camp Newman Kibbutz Yarok
Shomrei Torah
Beth El
The Kitchen
Amir
Learn more about these organizations and their projects.
Support organizations like these by riding in the 2012 California Ride and Retreat.
Register today, prices increase April 3rd.
More Information | Registration
---
Only a Month Away…
The Rocky Mountain Jewish Food Summit
April 29, 2012, University Memorial Center at CU Boulder
Home-brewing, bee-keeping, kugel-baking contest. Experience speakers, interactive learning sessions, challenging conversations and a vast network of people interested in all things food and Judaism. The Rocky Mountain Jewish Food Summit is an opportunity to connect the puzzle pieces of food in your life. Eat, learn, do at CU-Boulder with Hazon Colorado on April 29th.
More Information | Register Today
---
Hazon Ride Launch Party with Mark Bittman and Ruth Reichl
Help kick off the 2012 Hazon Ride season with your favorite Hazon alumni; and joined by food writers, cooks, and food activists, Mark Bittman and Ruth Reichl.
Tuesday, April 10th
92Y – Lexington & 92nd Street, Upper East Side, Manhattan
7 PM – Cocktails & snacks (kosher for Passover, local, delicious!)
8 PM – Conversation with Ruth Reichl & Mark Bittman
Recent articles:
Tickets available on a sliding scale, $18-$55. Buy tickets.
This event is graciously hosted by the 92Y and is presented with the Jewish Daily Forward and The Jew and the Carrot blog.
---
Healthy, Sustainable Passover Resources
Passover is the Jewish tradition's "eat seasonal" poster child. Also known as "Chag Ha-Matzot" (possibly a holiday celebrating the new barley harvest) and Chag Ha-Aviv ("holiday of spring"), Passover is a time to notice and celebrate the coming of spring. The seder plate abounds with seasonal symbols: the roasted lamb bone celebrates lambs born in spring; karpas (the dipped green vegetable) symbolizes the first green sprouts peaking out of the thawed ground; and a roasted egg recalls fertility and rebirth.
Passover offers a perfect opportunity to combine the wisdom of a traditional Jewish holiday with our contemporary desire to live with our health and sustainability in mind.
Resources for a Healthy, Sustainable Passover
---
Love, Hate and the Jewish State 5.0
Gender Discrimination in Israel
Sponsored by the New Israel Fund
Co-sponsored by Hazon
March 22, 2012, 7-10 PM
Congregation Beth Elohim
274 Garfield Place, Brooklyn, NY
For many of us, gender inequality describes unfair salary disparities, constricting gender norms or under-representation. Join NIF for the fifth installment in a series of highly interactive, non-persuasive, non-political discussions with a diverse group of people in their 20s and 30s. Followed by a reception.
---
3rd Annual National Day of Unplugging
Join Reboot in helping people around the world rejuvenate the ritual of Shabbat by signing on to sign off from technology for the 3rd annual National Day of Unplugging (NDU) on March 23rd-24th, 2012.
This year includes an "Unplug and Eat Together" campaign in partnership with Hazon and Slow Food USA.
---
Second Annual Food Justice Seder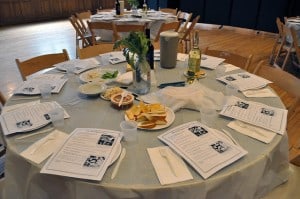 Join Pursue, Uri L'Tzedek, and Congregation Beth Elohim/Brooklyn Jews for the second annual Food Justice Seder!
As Passover draws near and we begin thinking about age-old themes of slavery and liberation, we'll gather to connect the dots between contemporary food justice issues and the retelling of our Exodus story.
Sunday, April 1st, 6:00 PM to 9:00 PM
Congregation Beth Elohim
274 Garfield Place, Brooklyn NY
$12 – $20 sliding scale. Nobody will be turned away for lack of funds.
More Information and Registration
---
The New American Haggadah – Presented by Jonathan Safran Foer and Nathan Englander
Sunday, April 1, 6:30 PM – 8:00 PM
B'nai Jeshurun, 88th St. Sanctuary
257 West 88th St.
New York, NY
Join B'nai Jeshurun as they host Jonathan and Nathan for a presentation of this new/old book. Registration encouraged.
Cosponsored by Hazon