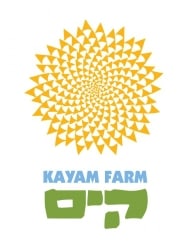 Kayam Farm's Leaders Kollel aims to provide an in-depth learning experience of Jewish agriculture, sustainability, and pluralistic Jewish community. We ask that participants bring their full and honest selves to the program, including your passions and expertise as well as your challenges and imperfections. We hope this experience will strengthen your knowledge, understanding, and commitment to Jewish tradition as it relates to sustainability. Upon leaving the Leaders Kollel, we ask you to take on a new/continued leadership responsibility to empower your Jewish community to live in greater balance with all of G!d's Creation.
DATES:
July 12, 2011 – July 24, 2011.
TUITION:
Tuition covers room & board, program supplies, and staff time.
Before June 1, 2011: $800
Before July 1, 2011: $900
After July 1, 2011: $1,000
APPLICATION AND INTERVIEW:
The 2011 Kayam Farm Leaders Kollel is limited to 20 participants. Please review the below materials and send in your application as soon as possible. We look forward to speaking with you! Please be in touch with any questions, and hopefully we'll see you this summer!
Jessy Gross, Kayam Leaders Kollel Director
jessygross@gmail.com
Jakir Manela, Founding Director, Kayam Farm
jakir@pearlstonecenter.com
Learn more about the 2011 Karam Farm Leaders Kollel [PDF]