A program from our friends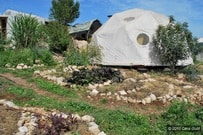 Eco-Israel allows people aged 18-30 the opportunity to embrace permaculture and sustainable living.  Participants spend 5 months on an organic farm in central Israel getting hands-on experience in sustainability, farming, gardening, medicinal herbs, composting, natural building and more.
The Eco-Israel curriculum is designed to help participants develop a deep, personal land-based relationship with the Land of Israel, its diverse cultures, and inspiring landscapes. Working the land is done in tune with the seasonal flow and holiday celebrations of the agricultural Hebrew calendar. Students experience and engage with the Bible and Jewish agricultural precepts in relevant, hands-on ways.
Upon completion of the program, participants receive an internationally recognized certificate in permaculture design.  There are still a couple of spots available for the Fall semester which begins September 5th.  More information and applications are available on their website.
Eco Israel from Eco 5 on Vimeo.