Dear Hakhel Communities,
We have now entered the month of Elul – a time of introspection, where we review our deeds and our spiritual state this year and prepare for the upcoming "Days of Awe" of Rosh Hashanah and Yom Kippur.
What has your community achieved this year? What is its spiritual state currently? Where do you hope to take your community in the next year?
Elul is the time for teshuva ("returning" to G-d; repentance), for self-improvement, for thinking about one's relationship with oneself, one's family, community, and G-d. There are many Jewish conceptions of teshuva, how the concept of "returning" is relevant to us and plays itself out cosmically in our world. The mystic Rabbi Isaac Luria connected teshuva with tikkun olam, healing the world, since through teshuva and spiritual healing, Jews can improve and perfect G-d's work.
Teshuva is a process that only begins during the High Holidays. The real work will carry us through the coming year (at least!). We hope you and your communities are currently busy planning a meaningful High Holiday experience. If you are looking for resources, please check out Hakhel's Resource Library, and if you would like to consult and think together, please be in touch. And we hope this feeling of connection, to Judaism, and to one another, will continue throughout the year to come.
Sincerely,
Deborah Fishman
Hakhel Network Manager
Teshuva and introspection are key values of Hakhel, and as a learning organization we will soon launch our annual survey. Your participation is more important than ever this year, so stay tuned!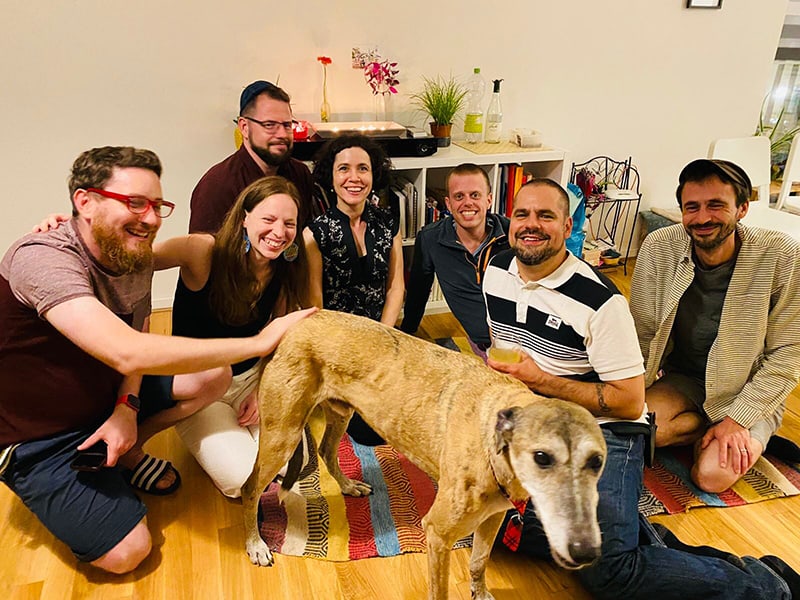 "Guid gear comes in wee bulk"
Good things come in small packages – Scottish proverb
– or as we Hungarians say: The pepper is small but strong.
This month, Hakhel Network Manager Deborah Fishman talked to Csaba Szikra and Flora Petak of the Hungarian Minyan in Berlin, Germany. Read all about this community below.
Tell us in a few words about your community and what is special about it.
We are the only official community in Berlin for Hungarian Jews and Jewish Hungarians. Our members are often "new" to Jewish culture and religion, as these are tolerated (and blooming) just since the beginning of the 1990s in Hungary. The members mostly left Hungary for Berlin during the last 10 years.
How is Judaism part of your community's life and identity?
Our aim is to connect and reconnect Judaism to our members and vice versa. We have some religious people in the Hungarian Minyan of Berlin, but we mostly learned more about our Jewish background in our adult years: therefore we are often very curious but also somehow introverted regarding it. The majority are still not "observing Jews" but "Jews, who are observing" from another perspective. We organize not only home minyans and bigger Jewish religious events, but also other happenings (for example, excursions and visits to Hungarian cultural events), to meet and to share our knowledge with each other. We open up to the non-Jewish society too. Due to the relatively small number but extremely various background of the members, we are very open to all Jewish identities from Reform to Orthodox, from Ashkenazi to Sepharadi and Mizrahi, from non-Zionist to Socialist Zionist, and so on. Politically we are colorful and tolerant as well.
What is Hakhel's added value for your community? In what ways does being part of a global network benefit you?
Hakhel helps us to organize and develop our community: with knowledge, with financial and ideological support. Hakhel and the sister communities in Israel and the other communities in Hakhel's network contribute to our success with their huge experiences in grassroot organizing.
Especially important is that we are VERY thankful for the Hakhel Trip to Israel. 
What is one takeaway or lesson from your work that you would like to share?
One of our lessons is: "It's not the quantity, but rather the quality of projects and members, that is important." We are happy to see the little but happy gatherings in our homes. We are more strong and happy with Hakhel together.

News from Hazon-Pearlstone
On August 12, President Biden signed into law the Inflation Reduction Act, with a transformative $370 Billion investment in green energy, sustainable agriculture, and other climate solutions. We at Hakhel applaud the work of our colleagues at the Jewish Youth Climate Movement (JYCM), which the week prior held a week-long leadership retreat at Pearlstone. It culminated in a delegation to Washington, D.C. that staged a protest in front of the White House, calling on President Biden to declare a climate emergency, drawing inspiration from the holiday of Tisha B'Av—integrating Jewish mourning and historic upheaval alongside hope, resilience, and action.
We agree with JYCM that "Progress IS possible, people power DOES matter, and there really IS vast societal change unfolding all around us."
Here's what you can do to get involved:
You can read JYCM's full inspiring press release here.
The 125th Anniversary of the First Zionist Congress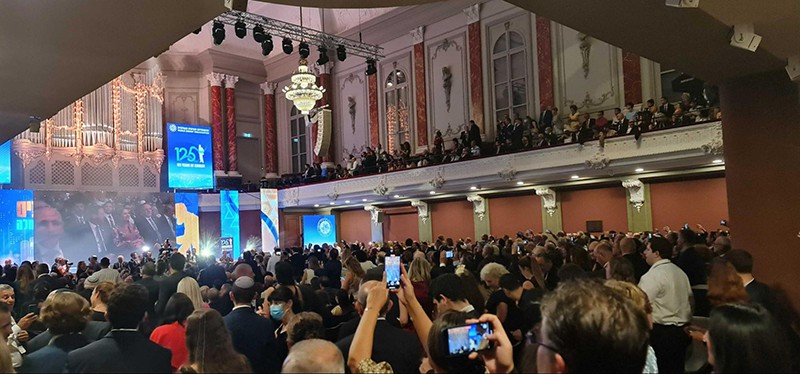 On August 28-29, the World Zionist Organization held a special conference in Basel, Switzerland, commemorating the 125th anniversary of the first Zionist Congress, held there in 1897.
Hundreds of Jewish leaders and entrepreneurs, from 40 countries, gathered in Basel for a 2-day conference, culminating in a gala event at the Stadtcasino Hall itself, where the first Congress was held. Participation was by invitation only, and we are glad to share that out of thousands of Jewish organizations and leaders out there, Hakhel was invited to participate and was represented by Aharon Ariel.
It was a very exciting, and moving, event and another wonderful opportunity for Hakhel to expand its network and make new connections. Reviewing 125 years of Zionism was exciting in and of itself, and many of the speakers talked about the changing face of Zionism and reframing the relationship and partnership between Israel and the Jewish world. Hakhel is in fact on the forefront of doing this.

Learn Jewish History
The Jewish Story Live explores the spiritual and historical roots of our world. This year, a late biblical exploration followed by Hellenism, the rise of rabbis, 3 Roman-Jewish wars and the sealing of the Oral law will trace the evolution of Jewish consciousness among empires, cultures and world religions – and expose the foundations on which half of human society is built.
Every Sun 1 pm EDT/8 pm IST, August 28th-March 26th.
Click here for Details & Registration
Questions: ravmikefeuer@gmail.com
Your pathway to Israel's Hi-Tech Industry
Infinity Labs R&D is opening a branch in New York and looking for Aliya-minded applicants!
We offer an exclusive high-tech program that produces outstanding software developers, with a full tuition scholarship and job placement at the end of the training. 👩‍💻👨‍💻
We're looking for college graduate applicants who intend to make Aliya and are interested in a high-tech career in Israel.
If you refer someone who will get into the program you'll get a free roundtrip ticket to Israel (for each referee). ✈️
If you're from Israel, you'll get the roundtrip ticket to New York.
Click here to learn more about the program.
"Array of Sight"
Array of Sight ("Atyaf" in Arabic) is a virtual arts competition and online exhibition, sponsored by the Center for Peace Communications, an organization that promotes bridge-building in the Middle East. It invites art students and young art professionals from all countries of the Middle East and North Africa to submit original pieces of graphic art that express a hopeful vision of their region, offering cash prizes to the winners.
Art submissions will be considered based on two categories. The first is an individual's art. The second is collaborative work by artists who each come from different sides of a group divide — be it ethnic, national, sectarian, or religious (e.g. a Sunni artist and a Shi'ite, an Arab and a Kurd, an Arab and an Israeli, etc.). Contestants can request a "cross-border partner" to work with, and Array of Sight will help match them with a fellow artist. For Israeli and Palestinian participants, a special emphasis will be placed on connecting them and to artists in the broader region.
Submissions that reach a minimum acceptable level of artistic merit will be exhibited via the competition's Web site — a "virtual gallery," available in multiple languages to art lovers around the world. For those contestants wishing to make their work available for sale, the site will offer that option to browsers and place potential buyers and sellers in direct contact. Please contact us: atyaf@thearabcouncil.net.