We're thrilled that you joined us for the 2012 Hazon-Cross USA Ride and we are in awe of your ability to bike such a significant distance. We hope to see you back at future Hazon rides and events with your friends and family! This year, the Cross-USA Ride helped share Hazon's work of creating healthier and more sustainable communities in the Jewish world and beyond with communities all across the country and we thank you for being part of this initiative.
Ride fundraising is continuing through September and we hope that upon your return home, you continue to solicit donations as you share your experiences with friends and family. In the event that you earn any incentives from post-ride fundraising, we will be happy to mail your gift to you.
Thank you again for helping to support Hazon and our work!
Hazon's Cross-USA Ride Staff
This is the ninth email for Cross-USA Ride participants. If you've just registered, previous emails can be viewed here.
---
Post-Ride Survey
As you know, the 2012 Cross-USA Ride was the first since Hazon's inaugural ride in 2000. It is our hope to continue running this ride for years to come. Your feedback is crucial to enabling us to continue this ride and to improve upon it in the future.
We have created a survey with questions covering various aspects of the ride. Please take some time to thoughtfully complete the survey. Your answers will help us create stronger systems for life on the road, improve our community education opportunities, determine the route for future rides, and better focus our marketing. In addition, we hope that you can provide us with some thoughtful reflection that we may use on our website or in reports to secure funding for future Hazon projects. Please complete your survey by next Wednesday, August 29th.
---
Sharing Photos
We hope to create a DVD of photos from all of the riders to distribute to everyone involved in the ride. If you did not give a copy of your photos to a ride staff person, we ask that you send them to us. We prefer if you send us a physical copy (on DVD or USB drive) or digital copies (using YouSendIt or Dropbox). While we enjoy viewing online albums, if we can't download all the photos in one or two clicks, then we can't include those photos on the DVD.
---
See Your Face in the Paper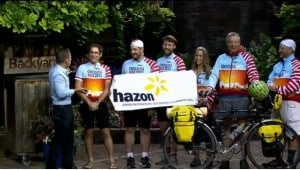 The Hazon Cross-USA Ride made headlines locally and nationally! We hope to continue to gain coverage of the ride, highlighting your individual accomplishments. We've already sent out a press release to over 200 of our national contacts. You're encouraged to send this press release to any press or media contacts you may have, particularly if you know anyone at a local newspaper (Jewish or not). When sending this out, it's always wise to add a personal touch, whether it's a photo, a story, or personal note. If you don't have a contact, but know the local paper you'd like to see your face in, then contactWendy for help.
---
Staying in Touch
We hope that you continue to post on the Cross-USA Ride Facebook group, sharing links to photos, reflections on the Ride, or just updates about your return. W'll soon start to recruit for the 2013 ride and new riders will be looking for advice from veterans like yourself. If you did not receive the contact list that was emailed last week please let us know.
If you're speaking about your experience, sending out a report to your supporters, or otherwise engaging your local community about the ride, please let us know. We would love a copy of any post-ride reflections you may create. If you'd like to be an ambassador for next year's ride, please let us know, too!
If you already have friends and family who are interested in next year's ride, they can fill out a form letting us know they're interested athazon.org/crossusa.
---
Hazon is still riding in 2012 and you get a discount!
If you would like to join us for the New York Ride (August 31st to September 3rd) you can use the discount code "xusa" for $75 off the registration fees. As a Cross-USA Rider, you can get a reduced fundraising minimum of $800. In addition, if you would like to bring your own tent and camp for the weekend, you can use the code "camping" and only pay a $100 registration fee.
If you would like to come on the Israel Ride (October 30th to November 6th) the discount code "xusa" will give you $175 off the registration fees. Feel free to share these registration discounts with friends as well.
---
Grow and Behold Foods
As you know, Grow and Behold Foods was our sustainable meat sponsor for the duration of the Cross-USA Ride. We are grateful for their support of the ride and working with us to provide kosher meat in the remote parts of the country. You can continue to enjoy their products by ordering online growandbehold.com. As a special bonus to Cross-USA Riders, you can use the code XUSARIDER to receive $20 off your first order over $100 (offer expires 9/30/12).
---
Lost and Found
We have a variety of personal items that migrated back to our office in New York. If any of these are yours, please let Wendy know.
Sneakers: (Pink and Gray)
Sweater (Black and Blue)
Fanny Pack: Local 237 Teamsters
Sweatpants (Navy Blue)
Bike Shorts: Trek (Black and Blue)
Sunglasses (black)
Flip flops: Nike (Pink/Red)
Bike lock (Black)
Towel: small in holder (blue)
Umbrella (blue)
A green bag with a variety of socks, jerseys, water bottles and shirts
Coleman holder
Hat: New Horizons existing 1090
Gloves
Blackberry wall charger