Hazon is excited to be supporting the following organizations in their efforts to create healthier and more sustainable communities in the Jewish world and beyond! In addition to funding Hazon's CSA Program, Healthy & Sustainable Holiday Resources, and Institutional Food Change/Food Audit programs, here are the programs that will be supported by this year's New York Ride. 
Jewish Farm School
Jewish Farm School has received a mini-grant to build the Pardes Brachot Community Orchard which will provide local, carbon neutral organic fruit to Jewish community events on the Farm at Eden Village and beyond. Each of the 100 trees planted in the orchard will have an accompanying bracha or text from Jewish tradition.
Ganei Beantown
The Hazon mini-grant will support a new Boston organization, Ganei Beantown, and their 2nd annual Sukkot Family Harvest festival. They hope to draw 250 people to a local farm for an afternoon of music and merriment in fall 2012.
American Jewish World Service
The Hazon mini-grant supports AJWS and Pastoralist Girls Initiative (PGI) to help a community in North East Kenya build resilience to future droughts, build agricultural initiatives (especially among women), and replenish livestock.
Teva Ivri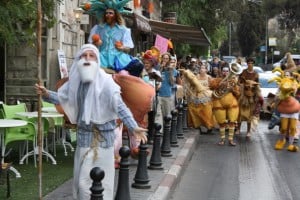 The Hazon mini-grant will support Israeli-based organization Teva Ivri in a six-part series of lectures and practical workshops at three synagogues in Ra'anana, Israel, where residents will gain the ideas and tools to make their communities more sustainable.
Temple Beth Shalom Mahopac:
The Hazon mini-grant will support their Sunday Farmer's Market, which is the only Farmer's Market in the area that accepts EBT ("food stamps"). Temple Beth Shalom is also hosting our rest stop on Day 2 of the Ride!
See pictures and learn more about these organizations and projects
Register for the 2012 Hazon New York Ride and support great organizations like these!