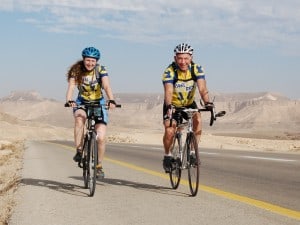 What can you give your college grad that will last a lifetime? How about the memories of an amazing trip taken together, a personal challenge, and making a difference in your community? Every year, parent/child combos participate in Hazon Rides and have a great time.

The personal pride achieved by our two sons as they completed riding 100 miles over two days taught them a lesson about setting high personal expectations, training and achieving, that no classroom experience can match.

I got the best hug from my son at the end of the ride and he added, "thanks for making this weekend so special and riding with me" … Experiencing this ride by watching him accomplish something few of his age would even imagine was wonderful.

Hazon events are truly intergenerational, with participants of all ages — whether you're a kid or parent, you'll have people your age with which to connect. What could be better? Riding with your child or parent is a good way to spend time together and make memories that last a lifetime.
Register Today: New York Ride | Israel Ride