This ride is all about the people: there are 81 riders, a crew of alumni from the Arava Institute, and incredible staff members from Hazon and the Arava Institute.
Riders come from 16 states, plus Israel, Australia, and England
5 people are traveling in Israel for the first time
They range in age from 12 to 72
There are 5 couples, 7 parent-child pairs, and 2 pairs of siblings
31 of the group are Israel Ride Alumni, while for many others, this is their first Hazon event
Riders have covered significant distance in the past three days of cycling. There have been many highlights so far. We celebrated the birthdays of our oldest and youngest participants. The riders are strong and working as a team.  The weather is fantastic, the learning is inspiring, and many participants have traveled by bike further than ever before. Today we are looking forward to a restful and reflective Shabbat at Mitzpe Ramon.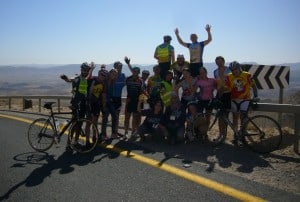 Here is a photo of the Chalutzim, "pioneers" and the fastest group of riders, today after their steepest climb of the day to the top of Makhtesh.  As riders reached the top of the climb, they were greeted with encouraging cheers and music from tamborines, drums and whatever other instruments the crew could get their hands on!
One of our riders is blogging the whole experience! Josiane takes you through her experience packing and preparing, time zone disorientation, a not-so-smooth arrival in Jerusalem, and her first day on the road. We look forward to her next post!