Come kick off the 2012 Hazon Ride season with your favorite Hazon alumni, and Mark Bittman and Ruth Reichl, food writers, cooks, and food activists. 
Tuesday, April 10th
92Y – Lexington & 92nd Street, Upper East Side, Manhattan
7 PM – Cocktails & snacks (kosher for Passover, local, delicious!)
8 PM – Interview with Ruth Reichl & Mark Bittman
Online ticket sales are closed.  Tickets available for purchase at the door before the event tonight.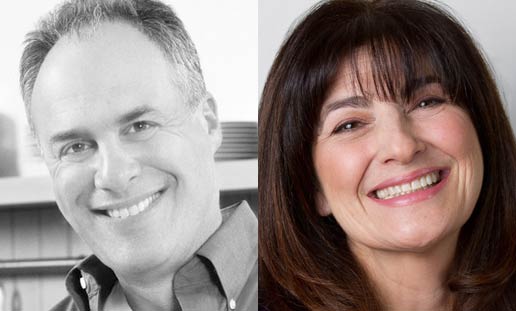 7 PM – Cocktail Hour
It's Passover, so we'll have kosher-for-Passover cocktails and seasonal treats inspired by Mark Bittman's column, "The Minimalist."  Connect with old friends, and make plans to get back in the saddle with your riding buddies this year.  We'll have the Hazon Store set up, where you can pick up a jersey or bike shorts or whatever you need to get excited for the cycling season.
Ticket price includes snacks and 1 complimentary drink; cash bar available for further merriment.
8 PM – Conversation with Ruth Reichl and Mark Bittman
Mark Bittman wrote the popular New York Times Column "the Minimalist" for several years.  He now writes regularly for the New York Times Magazine and has published several books including How to Cook Everything and Food Matters.  He's a fierce advocate for cooking from scratch, and makes it sound easy.  And he writes about serious social, environmental and ethical issues related to food with a remarkably even-keeled tone, all the while clearly advocating for the creation of sustainable food systems.
Ruth Reichl was the restaurant columnist for the New York Times for many years, and is famous for attending restaurants in disguise to find out "how regular people are treated."  She was the editor of Gourmet Magazine, and has written several memoirs exploring the connections between food and family traditions, including For You Mom, Finally and Comfort Me With Apples.
Tickets available on a sliding scale, $18-$55. Buy Tickets Here
This event is graciously hosted by the 92Y and is presented with the Jewish Daily Forward and the Jew and the Carrot Blog.