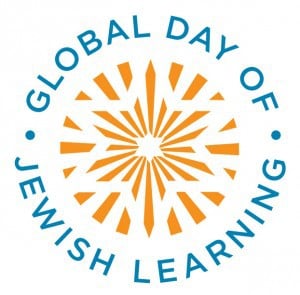 Sunday, November 13, 2011, 10 AM – 2 PM
JCC East Bay, Berkeley Branch
1414 Walnut St., Berkeley, CA
Come celebrate the Global Day of Jewish Learning at the JCC East Bay (1414 Walnut St.), on Sunday, Nov. 13, from 10 am-2 pm! The day will begin with two exciting sessions of classes, taught by the very best educators from our co-sponsors in the East Bay Jewish community. Then, a closing panel will explore new and fast-growing initiatives in the Jewish environmental movement, featuring representatives of Hazon, Urban Adamah, and Wilderness Torah. The event is FREE, and delicious refreshments will be served! Questions can be directed to Noah Zaves at noahz@jcceastbay.org or 510-848-0237 x138.
The JCC thanks our community co-sponsors for this event, including: Beit Midrash Ohr HaChaim, Center for Jewish Living and Learning, Chochmat HaLev, Congregation Beth El, Congregation Beth Israel, Congregation Netivot Shalom, Doe-Moffitt Library Judaica Collection, Graduate Theological Union, Hazon, Israel Center of San Francisco, Kehilla Community Synagogue, Merkavah Torah Institute, Temple Beth Abraham, Temple Beth Hillel, and Urban Adamah."
Learn more and view the full 2-page schedule of teachers, tops, and times [PDF].