This email was sent to participants of the canceled Wellness Retreat. It has helpful resources that can be used by anyone during this difficult time.
Dear Wellness Retreatniks,
We're sad that our time together has been postponed. In light of the current health crisis, it feels necessary and we are sorry to miss the opportunity to gather together. We were deeply looking forward to connecting and creating healthy resilient space together. 
Before we dive into some information and resources for you, just take note of where you are as you read this email. Take a moment to feel your seat on your chair, your feet connected to the earth, and invite breath fully into your body. At this time of heightened collective anxiety and fear in our world, it is vital to support our individual nervous systems by tending to our bodies, hearts, and minds. 
We'd like to offer some resources to best support your health at this challenging time, as this was what we were intending to focus on over the weekend: 
Dealing with fear or shock – from Rachael Brody:
I wanted to offer a few simple resourcing tricks when you notice yourself in a state of fear or shock. First, it can be helpful to notice and name 3-5 things that are pleasing to your senses. This brings support to your prefrontal cortex and the parasympathetic nervous system. If you feel overwhelmed or tense, movement can be a valuable ally to keep you from getting stuck in the body, which can lead to more imbalance and illness. So stomp your feet, shake, dance, stretch, and breathe. Here is a playlist for you to dance to in your living room.
Getting grounded and connected – from Noah Goldstein: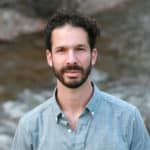 Amidst the uncertainty, we seek solid ground beneath our feet and something steady for us to hold. We look out and orient to our surroundings, gleaning clues around how to be and what to do from the collective. And yet, perhaps the most powerful and potent resource is within; in our spirit. Perhaps our greatest strength emerges when, for a moment, we slow down and feel inwards. I invite you to join me in a live guided meditation on Zoom on Tuesday (3/17) at 8:00pm EST to help us all reconnect with that which is within. It will be recorded and made available for those of you who cannot be available at that time.
Preserving perishables and supporting immunity – from Jeffrey Yoskowitz: 
The microbiological process of fermentation helped the Jewish community transition from times of abundance to times of scarcity for centuries. Souring foods with naturally occurring bacteria and yeasts didn't just provide flavor, but it also strengthened the immune system and populated intestinal flora for better digestion. With the reality of social isolation, we may all be working from home and eating at home more regularly. Consider this an opportunity to cook more. And why not ferment your fresh vegetables and to culture dairy so that you're not just eating canned goods? Here's a recipe for what I like to call an Ashkenazi Kimchi, made with ingredients easy to find in the Northeast, like green cabbage, radishes, turnips, etc. Add it to any dish and enjoy the boost of flavor and all those probiotics. Eat in good health!
Practical Self-Cafe – from Elana Brody: 
Hi everyone! Sad to not be able to restore and retreat with you in nature. I know some amazing singing would have happened!! I want to share with you some of my favorite herbs for some practical self-care at the moment. You can find it all here. 
Please reach out to any of us individually with any questions or additional support. May these seeds continue to rest until we meet again.
With Open Hearts and Radiant Love,
Rachael, Noah, Jeffrey, and Elana
Racheal Brody  rachael@heartseedhealth.com 
Noah Goldstein  noah@heartseedhealth.com  
Jeffrey Yoskowitz jeffrey.yoskowitz@gmail.com
Elana Brody elanabrody@gmail.com