by "Super" Ben Rosenthal
Reflections from a Golden Gate Rider

The year was 1988. Long story short, I entered the Jewish environmental movement at an early age.
Growing up in Takoma Park, Maryland, I rode frequently for pleasure, often with friends. In summer 1993, the year before I became Bar Mitzvah, my family rode in Cycle Across Maryland, a six-day, 300-mile adventure.
Fast forward to 2000 when Hazon's Cross-USA Ride arrived in D.C. My mom, De Fischler Herman, who has been the leading influence in my life of bicycling, was there to greet the riders. She then rode in the first New York Ride in 2001 and we both started riding with Hazon two years later.
Why do I ride? Today, as much as possible, my bicycle is how I get around. It's my primary form of transportation. I have not driven a car in over 15 years. In addition, it's how I lend support to my community and show my commitment to the sustainable world we are building together.
Falling in Love
It was 2003, shortly after I graduated from Ithaca College, that Mom and I started participating in Hazon New York Rides together. So began a new generation of my bicycling experience. For eight years, we raised funds, retreated, and rode. Connecting to Judaism and environment at the same time was an added bonus!
Through Hazon, I discovered Isabella Freedman Jewish Retreat Center. Circumstances led me to spend more time there, engaging with Teva, Adamah, and Elat Chayyim, communities with which I ultimately fell in love. What began as an opportunity to be an eco-consciousness for these organizations and offered me the nickname Super Ben—of whom you might have heard in these circles—turned into living, working, and growing with a burgeoning residential staff community.
As time passed, I become a fixture at Isabella Freedman—a constant in an ever-changing continuum. Many of my core friendships today were born during my years at IzzyFree. The primary reason I dreamt of taking my next step in the Bay Area was that so many of my friends did the same and, upon my arrival, I knew I would have community to come home to.
Crossing the Golden Gate
But there was another side of me. My experiences at Isabella Freedman transformed me from a curious, periodic explorer of Jewish Renewal who also rode a bicycle to a deeply connected member of a quickly evolving, progressive, young Jewish community, who constantly demonstrates the value of owning and riding a bike.
As an integral member of this Jewish environmental community, some would say I'm the person who most embodies the change he wishes to see in the world. I most strongly exhibit this passion by bicycling.
My Xtracycle carried all sorts of cargo around the Isabella Freedman campus. More importantly, though, it helped me support over 50 summer Adamah fellows to train for the annual New York Ride, which had become the last hurrah of their fellowship season.
From 2007 until my departure in 2011, I practiced leading training rides, including designing routes, preparing snacks, and coaching riders, ensuring everyone's fun times and safe returns. I also contributed to the planning of the one and only Hazon DC Ride in 2007, whose route I designed and tested.
Hazon first invited me onto a committee for the New York Ride in 2010, when I planned and tested the route and introduced it at the rider briefings. I'd just completed the first cohort of the Jewish Greening Fellowship and discovered my secret weapon to less-nervous public speaking.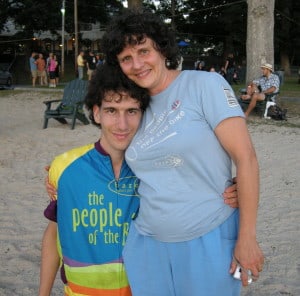 Less than a year later, barely off the plane in California, Whitney Pollack recruited me onto the Golden Gate Ride committee and I quickly learned how few cycling roads there are to choose from in Northern California. This year's route is a gentle combination of the past two, and I'm also involved in soliciting donations and sponsorships, supporting training rides, and developing the crew plan.
As I prepare to round out three Hazon rides in California, I'm reminded of the person most influential in my bicycling life: my mother. Even more exciting than completing my 12th Hazon Ride, I am tremendously grateful that this year Mom and I will be riding together once again.