Jul 14, 2020 - Sep 7, 2020
Isabella Freedman Jewish Retreat Center, Falls Village, CT
Escape to the Berkshires this summer for a 5-day getaway.
Stay tuned for Summer 2021 dates!
As Connecticut has started to reopen, we are able to welcome guests back to Isabella Freedman, in a thoughtful, socially-distancing manner. We are preparing our campus to provide families with a suite of rooms, outdoor dining opportunities, and enough space to socially distance from other guests. 
As this program will be unlike prior retreats hosted at Isabella Freedman, lots of details and FAQ are below:
Dates, Pricing, and Registration
Getaways are available in 5-day packages, with longer stays potentially available. The fixed dates below allow our staff a full 48 hours to deep clean all guest rooms before you arrive. All prices are per person. Limited financial assistance is available.
Click on any date range to register for that time period.
Shorter stays are available for Shabbat-only guests. Contact us at registrar@hazon.org for details.
5-Day Options
Adults: $1100 ($1045 in July)
Children 5 and older: $675 ($640)
Check in will begin at 3 pm Tuesdays. You must check out of your room by 10 am on Sundays.
Lodging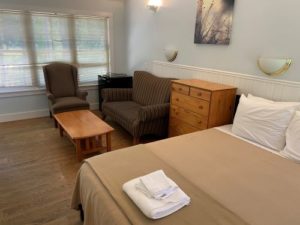 We will be rearranging our housing options to provide guests with additional private space.
For groups of two people or less, your room will include a small work area.

Families of three or more people will generally be provided a suite of two rooms, which will sleep 4 comfortably and provide additional living space

. (see photos for examples)

Families of five or more will be provided three or four rooms in our basic lodges, giving you bedrooms for everyone and ample living space

.
All guests will have bathrooms private for your group and a mini-fridge in your suite. If you require a pack and play you need to bring your own.
We provide bedding and one set of towels per guest – please bring more if you think you will need. Remember to bring your own toiletries.
You can visit our Guest Information page for more information about what to bring. Because we will offer minimal programming, we encourage families to bring their own games and toys.
Food
We will serve three meals each full day of your stay. Only dinner will be provided on your arrival day and only brunch on your departure day. Our kitchen and dining room are glatt kosher under supervision of the Hartford Kashrut Commission.
Each group or family will have their own designated table in our dining rooms, separate from other guests. Our method of food service will vary depending on the meal. Options will include already packed grab-and-go meals (which you can take to our outdoor tent), family-style service for your table, and meals served by our staff from a buffet.
Please indicate any special dietary needs when you register. We can provide vegetarian, vegan, gluten free, or dairy free options and we will do our best to accommodate all your food allergies or other dietary needs.
Each guest room / suite is equipped with a mini-fridge. We ask though that guests limit the amount of food eaten in your rooms and to be mindful of trash, given the area wildlife in our remote location.
Programming and Amenities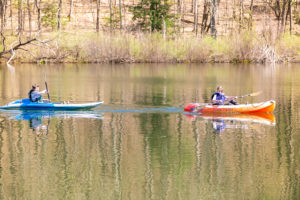 Our main program spaces will not be available as lounge or programming spaces. The main building will only be used for dining, or if you need to speak to our on-duty staff. A staff member will be available between 8:00 am and 6:00 pm every day.
We may offer limited official programming, such as outdoor yoga. We are also hoping to offer some programming once a week for kids to attend with their guardian (see tentative schedule below). We may also offer some programming with our Adamah farm staff.
There will be a short mandatory orientation on your arrival day to review the schedule during your stay and various protocols for being on site.
Internet and Cell Service
We do not have internet or TV in our guest rooms. There will be at least three office spaces available for our guests on a first come, first served basis with Wifi Internet access. Many other public spaces on campus will also have Wifi access. AT&T and Verizon both have a good reception on our site.
Outdoor Activities 
We expect the pool to be open with a lifeguard on duty during your stay, but are awaiting confirmation from local health officials. Specific hours will be indicated upon your arrival. We will limit the number of people in the pool, and social distancing will be required. We may close mid-day for a period of time to clean the pool area.
Boating and swimming in our lake is at your own risk and the lake can be used during daylight hours.
We have 3 hiking trails on our property and our campus is close to the Appalachian Trail.
We do not provide bike rentals, but you are more than welcome to bring your own bike and we can suggest local bike routes to try on your own.
Teva Family Programming: Thursday/Friday
Explore Isabella Freedman's 400 acres of forest, ponds and fields with Teva. Each of the following program offerings can be catered to any age and any skill level, unless otherwise noted. We will maintain 6 feet of distance as much as possible. In the event this is not possible, all participants, and guides are expected to wear a mask. Youth ages 12 and under must be accompanied by a parent/ guardian.
Thursday:
 9:30 AM – 10:30 AM: Kinder-Forest
This nature walk will be geared towards 2-4 year olds. Join us to sing songs, tell stories and explore the forest. We will focus on using all of our senses to find "sababas" (really cool stuff) to put on our nature table. The nature table will be up all week for you to add more sababas. 
11:00 AM – 12:00 PM: Pond Probe
Lake Miriam is teeming with life. We will take a close up look at the  macro-invertebrates who live in the lake and learn about their role in the ecosystem. 
1:30 – 2:45 PM: Mindfulness Forest Walk
Take some time to slow down. On this gentle walk, we will practice a variety of mindfulness practices to develop a keen sense of awareness both internally and of our surroundings. There will be activities for all ages.
3:00 – 4:30 PM: Time to Craft!
In addition to craft techniques and safety guidelines, you will learn about Jewish and ecological connections. All programming will be outdoors in a shaded area.
Felting (ages 5+) – Learn to felt by hand with 100% wool. You can make a kippah, a coaster, or a patch.
Whittling (9+) – Using proper knife techniques and safety guidelines, we will learn to whittle a yad, wand, spatula, or for advanced whittlers, a spoon.
5:00 – 6:00 PM: Wild Edibles Walk
Take a leisurely stroll through campus to discover what we can forage. You will learn how to prepare wild edibles for food and medicine, and be able to harvest and taste the plants. 
Friday
7:30 – 8:45 AM: Mindfulness Morning Forest Walk
Take some time to slow down, enjoy the morning air. On this gentle walk, we will practice a variety of mindfulness practices guided by the framework of the shacharit service. Connect to your heart, your breath, the land, and the Divine. 
9:30 AM – 12:00 PM: Guided Hike
Learn all about the forest. This hike can be catered to your interests. Do you want to learn about Trees? Mushrooms? Animal Tracking? Forest games? A little bit of everything?
Area Attractions 
We recommend doing some research before you arrive to find out what local attractions will be open while you are here. We are in the heart of the Berkshires. Area locations include Great Barrington and Stockbridge, MA; Kent and Litchfield, CT, and Millbrook, NY. Attractions include the Norman Rockwell Museum, the Red Lion Inn, waterfalls at Kent Falls State Park, White Flower Farm, and Innisfree Gardens just to name a few.
Shabbat
We will serve festive meals for Shabbat. As of now, we are not planning on any prayer services due to health concerns regarding group singing and gathering, although guests are welcome to privately use prayer books from the synagogue.
We will have a safe indoor space to light candles before Shabbat and to do Havdalah by family or group afterwards.
Social Distancing and Health Concerns
Our Summer Getaway program is simply an opportunity to 'Getaway' and enjoy the grounds, trails, pool, and lake at Isabella Freedman, as well as the local area – while eating our farm-to-table kosher cuisine.
There will be no official programming, and we expect that each group or family will have minimal interactions with each other. Tables in our dining hall will be at least 6 ft apart and families will not be allowed to share tables with other families. There will also be an open air dining option if you wish to take advantage of our grab-and-go food option.
According to CT guiding principles, face masks should continue to be worn in public at all times, especially when social distancing measures cannot be adhered to.
We will review social distancing guidelines during orientation when you arrive, and ask all guests to sign a commitment to adhere to these social norms while on campus.
Connecticut state is now in Phase 2 of a reopening plan. We are committed to obeying these rules strictly and taking additional precautions. Our goal is not only to open safely, but to create confidence in our entire community of guests, employees, vendors, and contractors. We are limiting the number of guests on site to under 50% of our capacity. We have strict cleaning and disinfection protocols in place. CT guiding principles advise that people in high-risk groups (those with comorbidities) and over the age of 65 should continue to stay safe by staying home.
CT guidelines suggest 24 hours for passive decontamination after guests checked out. Our schedule allows for the site to be closed for 48 hours after each session (Sunday afternoon through Tuesday afternoon) and all rooms and common areas will be deep cleaned.
No. For non-COVID-19-related problems you can visit Sharon Hospital Emergency department (24 hr) or Torrington Urgent Care Center (8-8 weekdays / 9-5 weekends).
If you think you have been exposed to COVID‑19 and develop a fever and symptoms, such as cough or difficulty breathing, call your primary care provider for medical advice, and please let our lead staff know.
Other FAQs
We've learned that nothing is certain right now. We will need to have at least 20 adults signed up per session in order for it to be financially feasible for us. We also know that even though current guidelines allow us to open for this style of retreat, those guidelines may change or there may be other reasons that preclude us from being able to run. See our Cancellation Policy below for more details.
You are responsible for making your own travel arrangements. Our local taxi service is Watson Livery, 845-464-8178, which can pick up from the Wassaic Train Station. More information.
Unfortunately not. The site will be closed every other Sunday afternoon until Tuesday afternoon to allow for deep cleaning. CT reopening process guidelines recommend passive decontamination of 24 hours after guests check out.
We will not provide any housekeeping services during your stay. There is no laundry on site. If you require laundry services we recommend that you use a local laundromat or bring enough clothes for your time here.
We will provide a phone number upon arrival which you can use to contact our staff on duty.
In the event of a medical emergency, please call 911 from your cell phone, OR 9-911 from any landline phone on campus. After calling 911, please contact a retreat manager as well.
If you or any member of your family / group gets sick, you have to return to your home immediately. We cannot allow guests to be quarantined on our site. Being near your primary care doctor is best.
Are you excited? We are! Do you have friends that will be excited? Let them know about this opportunity! Do you have questions? Email the Registrar at registrar@hazon.org for more information.
Cancellation Policy
If Hazon cancels for any reason we will refund your money in full. If you get sick and are unable to attend we will refund your money in full.
If you cancel for any other reason we will keep 10% of the total amount paid. If you have to leave early or arrive late, there are no refunds.