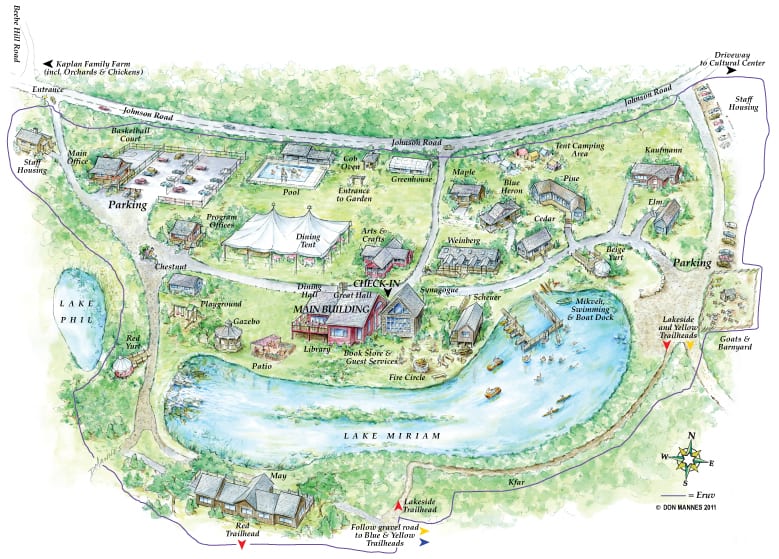 "If any part of your heart is yearning for learning, connection, and immersion you owe to yourself to come to Isabella Freedman."
Welcome! Thank you for choosing to spend time at Isabella Freedman. Here you will find tachliss information (nuts and bolts) about your stay. Take a few minutes to look over the information on this page – especially regarding how to get here, what to pack, and what you can expect when you arrive. If you have questions that you can't find an answer to here, or you just want to hear a friendly voice, you can call our main office at (860) 824-5991, Monday through Friday, 9am – 5pm. Dial "0" for our operator.
FAQ's (Frequently Asked Questions)
Where is Isabella Freedman located?
Our address is 116 Johnson Road, Falls Village, CT 06031. Additional travel information can be found here.
When can I visit?
Check out our calendar of upcoming events to find out when we are offering retreats. If you have a certain date in mind and you don't see it on the calendar, it means that we are closed or hosting a private event on that date. Unfortunately, we cannot host additional guests on those dates.
When should I plan to I arrive?
Please arrive for check-in between 3:00 and 5:00 pm on the day your retreat
begins, unless otherwise noted in your retreat materials. To ensure we are ready to greet you, please do not arrive earlier than 3:00 pm. If you will be arriving later than 5:00 pm, please let us know by emailing registrar@hazon.org.
When is the first meal of the retreat served?
Dinner is usually held at 6:00 pm for weekday arrivals, and at 7:30 pm on Shabbat. We are not able to hold dinner for late arrivals. If you will be arriving later than dinnertime, we suggest you eat before you arrive, as local dining options are limited.
When should I plan to depart?
You must be checked out of your room by 10:00 am on the day your retreat ends. Failure to check out of your room by 10:00 am will result in a $50 late charge. Unless otherwise noted, retreats end at 12:00 noon. Depending on the weekly schedule, brunch or lunch will be provided on the last day of your retreat.
Are pets allowed?
No, pets are not allowed. We recommend Sand Road Animal Hospital, located six miles away, for pet boarding. Trained service animals and emotional support animals are allowed. It is required that all animals behave in public and follow the directions of the handler and that the handler clean up after such animals. No other animals are allowed.
Is there WiFi?
We provide free wireless internet access in all of our buildings.
Is there a computer I can use?
We do not provide computers for personal use. You may bring a personal device and connect to our free WiFi.
Is there phone service?
Verzion has excellent reception throughout the retreat center property. AT&T has good reception, and Sprint and T Mobile are spotty.
Is there central heating and A/C in guest rooms?
Yes, all guest rooms have heating and A/C.
Are there refrigerators in guest rooms?
A mini-fridge is provided in our May, Weinberg, Scheuer, Pine, Blue Heron, maple and Cedar Buildings.
Are cribs available?
Due to Covid-19, we do not provide cribs at this time.
Can my special dietary needs be accommodated?
We are able to accommodate a limited range of special dietary needs and food allergies. Upon registering, you will have the opportunity to indicate the following dietary restrictions: vegetarian, vegan, pescatarian, gluten-free, dairy-free/lactose intolerant, sugar-free, and nut-free. If you have any other dietary restrictions, or if you did not indicate all of your restrictions when you registered, please call the Registration Office at 212-644-2332 ext 305or email registrar@hazon.org at least seven days prior to your arrival to discuss your dietary restrictions.
How can someone reach me while I'm on retreat?
Messages may be left for you during your retreat at (860) 824-5991 x403. Messages left at this number are checked between 9:00 am and 5:00 pm.
How can someone reach me in case of an emergency?
Please call (860) 453-3963 to reach a guest only in an emergency situation, after contacting the appropriate emergency services.
What happens if I need to cancel my retreat registration?
Payments made will be refunded in full (less a $50 processing fee per person) if you cancel at least 30 days prior to the official start of the retreat. If you cancel between 14 and 29 days prior to the retreat, a 50% refund will be granted. No refund is available if you cancel within 14 days of the retreat, if you do not show up, or if you leave early for any reason. A full refund will be given in cases of documented medical concern or due to a death in the family that prohibits attendance. Hazon reserves the right to cancel any program at any time. In the event of such a cancellation, you will receive a complete refund.
At Isabella Freedman we value the health and wellness of our community, and believe that this is a responsibility shared among each individual participant. If you or your child has a communicable illness and is planning to join us at Isabella Freedman, please take precautions up to and including canceling your reservation. We have a special cancellation policy for such cases. We do not require medical records as a precondition for access to our campus. We do, however, strongly encourage every individual and family in our community to do all they can to ensure the health and wellness of the whole.

Lost and Found:
Items are held for 30 days and then donated to a local organization such as Goodwill.
Exception: Food and liquids are immediately discarded after retreats. Toiletry products or any items that may cause contamination, leak, or otherwise damage other products are immediately discarded.
Please contact the registrar if you are looking for a lost item: registrar@hazon.org.
Amenities
Swimming & Boating
We can provide a lifeguard for your group to use the pool or lake.
Children's Programs and Childcare
We can create a children's program for any length of time — from an entire weekend to just a few hours. Please inquire about options for childcare and
shmira
(cabin night watch) for groups.
Hiking Trails
Several trails lead directly from the retreat center up into the hills and around the lake.
While actual times and schedules may vary, here is how you can expect to spend your time while on retreat. Please check each event for exact schedules.
Typical Day at Isabella Freedman
7:00-8:00 Optional Yoga or Morning Prayer
8:00-9:00 Breakfast
9:00-11:45 Morning class session or children's program
12:00-1:00pm Lunch
2:00-4:45 Afternoon class session or children's program
5:00-6:00 Optional yoga, farm tour, guided contemplative hike or free time
6:00-7:00 Dinner
8:30-9:30 Evening program or entertainment
We provide:
Ritual wear such as kippot, tefillin, and tallitot
Siddurim, bentchers, and holiday prayer books
Yoga mats, blankets, and blocks
Heat and A/C in all guest rooms
Linens, towels, and soap in all guest rooms
Alarm clocks in all guest rooms
Extra blankets and towels upon request
You may want to bring:
Over-the-counter and/or prescription medications
Toiletries
Flashlight
Chargers for electronic devices
Sunblock, sunglasses, and a hat
Rain gear
Your own ritual wear and/or prayer book
Your own yoga gear
Comfortable, loose-fitting clothes for yoga
Closed toe shoes
Hiking boots to enjoy our many trails
Layers and a jacket
Snow shoes and snow boots for hiking in the winter
Swimwear and a beach towel to enjoy our pool or lake in the summer