Sep 9, 2018 - Sep 12, 2018
Isabella Freedman Jewish Retreat Center, Falls Village, CT
Welcome in the new year at Isabella Freedman
Orthodox and Renewal minyanim (prayer groups) designed to include and invite diverse, creative Jewish community
Kosher farm-to-table holiday feasts featuring Grow and Behold meats, and delicious and plentiful vegetarian delights
Enjoy the majestic beauty of fall at Isabella Freedman
Morning meditation and yoga
Beautiful Havdalah and closing ceremonies
Lively prayer services, deep teachings, immersion in a relaxing wooded venue, tashlich in our stream, community celebrations, and fabulous farm-to-table feasting. It is our intention to provide an opportunity for a diverse community to participate in prayer services that meet your needs and nourish your soul. To that end, we offer two complementary options for prayer – Orthodox and Renewal – not unlike the way in which we offer options for learning sessions and other activities during each retreat. The different opportunities allow for greater connection, learning, encounter, and expression of uniqueness. Plus Camp Teva for Kids – Jewish Outdoor, Food, and Environmental Fun.
Orthodox Minyan with Rabbi Avraham Arieh and Rachel Trugman
Exuberant Chasidic davenning, teachings and meditations.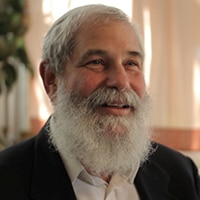 Rabbi Avraham Arieh and Rachel Trugman have 35 years of experience in the field of Jewish education. They were a founding family of Moshav Meor Modiim in 1976, where Rabbi Trugman served several years as the Director of the Center of Jewish Education, which successfully ran programs for over 5,000 participants from over 25 countries. In 1988, the Trugmans took the position of Regional Directors of NCSY in Denver, Colorado. The Trugmans returned to Israel in 1995 and are now the Directors of Ohr Chadash: New Horizons in Jewish Experience, a dynamic program they created that has run programs for tens of thousands participants. Their website, YouTube channel, blog, Twitter and Facebook have received hundreds of thousands of visits. The Trugmans have visited over 40 cities worldwide, leading Shabbatons, giving classes, performing music, and serving as scholars-in-residence.

Renewal Minyan
Hebrew chant, silent meditation, and space for both personal and communal reflection. Renewal services will include percussion instruments and the liturgy of the services is abbreviated, but follows the arc of a full service. The language of our prayers plays with gender of God/Goddess both in the Hebrew and the English and includes some earth-based imagery.
Additional program highlights include:
Teshuva tunnel – while exploring a cave in the forest, experience an embodied release that will enable you to move toward wholeness in the new year
Humane Kapparot – honor our two legged friends through a modernized adaptation of this ritual where no birds will be harmed
Stay tuned for more presenter announcements!
Rates and Registration
| | |
| --- | --- |
| Dormitory This per-person price is for double or triple-occupancy, meaning you could be sharing a room with up to two other people. Dormitory rooms have bunk beds and a shared bathroom in our Kaufmann or Elm buildings. | $480 |
| Basic Housing This per-person price is for double-occupancy. Basic rooms have twin-sized beds (some queen beds are available on a limited basis and are first come, first served) and a shared bathroom in our Maple, Blue Heron, and Cedar buildings. | $550 |
| Standard Housing This per-person price is for double-occupancy . Standard rooms have queen or twin-sized beds and a private bathroom in our Pine and Scheuer buildings. | $690 |
| Standard Plus This per-person price is for double-occupancy. Standard Plus rooms have queen or twin-sized beds, a private bathroom, and are located in our Weinberg and May buildings. | $870 |
| Camper The camper fee includes all meals, programming, use of the facility, and access to bathrooms and hot showers. Campers must provide their own tent and bedding. Prices are per person. | $400 |
| Commuter The commuter fee includes all meals, programming, and use of the facility throughout the retreat. Overnight lodging is not included. Prices are per person. | $400 |
| Children Children's rates apply to children ages 5 -12 staying in the same room as two adults. Children under the age of 5 are free, and teens 13 and up pay adult prices. Prices are per person. Children ages 5-12 will be automatically enrolled in Camp Teva upon registering. | $200 |
You will receive a confirmation email once you have registered. If you do not receive the confirmation email within 24 hours of registering, please contact us at registrar@hazon.org or (860) 824-5991 ext. 0.
We strive to make our programs affordable to everyone. Limited scholarships are available, please see the scholarships tab for details.
Tamar Fund Scholarships
We strive to make our retreats affordable to everyone.We believe retreats are important experiences to be shared. Inclusiveness is one of our core values. We strive to ensure that our retreats are as financially accessible as possible. The Tamar fund makes that aspiration possible. Read about more about the Tamar Fund, in loving memory of Tamar Bittelman z''l.
Application Process
Scholarships are awarded on a rolling basis and are awarded exclusively for dormitory lodging, camping, and commuting (pending availability).
Applications must be received at least three weeks in advance of the retreat for which you are applying. Please only register after receiving a response; the scholarship will not be applied retroactively.
We will respond to Tamar Fund scholarship applications within seven business days of receipt.
If you are awarded a scholarship, you will have one week to register for the retreat at the reduced rate, after which time the offer will expire.
A scholarship does not guarantee availability at the time of registration; due to the inherent turnaround time of the application process, we recommend applying as early as possible to secure a spot at the retreat.
If you have any questions, please contact us at registrar@hazon.org or (860) 824-5991 x0.
Arrival & Departure
Check-in is from 3 to 5 pm on Sunday, September 9. If you are arriving on another day, you may check in anytime after 3 pm. Check-in is located in the Main Building — the big red building in the middle of campus. You must be checked out of your room by 10 am on the last day of your stay if you are staying in a guest room.
Driving & Parking
Driving directions can be found on our website. If using a navigation system, our address is 116 Johnson Rd, Falls Village CT, 06031.
There are two parking lots: one next to the tennis court by the main entrance, and one by the barnyard on the other end of campus. There is also accessible parking located across from the Main Building. Please do not park on the grass anywhere on campus. Parking in front of guest buildings is not allowed.
Train Transportation
For those coming from the New York City area, we are conveniently located just half an hour from Wassaic Train Station, the last stop on the Harlem Line of the Metro North. We offer a shuttle service from and to the Wassaic station at the following times:
2:03 pm & 4:03 pm

 on 

Sunday, September 9

 from Wassaic Train Station to IF

1:30 pm

 on 

Wednesday, September 12

 from IF to Wassaic Train Station
Advance reservation is required for shuttles. The shuttle fee is $20 per person each way. If you have not already reserved shuttle service during registration, please contract us at registrar@hazon.org or (860) 824-5991 ext. 0 at least a week before the start date of the retreat to reserve your spot; space is limited.
Rideshare
Help to reduce the environmental impact of car trips to and from Isabella Freedman by checking out our carpool initiative!  Upon registering, you will receive access to a virtual rideshare board to help connect you with fellow retreat participants. Offering a ride in your car will help reduce carbon emissions, cut down gas costs and make new friends! If you are looking for a ride, adding yourself to the wait list on the right-hand side of the page is the best way to be notified when movements occur.
Kashrut Policy
One of our mashgichim (kosher supervisors) must pre-approve all food items that enter the designated dining spaces. If you plan to supplement our delicious, healthy, farm-to-feast meals, your items must be completely sealed in original packaging. Unapproved food and drinks may be enjoyed anywhere on campus besides our dining spaces.
Packing List
You may want to bring:
Personal medications, including over-the-counter
Toiletries
Flashlight
Chargers for electronic devices
A water bottle and/or travel mug for use outside of dining spaces
Ritual wear
Comfortable clothes for yoga
Hiking boots or sneakers to enjoy our hiking trails
Lots of layers for variable weather
A rain coat
Camping gear, including your own tent, sleeping bag, pillow, and towel, if you are camping
We provide:
Extra kippot and tallitot, in addition to siddurim
Yoga mats, blankets, and blocks
Heat and A/C in all guest rooms
Linens and towels in all guest rooms
Alarm clocks in all guest rooms
Toiletries like deodorant and toothpaste for sale in the bookstore
If you're new to Isabella Freedman, check out our Frequently Asked Questions.
Camp Teva is for kids ages 5 – 12, and runs simultaneously with retreats geared toward adults. Camp Teva combines the best of Teva's signature Jewish environmental education with all of the opportunities provided by the Adamah Farm to create a distinctive and creative way for kids to have a fun and safe Jewish outdoor, food, and environmental education experience while their parents are enjoying Hazon's many retreats, conferences, holidays, and workshops at Isabella Freedman. A transformative experience for the whole family!
When you register kids during your event registration process, they are automatically enrolled in Camp Teva! All-inclusive kids' rates include Camp Teva programming.
click here for holiday resources for rosh hashanah  click here for holiday resources for yom kippur
click here for a High Holidays reading list