Sep 6, 2021 - Sep 9, 2021
Isabella Freedman Jewish Retreat Center, Falls Village, CT
Welcome in the new year at Isabella Freedman
this retreat is sold out – click here to join the waitlist
We are able to welcome guests to Isabella Freedman in a thoughtful, socially-distancing manner. Our team of prayer leaders and educators headline our various classes, and we will have Orthodox and Traditional Egalitarian prayer options. Other highlights include:
Kosher farm-to-table holiday feasts featuring Grow and Behold meats, and delicious and plentiful vegetarian delights
Communal Tashlich at our lake
Enjoy the majestic beauty of fall foliage at Isabella Freedman
Morning meditation and yoga
Camp Teva programming for kids ages 5-12 – Jewish, Outdoor, Food, Farming & Environmental Fun
Guided farm tours, barnyard visits, pickling activities, apple and honey sampling, and hiking to a tranquil vista
Due to COVID-19 precautions, we will be operating at a slightly reduced capacity, with dining, davening spaces, and most programming occurring outdoors. Details below.
Retreat Overview
Registration Rates (3 nights, Mon-Thurs)
Standard lodging: $1040 per adult 16+ ($1660 for single occupancy)
Basic lodging: $770 per adult ($990 for single occupancy)
Dormitory lodging: $620 per adult
Children: $215 (ages 5-15)
Programming
Prayer Options
Our two prayer options will take place outdoors, under tents in case of rain.
Orthodox Minyan led by Rabbis Avram Mlotek and Yehuda Witt. There will be a mehitza (separate seating for men and women). Dr. Sunnie Epstein will speaking and teaching throughout the holiday, including at this service.
Traditional Egalitarian Minyan: led by Rabbi Aviva Richman and others from the Hadar Institute.
Classes and Activities
We will hold a few outdoor classes throughout the holiday, as well as yoga, tours of our organic farm, and guided hikes on our trails. Our various educators lead a series of classes throughout the holiday.
Kid's Activities
While many of our activities are family friendly, there will also be some dedicated programs for kids. These will make use of our farm and the natural environment of the retreat center.
Meals
We will serve three meals each full day of your stay. Only dinner will be provided on your arrival day and breakfast on your departure day. Our kitchen and dining room are glatt kosher under supervision of the Hartford Kashrut Commission. Please indicate any special dietary needs when you register. We can provide vegetarian, vegan, gluten free, or dairy free options and we will do our best to accommodate all your food allergies or other dietary needs. Each guest room / suite is equipped with a mini-fridge. We ask though that guests limit the amount of food eaten in your rooms and to be mindful of trash, given the area wildlife in our remote location.
COVID-19 Precautions
Guest Conduct: Each guest will be required to be either a) fully vaccinated as of August 23, or b) have a negative COVID-19 test 72 hours prior to your arrival with the expectation that you will self isolate until you arrive on campus. If you arrive without meeting either requirement we will not allow you to attend the program. We will also be asking all guests to sign a waiver and questionnaire regarding our COVID-19 practices and your potential exposure or recent symptoms. We ask that everyone acknowledge a set of guidelines, including keeping a distance between guests not in your group when indoors, and being masked if requested by other guests in your vicinity.
Meals: Each group or family will have their own designated table to use in our Dining Tent. Food will be served from a buffet inside – depending on the COVID guidance at the time, we may ask that all guests wear masks while on the buffet line.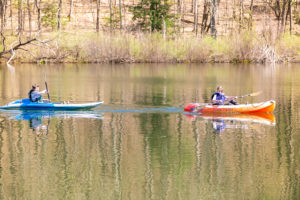 Prayer and Program Spaces: Our indoor synagogue space will be used for yoga and will have a max capacity based on COVID guidelines at the time. Our other indoor spaces will not be used for programming, but are available to lounge in.
Each prayer option will convene under a tent, which will also be used for classes and other outdoor activities as needed. We also will have our fire pit area set up with benches for gathering outside and the lake will be available for boating.
Are you excited? We are! Do you have friends that will be excited? Let them know about this opportunity! Do you have questions? Email the Registrar at registrar@hazon.org for more information.
FAQs
Cancellation Policy
If Hazon cancels for any reason we will refund your money in full. If you get sick and are unable to attend we will refund your money in full.
You are able to cancel your reservation until August 23 without penalty. If you cancel within 14 days of Rosh HaShanah the fee is non-refundable. If you have to leave early or arrive late, there are no refunds.