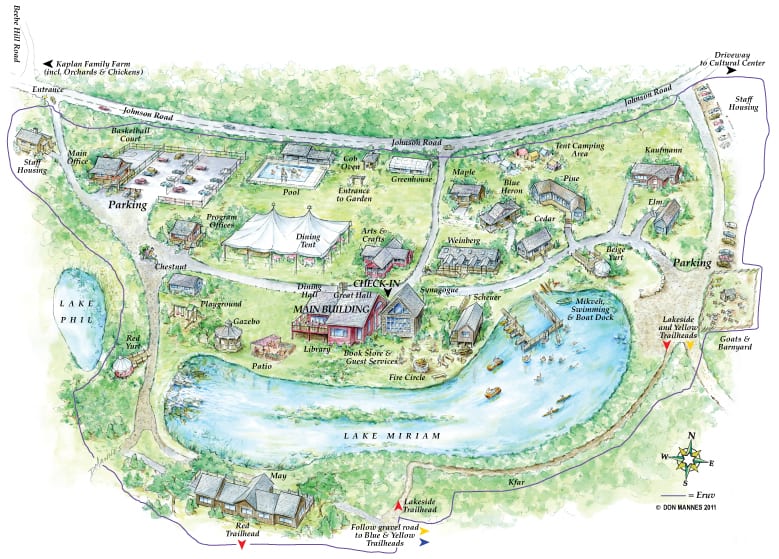 Isabella Freedman rests on 400 acres of forested land and lush meadows in the foothills of the southern Berkshires – just one hour from Hartford, Connecticut; two hours from New York City; and three hours from Boston, Massachusetts. Our cottages and gathering spaces are nestled around two lakes at the base of a beautiful wooded ridge that is dotted with hiking trails. In every season, Isabella Freedman's stunning mountain vistas, serene lakes, and miles of trails are certain to inspire your senses and offer your spirit a place for renewal.
View our 3D map below:
© Steve Petrie https://northeast-3d.com/
Dining
Isabella Freedman serves delicious, sustainable meals, prepared with the highest-quality ingredients. Our culinary staff emphasizes local and seasonal ingredients, drawing inspiration from cuisines around the world. During the growing season, we serve fresh, organic fruits and vegetables straight from our own farm and orchard. Our lakeside dining room can accommodate up to 118 guests; for larger gatherings, an outdoor tent can hold up to 200 people (there is a separate fee for tent rentals). We offer movable seating and either buffet, family-style, or plated meals. Vegetarian options are available for every meal, and gluten-free options are available upon prior request.
Our kitchen and dining room are glatt kosher under supervision of the Hartford Kashrut Commission.
Our dining hall features Adamah Foods.
Our Grounds
Isabella Freedman features a variety of spaces designed for small or large gatherings such as classes, workshops, services, or meetings. We offer our guests options that range from quiet nooks on our scenic grounds to spacious gathering places both indoors and out. We can accommodate up to 150 people in indoor program spaces and up to 200 people in outdoor spaces.
Glass-walled synagogue with inspiring lake and mountain views
2,000-square-foot breakout room/lounge
Large theater/recreation room
Beautiful dining hall with cathedral ceiling
Two 700-square-foot yurts (circular buildings)
Large screened-in gazebo
Whether your group chooses to meet indoors or outside, Isabella Freedman offers a variety of meeting spaces from intimate places for a small gathering to spacious rooms and breakout areas for larger groups.
Beautiful outdoor spaces offer opportunities for quiet conversations and contemplation.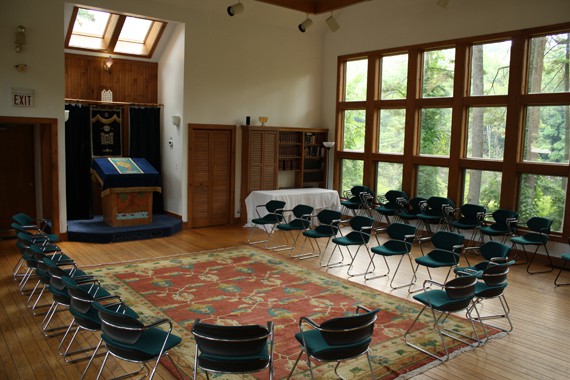 The glass-walled synagogue (occupancy: 100) has inspiring views of the lake and mountains.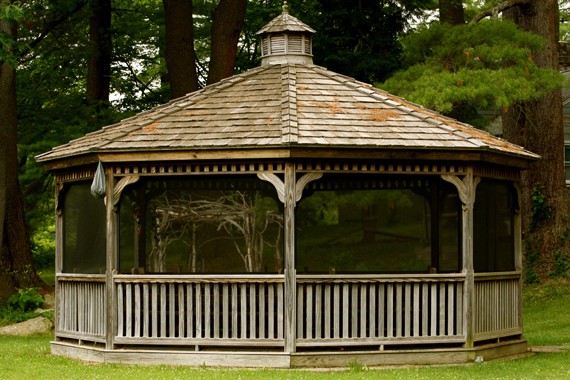 A large screened-in gazebo (occupancy: 20) sits lakeside on the lawn beneath the dining porch.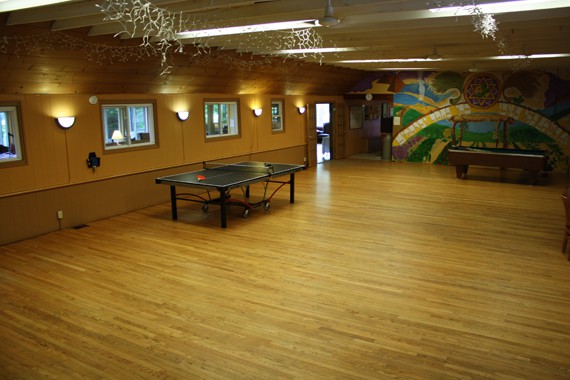 Our large recreation room (occupancy: 150) can be used for stage performances, dancing or playing games.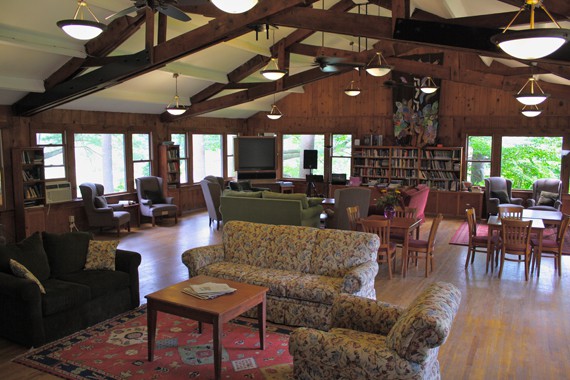 Our 2,000-square-foot lounge (occupancy: 75) is perfect for meetings, celebratory gatherings and cozy movie nights.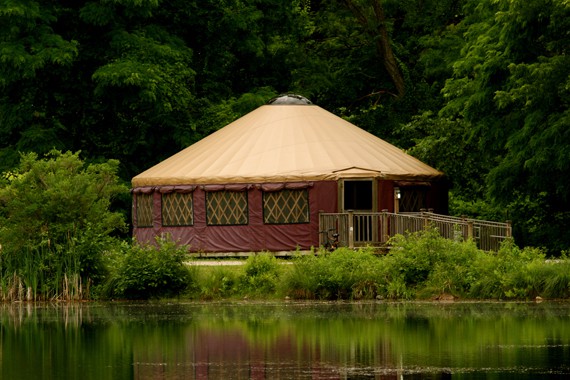 Both yurts (occupancy: 50) are air-conditioned and heated for year-round use.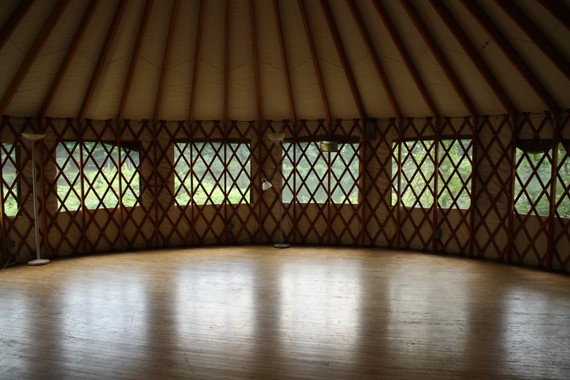 Yurts are ideal spaces for yoga, meditation and movement classes.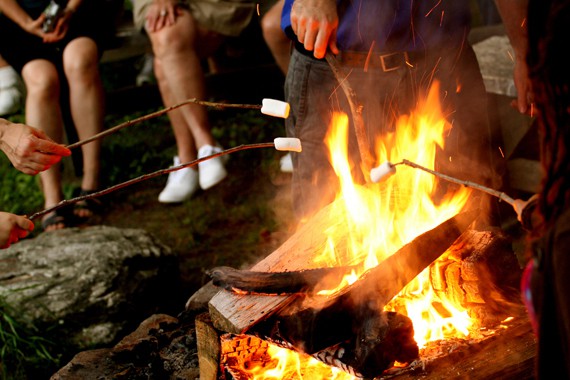 We even have a fire circle for evening bonfire programs.
Accommodations
We invite you to enjoy the simplicity, comfort, and charm of our country lodging. We can accommodate up to 150 guests in our well-appointed rooms. Each of our nine lodges has its own unique character. Our accommodations are air-conditioned during the summer months and heated throughout the winter. Some buildings have rooms with private baths; others offer shared bathrooms for two or three rooms. Handicap-accessible rooms are also available upon request.
Standard Rooms Weinberg, Scheuer, May and Pine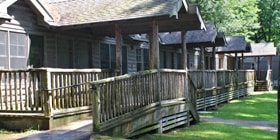 Our standard rooms have private bathrooms. Most rooms have a queen-sized bed and one twin, with a few rooms having a three twins. These are our most spacious rooms.
Basic Rooms: Cedar, Blue Heron, and Maple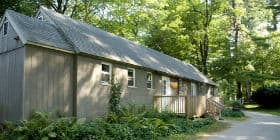 Our basic rooms have a either a queen bed, two twin beds or a queen and a twin bed. A limited number of queen-sized beds are available. Bathrooms are shared by two rooms.
Dormitory Rooms: Elm and Kaufmann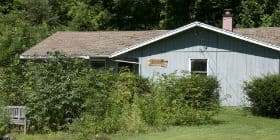 Our dormitory rooms have either two twins or a bunk and a twin, and shared bathrooms.
Our Commitment to Sustainability
It is not upon you to finish the work, but neither are you free to desist from it.
Tools for Tikkun Olam
At Isabella Freedman, we believe that environmental stewardship is not just a primary ethical obligation but a core Jewish value. In addition to our commitment to the sustainable management of our facilities (see below), we offer experiences and tools to engage our visitors and partner organizations in embracing environmental responsibility within our grounds and beyond.
With our planet's ability to support life diminishing, a great change in our stewardship of the earth is required now more than ever before. To help facilitate this change, we offer programs that give participants the knowledge, skills, and confidence to be active agents for tikkun olam (healing the world) inside and outside the Jewish community. All of our environmental programs are deeply rooted in Judaism, a tradition intricately connected to nature's rhythms and grounded in the belief that all life is sacred.
We offer hands-on opportunities at our forested campus for participants of all ages to learn about everything from how to grow your own food to how to make your home healthy and energy efficient. Enjoy guided sustainability, permaculture, barnyard, and garden tours on campus, or join us for classes on eating locally, composting, global warming, beekeeping, food preservation, Jewish textual study, and cheese making, to name just a few!
In addition to our workshops for retreat participants, we have long- and short-term programs that train environmental leaders. Young adults in their twenties can apply to be part of the Adamah Fellowship, a three-month leadership training program at Isabella Freedman that integrates organic farming, sustainable living, Jewish learning, community building, and contemplative spiritual practice. 
Sustainable Practices
Judaism teaches us that we are charged with the stewardship of a holy world. As such, we at Isabella Freedman are committed to incorporating environmental sustainability in all aspects of our facilities management through greening our facilities and energy consumption, promoting animal welfare and food justice, and contributing to healthy ecosystems.
Facilities and Energy
We at Isabella Freedman are greening our facilities and energy consumption through:
Upgrading all lighting throughout the facility to be as efficient as possible

Purchasing energy and water efficient models when replacing lights, toilets, and washing machines

Installing low-flow eco-sprayers in the kitchen

Turning off heat and air conditioning when buildings are vacant

Installing only low-e double pane windows when replacing windows

Establishing a policy to change the sheets and towels every third day, except in the cases of a shorter retreat or a customer request

Purchasing new air conditioning units rated at least SEER 14

Avoiding Styrofoam completely.

Using laminated wood flooring with at least 35% FSC Certified wood content

Prioritizing the repurposing and reupholstering of furniture over purchasing new furniture

Providing recycling bins in main meeting areas

Separating the recyclable content from the waste collected daily from guest rooms

Using recycled paper and paper products in the office as well as in public bathrooms

Having a local recycling vendor pick up bottles, cans, plastics, cardboard, and newspapers twice a week

Training new staff on recycling policies

Harnessing solar power with our solar photovoltaic system to meet some of the campus energy needs
Animal Welfare and Food Justice
Isabella Freedman promotes animal welfare, food justice, and sustainable food systems through:
Purchasing produce from local organic growers whenever possible

Growing much of our organic produce on site and

using herbs from our farm

Using eggs from our chicken coop and honey from our bee hives when they are available

Composting all vegetable and fruit scraps

Using reusable utensils, flatware, and table settings

Using cloth napkins or recycled paper napkins when disposables are necessary

Using pottery mugs or recycled, compostable hot cups when disposables are necessary

Prioritizing fair trade and equal exchange products and serving only fair trade coffee

Caring for our trip of dairy goats  

Reducing the meat and dairy we serve

Prioritizing ethically raised meat products

Incorporating heritage breed chickens into our flock of cage free, free range laying hens
Healthy Ecosystems
Isabella Freedman contributes to healthy ecosystems through:
Washing laundry with phosphate-free detergent

Prioritizing non-toxic cleaners

Installing and maintaining welcome mats

Using low or no VOC paints

Installing electric car charging stations

Setting up and promoting

group carpools

to events

Advocating for more biking infrastructure and

promoting bike riding

in Falls Village and the greater Canaan area

Advocating for stronger public transportation in Falls Village and the greater Canaan area  

Using organic fertilizers and local mulch on our grounds in place of synthetic fertilizers

Creating habitats for pollinators on our

organic farm

Using drip hoses on more than half of our irrigated beds

Planting and maintaining native plants in over half of our landscaped areas

Building bird boxes in which birds and bats can build their nests
To learn more about environmentally conscious building and facility management, please visit the US Green Building Council's website.
Moving Forward
While we are immensely proud of Isabella Freedman's current sustainable practices, our campus is over sixty years old and we are eager to make it even greener as we prepare to renovate and update our current facilities. Click here to learn about our Campaign for the Future that will allow us to institute these changes and help us continue to create transformative experiences for generations to come.