May 15, 2020 - May 18, 2020
Isabella Freedman Jewish Retreat Center, Falls Village, CT
Register Today:
RECHARGE: A Retreat for Rabbis and Spiritual Leaders is Hazon's annual gathering for clergy, students and their families. Enjoy and rest from the rigors of rabbinic work while you decompress and nourish your body, mind, and soul.
It was powerful to arrive to such a beautiful and personally meaningful place, sit back, take a deep breath, and allow the emotions that have been hardened over the year to soften. It was also powerful to connect with a number of new colleagues and peers. And it was amazing to see the range of clergy present – in terms of titles, training, and religious affiliation.
It was incredibly meaningful to have the opportunity to gather with colleagues with specific attention on caring for our earth. The teachings and activities enhanced this.
Recharge will be a two-part experience:
Shabbat Experience:
We want Shabbat to feel like camp and welcome your talents to make that happen. In addition to two prayer options, a tisch and a song-filled Third Meal, our vision is that there are multiple opportunities for us to bask in Shabbos at this beautiful place with beautiful people — with an Eruv that is up!
Sunday and Monday:
Sunday and Monday will include beit midrash sessions, and learning tracks in addition to unique programming for partners of clergy, panel discussions, social and creative programming, and a bon-fire experience.

All. Are Welcome. Always.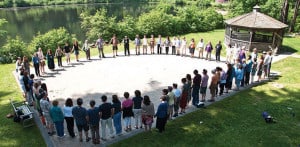 RECHARGE is open to you and your entire family for Shabbos, Sunday and Monday. – all are welcome, always! This is an open space. What voice do you want to bring to RECHARGE?
For interested participants from beyond the Northeast US, additional financial assistance is available.
Please contact Rav Isaiah, Hazon's rabbi-in-residence, at isaiah.rothstein@hazon.org with any questions.
presenters (2019)program book (2019) photo album (2019)
2019 Presenters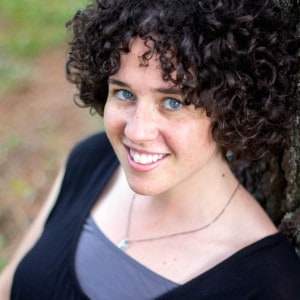 Arielle Aronoff first came to Hazon as a Teva educator. She found a place in this community and did not want to leave. After spending the fall and winter at Isabella Freedman, she took a seasonal outdoor education position for the spring and quickly returned to be manage Camp Teva prior to her current role as Director of Teva. Before coming to Hazon, Arielle worked as a farmer, baker, and healthy school food advocate/educator. Arielle spends her time hiking, baking sourdough bread, and foraging for berries and mushrooms.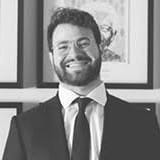 Zohar Atkins is a rabbi, poet, and theologian, based in New York. He earned a DPhil in Theology from Balliol College, Oxford, where he was a Rhodes Scholar, semikhah from JTS, and a B.A. and M.A. from Brown. He is the author of Nineveh (Carcanet, 2019) and An Ethical and Theological Appropriation of Heidegger's Critique of Modernity (Palgrave Macmillan, 2018). His poetry won The Oxonian Review Prize in 2012 and Eric Gregory Award in 2018. Atkins is the founder of Etz Hasadeh, a Center for the Study of Existential Torah, and a David Hartman Fellow at the Shalom Hartman Institute of North America.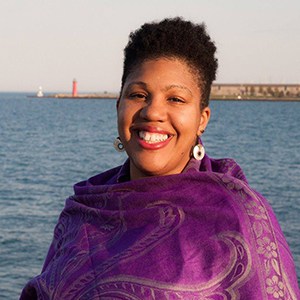 Tiferet Berenbaum received rabbinic ordination and a Masters in Jewish Education from Hebrew College in Boston, a non-denominational, accredited school of Jewish Studies. She loves working with children and has teaching experience in Jewish educational settings. Prior to attending rabbinic school, Rabbi Tiferet attended Tufts University where she majored in clinical psychology and Judaic studies. Rabbi Tiferet's experience includes working with two other congregations, as a teacher in a Hebrew Day School, and much more. Rabbi Tiferet's profound love of Judaism and Jewish culture; her knowledge of Ladino and Sephardic culture; her strong connection to the Jewish Renewal movement, and deep appreciation for traditional Jewish liturgy makes her a perfect fit for our congregation.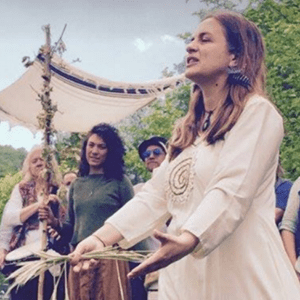 Sarah Chandler (a.k.a. Kohenet Shamirah) is a Brooklyn-based Jewish educator, ritualist, artist, activist, and poet. Currently, she is the program director at the Romemu Yeshiva,  garden educator with Grow Torah and the Director of Curriculum Design & Cultivation with Fig Tree, a startup Hebrew School in Brooklyn. A trainer with BeKavod, she supports Jewish non-profits in harassment prevention, through designing and maintaining respectful workplaces. She teaches, writes, and consults on issues related to Jewish earth-based spiritual practice, farming, and mindfulness. Ordained as a Kohenet (Hebrew Priestess) in 2015, she is studying as a shamanic healer apprentice at The Wisdom School of S.O.P.H.I.A and Kabbalistic imaginal dream work at The School of Images.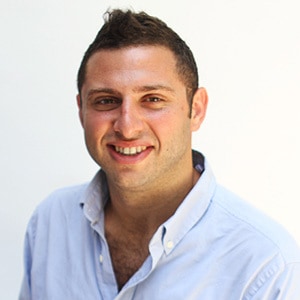 Nate DeGroot is the Hazon Detroit Co-Director and Spiritual and Program Director. In this role, he is helping the Detroit Metro Jewish community to reconnect with their own inherited earth-based Jewish spirituality and reinvest in their historic relationship with the Detroit community around its transformative environmental justice work. He was ordained at Hebrew College in Boston, where he also received a Masters in Jewish Education. He most recently served as the inaugural Jewish Emergent Network Rabbinic Fellow at IKAR in Los Angeles, and before that founded a grassroots cooperative Jewish community in Portland, Oregon. He is a lover of the wild and is excited to bring his passion for all things sacred to his work at Hazon.
Yaffa Epstein serves as the Director of Education, North America for the Pardes Institute of Jewish Studies. She received Rabbinic Ordination from Yeshivat Maharat and holds a Law Degree from Bar-Ilan University. She has studied at the Pardes Kollel, the Advanced Talmud Institute at Matan, and the Talmud Department of Hebrew University. Yaffa has been a teacher of Talmud, Jewish law, and Liturgy at Pardes for over a decade, and has served as the Director of the Beit Midrash at the Dorot Fellowship in Israel. She has taught Talmud and Jewish Law at Yeshivat Maharat, The Drisha Institute, The Wexner Heritage New Members Institute, Kayam Farm Kollel, and Young Judaea. Yaffa has lectured at Limmud events around the world, has written curriculum for the Global Day of Jewish Learning, and has created innovative educational programming for Hillel: The Foundation for Jewish Campus Life.
Jill Hammer is the Director of Spiritual Education at the Academy for Jewish Religion and the co-director of the Kohenet Hebrew Priestess Institute. She is the author of several books, including The Jewish Book of Days: A Companion for All Seasons, The Hebrew Priestess: Ancient and New Visions of Jewish Women's Spiritual Leadership, and The Book of Earth and Other Mysteries. She is a ritualist, poet, writer, and scholar of ancient and modern ritual, myth, and midrash.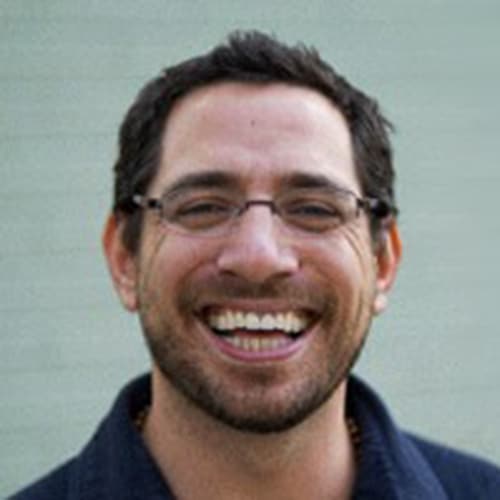 David Ingber was named by Newsweek as one of 2013's top 50 most influential rabbis in the United States as well as by The Forward as one of the 50 most newsworthy and notable Jews in America. He promotes a renewed Jewish mysticism that integrates meditative mindfulness and physical awareness into mainstream, post-modern Judaism. Rabbi Ingber has taught at the Academy for Jewish Religion, Columbia University, CUNY, Jewish Theological Seminary, Limmud LA, New York University, the 92nd Street Y, Pardes, The Skirball Center at Temple Emmanuel, and Yeshivat HADAR. Rabbi David studied at several yeshivot in Jerusalem and New York including Yeshiva University, Beit Midrash L'Torah, Yeshivat Chaim Berlin, and Yeshivat Chovovei Torah Rabbinical School. He also studied philosophy, psychology and religion at New York University. Reb Zalman Schachter-Shalomi, founder of Renewal Judaism, ordained Rabbi David in 2004. Prior to founding Romemu, Rabbi David was Rabbi-in-Residence at Elat Chayyim Retreat Center.
Aharon Ariel Lavi is the founder and director of Hakhel: The Jewish Intentional Communities Incubator in the Diaspora. He is a professional community organizer and serial social entrepreneur who believes that networks are key to shaping our reality. He is co-founder of Garin Shuva on the Gaza border; the Nettiot Intentional Communities Network, reengaging Haredi Ba'aley Teshuva into society; and MAKOM: the national umbrella organization of intentional communities in Israel. He lives with is wife Liat, their four children, and a dog in the Negev and when he doesn't work or study Torah he likes riding his bikes in the open fields of the Negev, and desperately trying to learn to play the flute, a guitar, or anything that makes music.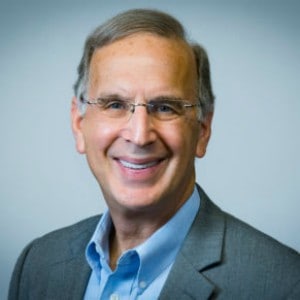 Sid Schwarz Rabbi Sid Schwarz is a social entrepreneur, author and teacher. He is currently a Senior Fellow at Hazon, a national organization based in New York. Rabbi Sid founded and led PANIM: The Institute for Jewish Leadership and Values for 21 years; its work centered on integrating Jewish learning, Jewish values and social responsibility. He is also the founding rabbi of Adat Shalom Reconstructionist Congregation in Bethesda, MD where he continues to teach and lead services. Dr. Schwarz holds a Ph.D. in Jewish history and is the author of two groundbreaking books. Rabbi Sid directs the Clergy Leadership Incubator (CLI), a program that trains rabbis to be visionary spiritual leaders and Kenissa: Communities of Meaning Network which is identifying, convening and building the capacity of emerging spiritual communities across the country. Sid was awarded the prestigious Covenant Award for his pioneering work in the field of Jewish education and was named by Newsweek as one of the 50 most influential rabbis in North America. Sid's most recent book is Jewish Megatrends: Charting the Course of the American Jewish Future (Jewish Lights, 2013).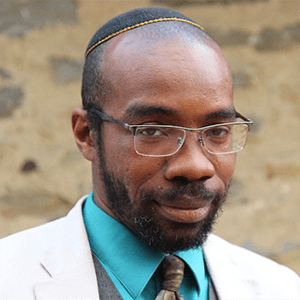 Shais Rishon, MaNishtana is one of a "growing cadre of incredibly talented Jewish leaders of Color." MaNishtana is a writer, speaker, and rabbi whose work takes prejudice, bias, and ignorance head on, asking the questions about humanity, race, religion, and social injustice that we all have (and maybe are afraid to talk about), with gut-punching insight and gut-busting sarcasm.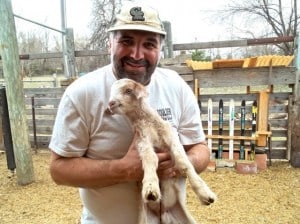 Rabbi Marc Soloway has served as the rabbi of Congregation Bonai Shalom in Boulder, Colorado since 2004. He has always loved food, perhaps a little too much, and in recent years has thought more deeply about where this food comes from, how it is produced and how all of that fits with deep Jewish obligations and values. Marc has ridden twice in the Hazon-Arava Institute Israel Ride in 2008 and 2010. Marc co-chaired two Hazon Food Conferences on the west coast in 2010 and 2011, he is on the Hazon Steering Team in Colorado as well as the Jewish Life team for the Rocky Mountain Jewish Food Summit in April 2012. Marc was instrumental in bringing Boulder's first Jewish CSA through Hazon, which is now a collaboration of five synagogues and the JCC with two weekly drop-off sites. Marc is also a proud member of a Jewish goat and chicken co-op across the street from his synagogue. Before becoming a rabbi, Marc was an actor, storyteller and massage therapist in his native London and currently is the narrator of a documentary film about the Baal Shem Tov.
Lauren Tuchman received rabbinic ordination from the Jewish Theological Seminary in 2018 and is, as far as she is aware, the first blind woman in the world to enter the rabbinate. A sought after speaker, spiritual leader, and educator, Rabbi Tuchman has taught at numerous synagogues and other Jewish venues throughout North America and was named to the Jewish Week's 36 under 36 for her innovative leadership concerning the inclusion of Jews with disabilities in all aspects of Jewish life.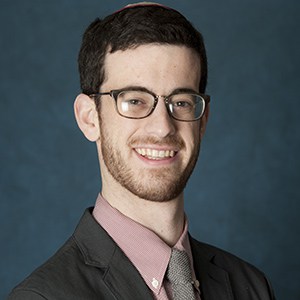 Gabi Weinberg holds a BA in English from Yeshiva College, an MA in medieval Jewish history at the Bernard Revel Graduate School for Jewish Studies, and recently completed rabbinic ordination at the Rabbi Isaac Elchanan Theological Seminary at Yeshiva University as a Wexner Graduate Fellow. Gabi is currently the director of High School Programs at the Tikvah Fund and is working to create more opportunities for students in the Institute for High School Students and alumni to continue to engage with each other and the work of the Tikvah Fund. Previously, he served as the director of adult education and teen programming at the Young Israel of Scarsdale.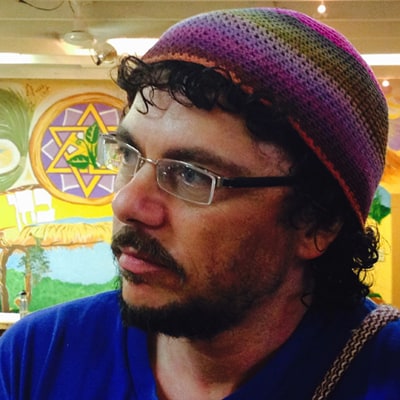 David Seidenberg is the creator of neohasid.org and author of the acclaimed Kabbalah and Ecology: God's Image in the More-Than-Human World. David has smikhah from both JTS and Reb Zalman. He teaches around the world on issues related to ecology, animal rights, and human rights, as well as teaching programs on astronomy, Chasidic nigunim, and dance. He is also the author of widely-used liturgy and translations related to Tu Bishvat, Tisha B'Av, voting, the environment, and Israel, and designer of the Omer Counter app. David's most recent work appears in Jewish Veganism and Vegetarianism: Studies and New Directions and A New Hasidism: Branches, and in an ongoing series of articles uncovering a new history of tikkun olam.
Rabbi Robin Damsky, founder and director of In the Gardens, has been identified by Kenissa as an innovator re-defining Jewish life. She blends spiritual practice with music, movement, meditation, Neo-Hasidic text study, edible garden design and social justice/tikkun olam into a holistic expression for the new century. Robin works with care and compassion to bring Torah and a reverence for the earth to people of all ages, guiding them into a joyful experience of renewal and wholeness. With an MA in Jewish education, mindfulness and meditation teacher certification, a BFA in dance, extensive botanical studies and licensure in medical massage, Rabbi Damsky fuses a love of creation with self-care and spiritual practice, bringing forth ebullient spiritual expression.