Aug 3, 2017 - Aug 6, 2017
Isabella Freedman Jewish Retreat Center, Falls Village, CT
register now more info about let my people sing!
A Weekend of Jewish Song Singing and Sharing
Let My People Sing! believes in the liberatory potential of song and the importance of a vibrant Jewish singing culture.
The retreat will be structured around Shabbat, hour-long song sharing and teaching sessions, and community sings – with plenty of time to explore the farm, swim in the lake, sit by the pool, or go on a hike.
The retreat is open to lovers of Jewish song, new and old. Whether you have an abundance of songs in your back pocket you're excited to share, are longing to expand your repertoire, or are new to Jewish songs altogether, we welcome you to join us! We see the array of Jewish songs as expansive, including but not limited to songs based on liturgical text, niggunim (wordless melodies), piyyutim, Jewish folk songs, Hebrew chanting, Jewish labor songs, songs in Yiddish, Ladino, and Judeo-Arabic, Jewish gospel, songs written by Jews, sung by Jews, etc.

Song Sessions
Sessions will be led by a wide array of song leaders using a variety of formats.  Some will include histories and stories, others will just be about singing the songs themselves.  No instruments will be used on Shabbat unless otherwise noted.

Shabbat Services
Shabbat services will be offered Friday night and Saturday morning. There will be multiple davenning options.

Community Sings
Time to sing all together!

Jewish Outdoor, Food & Environmental Fun!
Make pickles, explore the woods, and take a tour of the farm alongside our Adamah fellows

Here is a sample schedule to give you an idea of the flow of the retreat. This schedule is subject to change.
Thursday, August 3rd
2-5 pm – Check-in
5-5:30 pm Camp Teva Orientation
5-6 pm – Community Sing
6-7 pm – Dinner
7:30-9:30 pm – Community Jam
Friday, August 4th
8-9 am – Avodah Lev / Yoga
9-10 am – Breakfast
10:15 am-12 pm – Song Intensive Part 1
12-1 pm – Lunch
1-2 pm – JOFEE Activity
2-4 pm – Song Intensive Part 2
5-6 pm Camp Teva Kids' Dinner
5:30-6 pm – Candle Lighting
6-6:45 pm – Let my People Sing!
6:45-8:15 pm – Kabbalat Shabbat
8:30-10 pm – Dinner
10 pm – Community Sing / Tisch
Saturday, August 5th
7-8 am – Yoga
8-9:30 am – Breakfast
8:30 am-12 pm – Shabbat Services
12-1 pm – Lunch
1-2 pm – Community Sing / Hike / Break
2:15-3:15 pm – Song Session Slot 1
3:30-4:30 pm – Song Session Slot 2
4:45-5:45 pm – Free time / Nap Time / Farm Tour / Mincha
5:45-6:45 pm – Song Session Slot 3
6:45-7:45 pm – Dinner
7:45-8:45 pm – Community Sing Back / Ma'ariv
8:45 pm – Havdallah
9:30 pm – Participatory Concert
Sunday, August 6th
7-8 am – Yoga / Avodah Lev / Traditional Schacharit
7:30-9 am – Breakfast
9-10:15 am –  Songs of Praise
10:30-11:30 am – Song Session Slot 4
11:45 am-12:30 pm – Closing Circle & Sing
12:30-1 pm – Lunch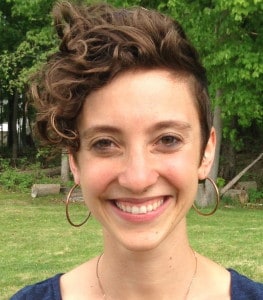 Mónica Gomery
is a rabbinical student at Hebrew College whose interests include poetry, niggunim, Talmud study, social justice, and pastoral care. She believes that music is at the heart of building spiritual and political community, and loves nothing more than singing with others. She is thrilled to learn and to teach at Let My People Sing!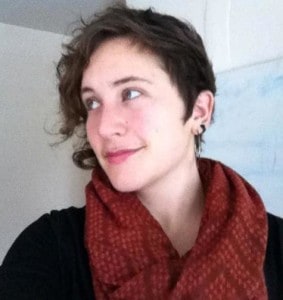 Ilana Lerman is a community organizer, artist, and herbalist in Boston, MA and loves to interweave song throughout her days, political meetings and actions, and spiritual practice. Ilana is currently a student of Shefa Gold's Kol Zimra program for chant leaders.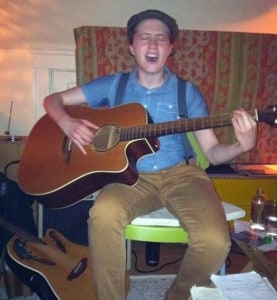 Nomi Lerman is currently a Rabbinical student at Hebrew College.  Nomi has studied Classical, Jazz, and Fingerstyle Blues guitar from a young age, which influences their current love of playing and singing Yiddish folk songs.  Nomi is passionate about cultivating nigun-singing as a spiritual and meditative practice– one that can be a collective unifying experience for those who create intentional sacred space with their voices.  Nomi especially appreciates reclaiming and reintroducing songs into our current communities from old scratchy recordings.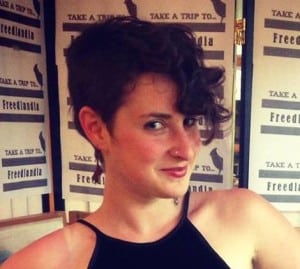 Batya Levine is currently a preschool teacher in Boston, and was once a Teva Educator turned Transformational Experience Fellow at Isabella Freedman. She plays a variety of instruments including guitar, mandolin, and saxophone, though voice is her primary instrument. Coming from the Jewish lineage of the tribe of Levi, who were the musicians in the Holy Temple, she is dedicated to music for the sake of healing and growth on the individual and communal levels.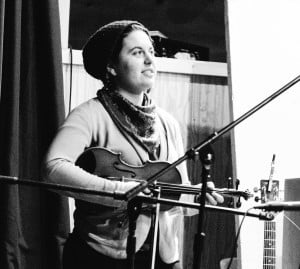 Margot Seigle is a community organizer, movement builder, radical Jewish chicken rancher, and healer & ritual leader in practice. She participated in the Adamah Fellowship in Fall 2012 where she rediscovered her love for Jews, song, spirituality and the outdoors. When she's not coordinating retreats, you can find her strumming the mandolin, playing around on the fiddle, and singing her heart away in the woods.
All-inclusive rates start at $280 per person, and only $180 for campers! Click the "register now" button above for information, rates, and to register online. Online registration is for full credit card payments only.
You will receive a confirmation email once you have registered and made a payment online or by phone. If you do not receive the confirmation email within 24 hours of registering, please call us at 860.824.5991 x0.
Hazon is committed to making our Transformative Experiences financially accessible to as many people as possible. We believe that participation in these kinds of events are a core feature of a healthy and sustainable Jewish community in the 21st century. With this belief in mind, the rates for this retreat have been highly discounted.
ARRIVAL AND DEPARTURE
Check-in is from 2 to 5 pm on Thursday, August 3, 2017. Check-in is located in the Main Building — the big red building in the middle of campus. You must be checked out of your room by 10 am on Sunday, August 6, 2017. The retreat will come to an end after lunch on Sunday.
PARKING
There are two parking lots: one next to the tennis court by the main entrance, and one by the barnyard on the other end of campus. There is also accessible parking located across from the Main Building.  Please do not park on the grass anywhere on campus.
SHUTTLE SERVICE
For those coming from the New York City area, we are conveniently located just half an hour from Wassaic Train Station, the last stop on the Harlem Line of the Metro North. We offer a shuttle service at the following times:
2:03 pm on Thursday from Wassaic Train Station to IF (train departing from Grand Central at 11:47 am)
4:03 pm on Thursday from Wassaic Train Station to IF (train departing from Grand Central at 1:47 pm)
1:30 pm on Sunday from IF to Wassaic Train Station (train departing from Grant Central at 2:27 pm)
If you have not already reserved shuttle service during registration, please call (860) 824-5991 ext. 0 at least a week before the start date of the retreat to reserve your spot.
For more information on getting here, click here.
RIDESHARE
Help to reduce the environmental impact of car trips to and from Isabella Freedman by checking out our carpool initiative! Upon registering, you will receive access to a unique rideshare board to help connect you with fellow retreat participants. Offering a ride in your car will help reduce carbon emissions, cut down gas costs and make new friends! If you are looking for a ride, adding yourself to the wait list (on the right hand side of the page) is the best way to be notified when movements occur.
LEAD A SONG SESSION
Want to lead an hour-long song singing and/or sharing session during the Let My People Sing Shabbaton? If you submitted your song session proposal when you registered, thank you! We will be in touch with you soon. If you did not submit a song session proposal when you registered, but you'd like to now, please click here to submit your proposal.
KASHRUT POLICY
One of our mashgichim (kosher supervisors) must pre-approve all food items that enter the designated dining spaces. If you plan to supplement our delicious, healthy, farm-to-feast meals, your items must be completely sealed in original packaging. Unapproved food and drinks may be enjoyed anywhere on campus besides our dining spaces.
PACKING LIST
You may want to bring:
Over-the-counter and/or prescription medications
Toiletries
Flashlight
Chargers for electronic devices
Sun protection (sunblock, sunglasses, a hat)
Rain gear (a jacket and/or umbrella)
Ritual wear
Comfortable, loose-fitting clothes for yoga
Closed toe shoes
Hiking boots to enjoy our many trails
Camping equipment, including a tent, sleeping bag, and towel if you are camping
We provide:
Toiletries like deodorant and toothpaste for sale in the bookstore
Extra kippot and tallitot, in addition to siddurim
Yoga mats, blankets, and blocks
Heat and A/C in all guest rooms
Linens and towels in all guest rooms
Alarm clocks in all guest rooms
Keep in mind that you can find all of this information and more on our website. If there are details of your stay or arrival that you still need to share with us here at the retreat center, please email us at registrar@hazon.org
Together, we will create an island in time for learning, re-connecting with nature and ourselves, creating new relationships, and for cultivating leadership that is renewing what it means to practice Judaism today. We look forward to seeing you soon!
If you're new to Isabella Freedman, check out our Frequently Asked Questions.
Camp Teva is for kids ages 5 – 12, and runs simultaneously with retreats geared toward adults. Camp Teva combines the best of Teva's signature Jewish environmental education with all of the opportunities provided by the Adamah Farm to create a distinctive and creative way for kids to have a fun and safe Jewish outdoor, food, and environmental education experience while their parents are enjoying Hazon's many retreats, conferences, holidays, and workshops at Isabella Freedman. A transformative experience for the whole family!
When you register kids during your event registration process, they are automatically enrolled in Camp Teva! All-inclusive kids' rates include Camp Teva programming.
This summer's Let My People Sing! song sessions will be entirely led by participants.  We welcome all participants to submit a proposal to lead an hour-long song singing and/or sharing session! Submit your proposal here, and we will get back to you soon. Please note that session leaders are expected to register as paying participants.