Aug 18, 2016 - Aug 21, 2016
Isabella Freedman Jewish Retreat Center, Falls Village, CT
A Weekend of Jewish Song Singing and Sharing
Join us in the age old tradition of coming together through song!  Together, we will sing and share an array of Jewish song traditions, inclusive of a wide range of Jewish ancestry and religious practices.
The retreat will be structured around Shabbat, hour-long song sharing and teaching sessions, and community sings – with plenty of time to explore the farm, swim in the lake, sit by the pool, or go on a hike. New this summer, Friday day will feature 2 2-hour long song intensives.
The retreat is open to lovers of Jewish song new and old. Whether you have an abundance of songs in your back pocket you're excited to share, are longing to expand your repertoire, or are new to Jewish songs altogether, we welcome you to join us! We see the array of Jewish songs as expansive, including but not limited to songs based on liturgical text, niggunim (wordless melodies), piyyutim, Jewish folk songs, Hebrew chanting, Jewish labor songs, songs in yiddish, ladino, and judeo-arabic, Jewish gospel, songs written by Jews, sung by Jews, etc.

Song Sessions
Sessions will be led by a wide array of song leaders using a variety of formats.  Some will include histories and stories, others will just be about singing the songs themselves.  This summer's featured teachers are Joey Weisenberg, Daphna Mor, Jessi Roemer, Yavilah McCoy & Cantor George Mordecai.  No instruments will be used on Shabbat unless otherwise noted.

Shabbat Services
Shabbat services will be offered Friday night and Saturday morning. There will be multiple davenning options.

Community Sings
Time to sing all together!

Jewish Outdoor, Food & Environmental Fun!
Make pickles, explore the woods, and take a tour of the farm alongside our Adamah fellows

Thursday, August 18th
2 – 5pm – Check-in
5 – 6pm – Community Sing
6 – 7pm – Dinner
7:30 – 9:30pm – Community Jam
Friday, August 19th
8 – 9am – Avodah Lev / Yoga
9 – 10am – Breakfast
10:15am – 12:00pm – Song Intensive Part 1
12pm – 1pm – Lunch
1pm – 2pm – JOFEE Activity
2pm – 4pm – Song Intensive Part 2
2 – 5pm – Check in for newcomers
[5 – 6pm] – Camp TEVA Orientation & Kids Dinner
5:30 – 6pm – Candle Lighting
6 – 6:45pm – Let my People Sing!
6:45 – 8:15pm – Kabbalat Shabbat
8:30 – 10pm – Dinner
10pm on – Community Sing / Tisch
Saturday, August 20th
7 – 8am – Yoga
8 – 9:30am – Breakfast
8:30a – 12p – Shabbat Services
12pm – 1 – Lunch
1-2p – Community Sing / Hike / Break
2:15 – 3:15p – Song Session Slot 1
3:30 – 4:30 – Song Session Slot 2
4:45 – 5:45p – Free time / Nap Time / Farm Tour / Mincha
5:45 – 6:45p – Song Session Slot 3
6:45 – 7:45p – Dinner
7:45 – 8:45p – Community Sing Back / Ma'ariv (8:15)
8:45p – Havdallah
9:30p – Participatory Concert
Sunday
7a – 8a – Yoga / Avodah Lev / Traditional Schacharit (until 8:30a)
7:30 – 9a – Breakfast
9a – 10:15a –  Songs of Praise
10:30a – 11:30a – Song Session Slot 4
11:45 – 12:30p – Closing Circle & Sing
12:30 – 1p – Lunch
This schedule is subject to change.
Lead Teachers
Joey Weisenberg is the Creative Director of the Mechon Hadar's Center for Jewish Communal Music, which seeks to empower Jewish community-building through music. Joey works to educate and train communities around the world to unlock their musical and spiritual potential, and to make music a lasting and joy­-filled force in shul and in Jewish life. Joey runs various workshops and trainings across the country, including the Singing Communities Intensive each December at Mechon Hadar. Joey has authored Building Singing Communities, published by Mechon Hadar, and is a multi-instrumental musician, singer, and composer. His nigunim, published in 5 CDs and a Songbook, have become popular worldwide, and he has been heralded as "the next Shlomo Carlebach or Debbie Friedman". Joey also curates the Tefillah and Music recordings on the Mechon Hadar website, which allow people to learn melodies and nusah for most Jewish prayer services.
Originally from Israel, Daphna Mor is an internationally renowned musician as well as a passionate educator. Hailed by the New York Times and the Chicago Tribune for her virtuosity, Daphna has performed on such prestigious stages as Summer Stage, NY, with the New York Philharmonic at Lincoln Center, and as a soloist at Carnegie Hall. Daphna also serves as a teaching artist with the Education Department of the Metropolitan Museum of Art, connecting visual art and music education. Since moving to Brooklyn in 2000, she has established herself as a leading musician educator, and prayer leader in the Jewish world, serving as a Musician-in-Residence at B'nai Jeshurun and Musical Director and Co-Spiritual Leader of Beineinu. Daphna has worked extensively with Piyut over the last decade, performing on concert stages, leading prayer services and bringing it to life for kids in the classroom. Daphna has also designed a multi-layered Piyut curriculum, which she piloted with elementary school students at the Manhattan JCC's Jewish Journey Project. This flexible curriculum can be adapted for a range of settings and ages, including Hebrew and day schools, universities, and adult education programs. Daphna is one of the New York based leaders for Piyut North America (http://piyutnorthamerica.org).
Yavilah McCoy is the founder of Ayecha, one of the first nonprofit Jewish organizations to provide Jewish Diversity education and advocacy for Jews of color in the United States. Yavilah is an educator, activist and spiritual teacher that has worked extensively within multi-faith communities to increase racial justice and expand equity and inclusion. She is a certified trainer for the A World of Difference Institute, National Coalition Building Institute, and the National Center for Community and Justice. Yavilah currently provides consulting services to a wide spectrum of agencies and communities as the CEO of VISIONS Inc. and through her directorship of Dimensions Educational Resources in Boston.
Jessi Roemer is a musician, cantorial candidate, and composer of new Jewish music in Philadelphia, PA. She has performed in New York, Connecticut, Philly, Yardley, West Chester PA, Maryland, Washington D.C., Seattle, Jerusalem, and Tel Aviv. Her original compositions have been featured in settings including the Jewish Folk Arts Festival of Washington, D.C. and the Shalshelet Festival of New Jewish Music. Using a variety of musical styles and languages, Jessi directs the Jewish World Music ensemble EZUZ, playing post-tribal Jewish soul music. Jessi serves three Philly congregations and is a core member of the Philadelphia Shir Singing Circle, organizing pop-up sing-jams in secular and spiritual spaces in and around Philadelphia.  Jessi grew up in the Washington D.C. area, surrounded by her mother's Yiddish, Hebrew, and American Folk music, cantorial melodies, and the Bluegrass-Klezmer music of the Fabrangen Fiddlers. During the 70s and 80s, American blues, pop, and jazz, and Sweet Honey in the Rock also made their mark. Reflecting her roots, influences, studies, and travels – which include having spent the 90s living in Jerusalem – Jessi's original music is a 21st-century hybrid of European, Middle Eastern, Sephardic, North and South American styles. More at jessiroemer.com and ezuz.net. Check out the EZUZ debut album here.
Cantor George Mordecai weaves his rich cultural heritage into his work as a performer and cantor. Born in Sydney, Australia to Iraqi and Indian Jewish immigrants, he was immersed from an early age in the musical and liturgical traditions of his family.He went on to help lead services at the Sephardic Synagogue in Sydney and appeared at various multicultural music festivals around Australia. George also sang with the Renaissance Players, a renowned and innovative early music ensemble based at Sydney University, and with the Capella Floriani, a musical and theatrical company devoted to a spiritual vision of the performing arts.
Prior to receiving his Cantorial investiture and master's degree in sacred music from the Jewish Theological Seminary in 2000, George worked for many years at the Emanuel synagogue in Sydney where he was lovingly mentored by Rabbi Jeffrey Kamins, Cantor Michael Deutsch and Rabbi Brian Fox. He went on to work as a cantor in Philadelphia, Miami, Stamford and is currently the Cantor at Temple Israel Center in White Plains, New York.
George has performed Sephardic and Judeo-Iraqi liturgical repertoire in concert halls and synagogues in England, Paris, Israel, and various cities around the U.S. He has also performed in interfaith settings with Middle Eastern, Indian and African American musicians. In 2007 he met Patrick Quigley, artistic director of the world renowned choral ensemble Seraphic Fire, and together they developed a performance project, Shalom/Pax, which drew from the rich motivic and melismatic textures of the Gregorian and Iraqi Jewish musical traditions. George has devoted his life to pursuing a vision of devotional music that speaks to the sacred interconnectedness of all humanity and continues to work on projects that support this vision.  George will be joining us for Sunday programming only.
more to come!
Core Planning Team
Mónica Gomery is a rabbinical student at Hebrew College whose interests include poetry, niggunim, Talmud study, social justice, and pastoral care. She believes that music is at the heart of building spiritual and political community, and loves nothing more than singing with others. She is thrilled to learn and to teach at Let My People Sing!
Ilana Lerman is a community organizer, artist, and herbalist in Boston, MA and loves to interweave song throughout her days, political meetings and actions, and spiritual practice. Ilana is currently a student of Shefa Gold's Kol Zimra program for chant leaders.
Nomi Lerman is currently a Rabbinical student at Hebrew College.  Nomi has studied Classical, Jazz, and Fingerstyle Blues guitar from a young age, which influences their current love of playing and singing Yiddish folk songs.  Nomi is passionate about cultivating nigun-singing as a spiritual and meditative practice– one that can be a collective unifying experience for those who create intentional sacred space with their voices.  Nomi especially appreciates reclaiming and reintroducing songs into our current communities from old scratchy recordings.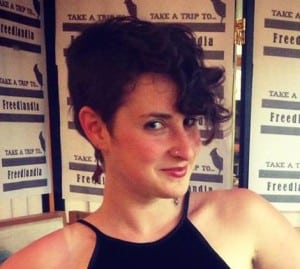 Batya Levine is currently a preschool teacher in Boston, and was once a Teva Educator turned Transformational Experience Fellow at Isabella Freedman. She plays a variety of instruments including guitar, mandolin, and saxophone, though voice is her primary instrument. Coming from the Jewish lineage of the tribe of Levi, who were the musicians in the Holy Temple, she is dedicated to music for the sake of healing and growth on the individual and communal levels.
Margot Seigle is a community organizer, movement builder, radical Jewish chicken rancher, and healer & ritual leader in practice. She participated in the Adamah Fellowship in Fall 2012 where she rediscovered her love for Jews, song, spirituality and the outdoors. When she's not coordinating retreats, you can find her strumming the mandolin, playing around on the fiddle, and singing her heart away in the woods.
To register or check out the rates and lodging options, click here.
All-inclusive rates start at $250 per person. If you need to arrive on Friday afternoon and miss the first day of amazing programming, enter the code WEEKEND25 for 25% off your registration fee. Click the "register now" button above for information, rates, and to register online. Online registration is for full credit card payments only. If you would like to pay in installments or pay by check, please call 860.824.5991 x0. Please review our lodging options and rates prior to calling.
You will receive a confirmation email once you have registered and made a payment online or by phone. If you do not receive the confirmation email within 24 hours of registering, please call us at 860.824.5991 x0.
Hazon is committed to making our Transformative Experiences financially accessible to as many people as possible. We believe that participation in these kinds of events are a core feature of a healthy and sustainable Jewish community in the 21st century. With this belief in mind, the rates for this retreat have been highly discounted.
ARRIVAL AND DEPARTURE
Check-in is from 2 to 5 pm on Thursday, August 18 and Friday, August 19. You must be checked out of your room by 10 am on Sunday, August 21. The retreat will come to an end after lunch on Sunday.
SHUTTLE SERVICE
For those coming from the New York City area, we are conveniently located just half an hour from Wassaic Train Station, the last stop on the Harlem Line of the Metro North. We offer a shuttle service at the following times:
2:03 pm on Thursday & Friday from Wassaic Train Station to IF (train departing from Grand Central at 11:47 am)
4:03 pm on Thursday & Friday from Wassaic Train Station to IF (train departing from Grand Central at 1:47 pm)
12:55 pm* on Sunday from IF to Wassaic Train Station (train departing from Wassaic at 1:55 pm)
*Previously we posted that the departure shuttle was at 1:30 pm. Due to a change in the train schedule, the shuttle has been changed to 12:55 pm in order to catch the 1:55 pm train.
If you have not already reserved shuttle service during registration, please call (860) 824-5991 ext. 0 at least a week before the start date of the retreat to reserve your spot.
For more information on getting here, click here.
RIDESHARE
Upon registering, you will receive a link to a unique rideshare board to help connect you with fellow retreat participants. Offering a ride in your car will help reduce carbon emissions, cut down gas costs and make new friends! If you are looking for a ride, adding yourself to the wait list (on the right hand side of the page) is the best way to be notified when movements occur.
KASHRUT POLICY
One of our mashgichim (kosher supervisors) must pre-approve all food items that enter the designated dining spaces. If you plan to supplement our delicious, healthy, farm-to-feast meals, your items must be completely sealed in original packaging. Unapproved food and drinks may be enjoyed anywhere on campus besides our dining spaces.
PACKING LIST
You may want to bring:
Over-the-counter and/or prescription medications
Toiletries
Flashlight
Chargers for electronic devices
Sun protection (sunblock, sunglasses, a hat)
Rain gear (a jacket and/or umbrella)
Ritual wear
Musical instruments
Comfortable, loose-fitting clothes for yoga
Closed toe shoes
Hiking boots to enjoy our many trails
Camping equipment, including a tent, sleeping bag, and towel if you are camping
We provide:
Toiletries like deodorant and toothpaste for sale in the bookstore
Extra kippot and tallitot, in addition to siddurim
Yoga mats, blankets, and blocks
Heat and A/C in all guest rooms
Linens and towels in all guest rooms
Alarm clocks in all guest rooms
If you're new to Isabella Freedman, check out our Frequently Asked Questions.
Camp Teva is for kids ages 5 – 12, and runs simultaneously with retreats geared toward adults. Camp Teva combines the best of Teva's signature Jewish environmental education with all of the opportunities provided by the Adamah Farm to create a distinctive and creative way for kids to have a fun and safe Jewish outdoor, food, and environmental education experience while their parents are enjoying Hazon's many retreats, conferences, holidays, and workshops at Isabella Freedman. A transformative experience for the whole family!
When you register kids during your event registration process, they are automatically enrolled in Camp Teva! All-inclusive kids' rates include Camp Teva programming.
This summer's Let My People Sing! song sessions will be entirely led by participants.  We welcome all participants to submit a proposal to lead an hour-long song singing and/or sharing session! Submit your proposal here, and we will get back to you soon. Please note that session leaders are expected to register as paying participants.