Educational Resource Library
Setting the Table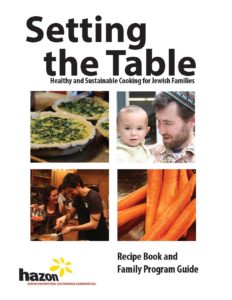 by Liz Traison and Daniel Infeld
Hazon
A Cooking Class for Young Families
Download Setting the TablePurchase a hard copy 
Starting a family commences a period of change. Expectant parents very quickly transition from thinking for themselves to providing for a new life, and the preparation and anticipation can be overwhelming. Especially when thinking about how we want to feed our new families.
Setting the Table is designed to help couples think through these challenges with a Jewish lens. Participants learn essential tips and cooking techniques that will help them prepare meals for their growing families, highlighting seasonal and local ingredients. Following the cooking portion of the evening, participants gather around the table to enjoy the fruit of their labor and to learn from and grapple with ancient and contemporary texts focused on the experience of a family dinner table. The discussions lead the participants to think about how they wanted to frame their family's experience around the table.
Setting the Table bridged the gap between sacred preparation and material details, just as food seems to do in Jewish tradition. For our family, it was an opportunity to think about how we would bring intention to our families' eating habits, even just for the two of us until our son takes to dining at the table.
—Rachel G., Brooklyn, NY
Setting the Table
 can be run as a one-time program, as a series of programs, or given directly to new parents as a helpful resource. In addition to yummy, simple recipes, this resource includes a Leader's Guide for educators with sample programs for holidays like Passover and Shabbat, and also for everyday eating. It also features ancient and contemporary Jewish texts with guiding thought questions.
The Recipes section features dozens of family-friendly recipes designed with new parents in mind.
The Thought Texts section incorporates modern and ancient Jewish texts that focus on the experience of a family dinner table.
Tips for Kids in the Kitchen offers a variety of fun ideas to increase children's participation in the kitchen and in Jewish ritual for an early start on a healthy lifelong relationship to food and Jewish tradition.
UJA-Federation of New York has provided generous support for the creation and implementation of Setting the Table.
‹ Return to main library