Educational Resource Library
Shabbat Ha'aretz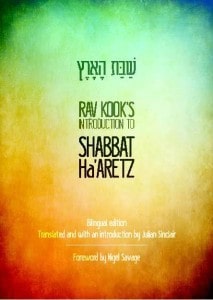 by Rabbi Abraham Isaac Kook
Hazon
We are proud to share Hazon's publication of Rav Kook's Introduction to Shabbat Ha'Aretz, translated by Rabbi Julian Sinclair. This is the first-ever English translation of the introduction to Rav Kook's book on shmita (Biblical sabbatical year). Rabbi Abraham Isaac Kook was the first Ashkenazi Chief Rabbi of the land of Israel in the 20th century. His essay, written in 1909, is lyrical and mystical, a meditation on the big themes that underlie religious environmentalism.
There are few concepts as beautiful (and as radical) as the Jewish idea of a sabbath for the land every 7 years. In this utterly fascinating translation, Rav Kook offers a gorgeous and profound hymn from across the decades to the concept, and the able translator provides historical context as well as powerful hope that this great rest and rejuvenation can have practical as well as spiritual meaning in the modern age.
—Bill McKibben, author Deep Economy
Rav Kook wrote a century ago that "the old will be made new, and the new made holy." Our goal for this book is, in similar vein, to make Jewish spiritual approaches to caring for the planet more accessible to English-reading environmentalists — and open up environmental thinking to traditional religious audiences who may not have woken up to it before now. Introduction to Shabbat Ha'aretz offers a Jewish spiritual approach to the moral life of our physical world – and a lens to see our care for creation in terms deeply grounded in Torah and Jewish thought.
What can shmita – the biblical sabbatical year and the agricultural cycle of which it is a key part – mean for the modern world? Rav Kook advocated for new halakhic approaches to shmita in the context of the Zionist agricultural revival in this 1909 essay which prefaces his book Shabbat Ha'aretz (Sabbath of the Land). His essay is a classic of authentic religious environmentalism, a meditation on the relationship between ancient legal structures and the deep spiritual life that they embody.
This beautiful new setting of the Hebrew text, accompanied by Rabbi Julian Sinclair's new translation and notes, makes the complexity of Rav Kook's language and thought accessible to English readers for the first time. It is accompanied by Rabbi Sinclair's own introductions to the traditional conception of the sabbatical cycle; to Rav Kook's life, mystical thought, and relationship to the modern return to Jewish agriculture; and to the ways Jewish tradition can speak to issues of land use, social justice, and climate-change activism in the twenty-first century.
Hazon's motto is "the Torah is a commentary on the world, and the world is a commentary on the Torah," which reflects our determination to apply Jewish thought to some of the greatest challenges of our time – and our belief that the act of doing so is good not only for the world but also for the renewal of Jewish life itself. Our publication of this book and our work on Shmita reflect of our efforts to strive toward these goals.
Rabbi Abraham Isaac Kook (1865-1935), first Ashkenzi chief rabbi in the land of Israel under the British Mandatory government, was one of the pre-eminent Jewish religious thinkers and halachic authorities of the twentieth century. His landmark book Shabbat Haaretz was first published in Hebrew in 1910.
Rabbi Julian Sinclair is a writer, translator, tour guide, educator, environmentalist and solar energy developer.  He has also consulted to the UN on religious responses to climate change and been featured in the New York Times Magazine for his work in this area. Previously he worked as campus rabbi at Cambridge University, where he also taught Jewish Thought in the Divinity School. He holds degrees from Oxford and Harvard Universities as well as Orthodox rabbinic ordination. He is Vice President at Energiya Global, a leading Israeli solar company that has just developed the first-ever large-scale solar project in Sub-Saharan East Africa.  Rabbi Sinclair is a Senior Rabbinical Scholar at Hazon and has taught on Jewish and environmental values throughout North America.
In this brilliant translation of Rav Kook's work and in his accompanying essays, Yedidya Sinclair succeeds in clarifying the paradoxes of Shmita. His historical, biographical and conceptual introduction is cogent and elegant; it is supplemented by a thoughtful analysis of broader environmental and social justice values now being seriously discussed in Israel. A highly valuable and enlightening volume.
—Avivah Gottlieb Zornberg, Torah scholar, author of The Murmuring Deep
Rarely can a one-hundred-year-old pamphlet reach across history and shake a reader's heart, inspire an activist's hands. Shabbat Ha'Aretz does just that. Revolutionary in the Land of Israel in its time and revolutionary for American Jews today, Hazon and Sinclair have done us an enormous service by bringing Kook's Introduction to Shmita into the heart 21st century living.
—Rabbi Mishael Zion, co-Director of the Bronfman Fellowships; author of A Night to Remember: the Haggadah of Contemporary Voices
If Britain and America are two countries divided by a common language, then Israel is a country, and the Jewish people a people, divided by a common religion. Rav Kook is still, a century on, sorely missed as a religious leader who deeply believed in finding ways for observant and non-observant Jews to build the same country together. Every seven years we see how his work, Shabbat Ha'aretz, is not only still relevant, but even more necessary than ever.
—Saul Singer, co-author of Start-Up Nation: The Story of Israel's Economic Miracle
In the century since Rav Kook penned Shabbat Haaretz, humanity's relentless exploitation of the earth has accelerated to the point where much of the destruction is irreversible. Rabbi Yedidya Sinclair's translation and commentary of Rav Kook's work elevates our consciousness to a new level. Through it we realize that understanding the spiritual greatness of Shmita is a prerequisite for taking the practical steps that can reverse climate change, feed the hungry and even cloth the naked. What I learned from this holy book is that the seeds of humanity's redemption live within the radical notion of Shmita. Let's live this dream toward our Jubilee.
—Yosef Abramowitz, co-founder of Arava Power Company
Enjoy a podcast from Rabbi Julian Sinclair as he discusses the newly released book with Rabbi Jeffrey Saks on web yeshiva.
Contact us at shmita@hazon.org to learn more about how to get involved.
‹ Return to main library