Educational Resource Library
Home for Dinner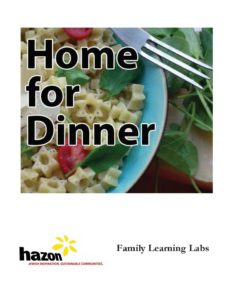 by Vicky Kelman and Judith Belasco
Hazon
Home for Dinner: Hazon's Family Meals Initiative is a synagogue-based pilot program for late elementary to early middle school students and their parents.
Ty looked at the text and said he didn't know what it was about. But he just needed to talk it through. Once he did, he was able to express on his own that food is important to survive, but meals are important to be together.
—Robin W., parent of Ty, Congregation Beth El, Berkeley, CA
American family life, including American Jewish family life, has spun more and more out of control, with overscheduled kids and under-connected families. Dinnertime is a time when adults and children can come together after being apart throughout the day, a unique time for families to break bread, interact and reconnect.
Home for Dinner engages families in their home, students in the classroom, and the families as a community together at the synagogue. This multi-faceted approach seeks to re-connect children, parents, and their synagogue community as they explore together the dynamic interplay of Jews, food, and our complex family lives.
The Covenant Foundation has provided generous support for the creation and implementation of Home for Dinner: Hazon's Family Meals Initiative.
‹ Return to main library