Mar 6, 2022 - 8:00 am PST
---
Join the Hazon OC Ride
Jewish Environmental Bike Ride
Sunday, March 6, 2022 • 8:00 AM
10-50 mile routes in Irvine, CA from Merage JCC / TVT
Or join via JCC Spin Class (9am), Peloton Class (4pm),
or Move on Your Own Anywhere option!
Support Hazon's environmental education and sustainability efforts in Jewish OC and beyond!
We did it! View photos from the ride here.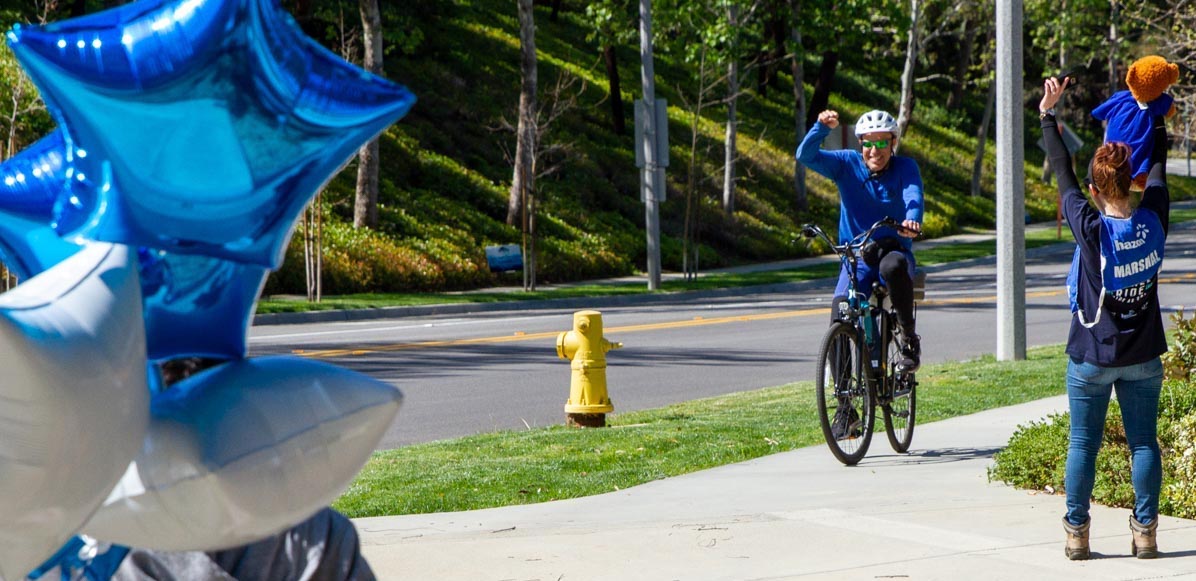 Message from Co-Chairs Susan Mattisinko and Robert De Leon
We're honored to launch the Hazon OC Ride together with our Jewish OC non-profit partners, volunteers, community and Hazon. We moved to Irvine at the start of the pandemic and have been warmly welcomed by the Jewish OC community. Biking on Irvine's exceptional bike trails has been our pandemic refuge. We're excited to give back to the community and support Hazon's environmental education and sustainability efforts in Jewish OC and beyond. It is especially meaningful to our family that the Norman Mattisinko Memorial Fund of Jewish Community Foundation is underwriting the Hazon OC Ride. Susan's late father, Norman, taught her how to ride and gave our kids their first trikes. We're grateful to all of you for supporting the Hazon OC Ride and to the entire Hazon team for their expertise and enthusiasm, with a special shout out to our Hazon OC Ride leads, David Rendsburg, CFO, and Sara Pilavin, Associate Director of Special Events.
Happy Cycling,
Susan Mattisinko and Robert De Leon
How Your Fundraising Supports Hazon and Jewish OC
The Hazon OC Ride supports environmental education and sustainability efforts in Jewish OC and beyond. Jewish OC nonprofits may apply for (1) Hazon's Greening Grants to install LED bulbs or solar panels, plant an organic garden, host an Earth Day, and so forth; and (2) subsidized participation in Hazon's Seal of Sustainability, a year-long program for a cohort of institutions to conduct a sustainability self-audit and implement best practices.
In addition, Hazon provides many educational resources, and Hazon educators are happy to provide guidance on programming. Hazon's many initiatives include the Jewish Youth Climate Movement (JYCM); Adamah: The Jewish Farming Fellowship; Isabella Freedman Jewish Retreat Center; Jewish Outdoor, Food, Farming & Environmental Education (JOFEE); and the annual Israel Ride, a 5-day bike ride from Jerusalem to Eilat held each Fall.
FAQs
You have questions? We have answers! See below for additional details.
Participation Options: Register now!
Cyclists: Join an amazing community bike ride with 10, 18, 36, and 50 mile route options!
Adult Riders: $36 registration, $100 fundraising – includes Hazon t-shirt!
Age 17 & Under: $36 registration, $50 fundraising – includes Hazon t-shirt!
Peloton Class: Join us for a 30-minute Peloton ride (use #Hazon)! 4pm Pacific. Zoom 'water break' before and after! No registration fee, $36 fundraising minimum.
JCC Spin Class: The JCC is generously offering an outdoor spin class under a canopy at 9am for the first 25 Hazon participants to register online. Check in at the JCC front desk 15 minutes before spin class. No need to check in at the cyclist check-in much earlier. $36 registration, $36 fundraising – includes Hazon t-shirt!
Move On Your Own Anywhere: Can't join us in person? You can still participate! Have fun – paddle, dance, hike, run, cycle, ski, skate, walk, etc. – and support Hazon. (Learn more.) No registration fee, $36 fundraising minimum.
Social Media:
Connect with fellow participants: Use hashtag #HazonOCride online, join the Facebook event, Facebook group, and Strava club!
Ride Start Time:
Check-in is from 7:30 am – 8:15 am. Ceremony is at 8:15 am. Shofar blows and cyclists are off at 8:30 am.
JCC Locker Room Passes:
To welcome Hazon riders who do not live close by, the JCC is generously offering complimentary 1-day locker room passes. The JCC provides towels, body wash, lotion, deodorant, etc. Bring your own lock. Check in at the JCC front desk.
Food:
Complimentary snacks and water are available at rest stops and the JCC / TVT. Kosher food is available for purchase from 7:30 am – 2:00 pm from the JCC Cafe, catered by Blueberry Hill Catering. University Center, 4255 Campus Drive, Irvine (2.1 miles away) has 20+ cafes and outdoor seating.
Bike Types:
E-bikes, tandems, and recumbent bikes also are welcome.
Bike Rentals:
Available from shops on Balboa Island, Newport Beach (not far from the JCC). Some shops may be able to drop off and pick up bikes at the JCC.
Youth Cyclists:
Youth cyclists are welcome. Riders under age 15 must ride with an accompanying adult cyclist. Riders ages 15-17 may ride with another rider in the same age bracket as a buddy or else must ride with an adult. 'Riding together' means both riders must be on the same route length and keep each other in eye sight at all times.
Routes:
All routes are paved and designed to maximize safety, scenery and fun. Where possible, routes are on designated bike trails away from cars; otherwise routes are on well-marked bike lanes on roads. Most of the bike lanes have adjacent smooth sidewalks with very few pedestrians.
Restrooms:
Restrooms are available at the start of the ride and at rest stops. Others are available at various businesses along the route. Nice restrooms are in many parks along the routes, and will be listed on ride maps.
Parking:
Free parking at JCC /TVT. EV charging is available.
Volunteers:
We welcome volunteers to assist at the ride and/or in advance. Contact ride@hazon.org to get connected.
T-shirts / Jerseys:
Pick up your complimentary Hazon t-shirt at the swag table outside after your ride or spin class. Anyone fundraising $650 or more for the Hazon OC Ride earns a short-sleeve Hazon jersey. Jerseys also are available for $65, including shipping (link coming soon!). Jerseys will be shipped to your designated address post-ride due to supply chain delays.
Fundraising / Donations:
Online Donations: Support the general campaign or donate to a specific rider or team at donate.hazon.org/OC
Donations Via Check: Checks should be made payable to Hazon, and sent to:
Hazon
25 Broadway
Suite 1700
New York, NY 10004
Be sure to designate it to "[Rider's Name / Team Name] Hazon OC Ride," so it can be credited to the appropriate fundraising page.
Matching Gifts: Maximize your Hazon contribution by doubling your gift through your employer's matching program! Consult your company for details on matching program availability.
Safety:
Medics, Mechanics, Marshals, and Lifts: Safety marshals cycle with participants. Mechanics and marshals change flat tires and handle simple repairs. Medics and mechanics are at rest stops and also will be dispatched as needed. Our support vans transport riders and bikes needing lifts back to JCC / TVT. Printed route maps list our dispatcher's phone number. We encourage all cyclists to enter the dispatcher's phone number into their cell phones.
Bike Helmets: Required for all Hazon OC Ride cyclists.
Covid-19 Safety: Hazon is committed to following up-to-the-minute Covid-19 safety protocols. Protocols will be communicated in advance and updated as necessary. Everyone is expected to exercise personal responsibility and stay home if not feeling well or have had close contact with someone who has a confirmed or suspected case of Covid-19 within the number of days indicated by the latest CDC guidance. The Hazon OC Ride is entirely outdoors but for restrooms. Hand sanitizer will be available at all rest stops and JCC / TVT. Masks must be worn while using TVT restrooms and in vans transporting riders. All must follow the JCC's mask policy in effect at the ride; the JCC Cafe has outdoor seating.
Additional Questions
We're here to help! Please email ride@hazon.org with any questions you have.
---
Hazon OC Ride Partners
Hazon • JCC Merage • TVT Community Day School • Norman Mattisinko Memorial Fund • Orange County Community Scholar Program • Orange County Hillel • Irvine Hebrew Day School • Jewish Collaborative of Orange County • Jewish Community Foundation of Orange County


---
Upcoming Ride Opportunities: