The development of Betzalel's Workshop was made possible by a grant from the Gendler Grapevine Project.
The Gendler Grapevine Project is a six-year initiative that promotes activities within Jewish and interfaith communities who honor and support the values maintained by Rabbi Everett Gendler. The project recognizes and celebrates the deep connections between Jewish tradition, social justice, and the environment by empowering individuals and communities to find spiritual and practical application of these values.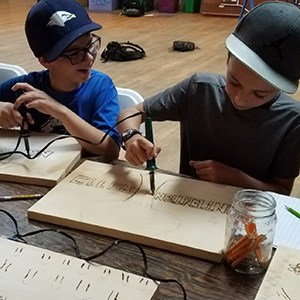 In Betzalel's Workshop, we hope to engage the creative and spiritual passions of those who participate in Jewish crafting. By creating and working with ritual objects from local, organic, ethically sourced, and recycled materials, participants will learn both the centrality of environmental responsibility to Jewish life, as well as a sense of ownership and pride over their participation in Jewish ritual. We feel that, by creating the basic object of a ritual, with all its flaws, character, and uniqueness, children are drawn closer to ritual. By creating an alternative to mass-produced, store-bought Judaica, we create an avenue towards creative, participatory Judaism.