All children ages 5-12 have the opportunity to participate in Hazon's Jewish Outdoor, Food, Farming, and Environmental Education (JOFEE) kids' program called Camp Teva! We combine the best of Teva's signature Jewish environmental education with all of the opportunities provided by the Adamah Farm to create a distinctive and creative way for kids to have a fun and safe JOFEE experience while their parents are enjoying Hazon's many retreats, conferences, holidays, and workshops at Isabella Freedman. Children under the age of five may participate with an adult. A transformative experience for the whole family! Gan Adamah is for children ages 2-4. Parents/Guardians can choose to drop off their children or stay with them. Gan Adamah provides a safe and engaging space for toddlers to play, explore, sing, and move. Programming is from 9am - 12pm each morning of the retreat, except arrival and departure days.
Everything was good! I want to live there! I love the Teva staff!
Retreats
When you register kids for any of the retreats listed below, they are automatically enrolled in Camp Teva! All-inclusive kids' rates include Camp Teva programming.
Activities
Isabella Freedman Jewish Retreat Center is set on 400 acres of farm, forest, lakes, and streams. We spend the majority of our time together outside rain or shine. All of our activities during Shabbat and Chaggim (Holidays) are in accordance with the conventional Orthodox laws of Shabbat and the Holiday.
Activities include:
Hiking
We have an extensive trail system from an easy lakeside path to strenuous uphill hikes. Camp Teva kids will have the opportunity to explore them all!
Along the way, we play forest games which allow kids to explore the forest in a deeper way
Learn about the history of the landscape
Discover wild edible plants
Explore the relationships between humans, plants, and animals in our ecosystem
Meet the Goats and Chickens of Adamah Farm
Learn how chickens help us compost and improve the soil
Pet the goats and make cheese from their milk
Explore the Farm
Make your own Havdallah spice bundles from herbs on the farm
Enter into a food forest and taste the fruits
Learn how we can cultivate a deeper connection to the land and ourselves through organic farming
Yoga
Stretch up to Shamaim in our kid-centered Jewish yoga classes
Arts and Crafts
We create art inspired by the retreat we are on
Acorn top menorahs and gourd dreidels for Hanukkah
Paint a mural on the kids' sukkah
Weave your own challah cover
Make your own beeswax Shabbat and Chag Candles
Kids' Shabbat Prayers and Jewish Ritual
Families are welcome and encouraged to participate in our Friday night and Saturday morning kids' tefilah (prayer) services
Prayer through song and movement
Interpretive Torah service where kids have the opportunity to act out the Torah portion
Educators
Camp Teva Educators bring experience from across the Jewish education field. Each retreat is staffed by educators from Teva's Outdoor Education program, fellows participating in Adamah's Farming Fellowship, counselors and staff from Jewish camps around the country, artists, and Hebrew school teachers. At Camp Teva, you and your kids are likely to meet some of the following awesome educators.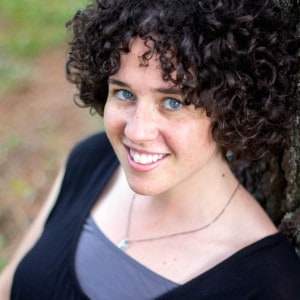 Arielle Aronoff
, as Director of Teva, brings her background of outdoor education and interest in food and nutrition to the Camp Teva program. An alumnus of the Teva Shomrei Adamah program, she loves to show kids of all ages the wonders of our natural world.
Robert Greenberg
worked as an assistant teacher in 4th grade and preschool classrooms for the past two years. He loves bringing experiential education into the classroom, especially surrounding Jewish ritual. Robert participated in the fall 2016 Adamah Fellowship.
Joshua Hooper
is a Jewish leader, educator, and artist. The essence of his work centers around activism – to inspire, promote, and reinforce social change within Jewish communities and beyond. Earth-based Judaism is at the core of his activism and work with others in facilitating spaces that exemplify sustainable living. Joshua spent his undergraduate years at the University of Colorado, Boulder, and Tel Aviv facilitating Jewish life on campus and running programs around Israel advocacy. Currently, he is finishing up his MA in Jewish Education and Nonprofit Managment at the Jewish Theological Seminary.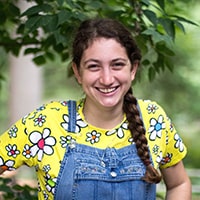 Frances Lasday
is thrilled to be spending her time nerding out over curriculum development and referring to the vast library of books in the Teva office. Frances came to Hazon to live and work on the Topsy Turvy Bus which she did for two summers before settling at Isabella Freedman to work for Teva in the Fall of 2016. Frances graduated from the University of Vermont in May 2016, with a major in Environmental Studies, a minor in Food Systems and a thesis on the possibility of local kosher meat in the state of Vermont. In her free time she enjoys reading, starting knitting projects, general silliness, and getting dirty. 
Laura Evonne Steinman
is a community artist, educator, and activist who comes from a multi-faith family. She is the Director of Religious Education at Arlington Street, a Unitarian Universalist (UU) Congregation in Boston, MA. The program she directs has a focus on art, social justice, and ritual in a spiritual setting. Laura Evonne facilitates art and education workshops for folks of all ages, focusing on her passions: the natural world and recycled materials. She lives in the Merrimack Valley, North of Boston with a bunch of animals, a little farm stand and a little free library. Laura Evonne is also the designer of the "Occupy Your Heart" sticker, which comes with the question: "What Fills Your Heart?" More information can be found at handinhandarts.com.
Elizabeth Yaari
is an artist and co-founder of Explora-Torah with Peter Pitzele. For the past 11 years, Elizabeth has gently guided children of all ages and abilities to personally interpret biblical stories using Bibliodrama, nature connection, and the arts. Elizabeth loves returning every few weeks to facilitate workshops at Isabella Freedman.
Caleb Zedek
is a Teva Educator. He prefers to be barefoot, singing with friends over anything else. He loves to share in children's Radical Amazement of the world.
Sample Schedule
The following schedule is from the Hazon Food Conference. Schedules will vary according to retreat.
Thursday
| | |
| --- | --- |
| 2:30 - 4:30 pm | Kids' Zone at the JOFEE Fair We will be doing a lot of cooking during the Kids' Food Conference. Come to the Kids' Zone to paint your own apron with vegetable stamps! |
| 4:45 - 5:00 pm | Kids' Food Conference Orientation (Mandatory for Parents/ Guardians) Responsible adults of children ages 5-12 must attend this brief orientation of the Kids' Food Conference. We will discuss the program schedule, participation, safety, and answer any questions you may have. |
| 5:00 - 6:00 pm | We Are What We Eat Building strong bodies and minds starts with what we feed them. Learn how to make those choices in a dynamic, fun-filled nutrition fair. We will taste the rainbow, read the labels, and get into the Kids' Food Conference flow! |
Friday
| | |
| --- | --- |
| 9:00 - 10:00 am | GOURDgeous Dreidels and Nutty Menorahs Miriam and Mark from Full Circle Farm Let's use natural found objects to create our Jewish ritual items. Farms don't only grow food for us to eat. All sorts of useful objects come from the fields, like DREIDELS! We will go out into the forest to collect acorn tops and branches for our menorahs. |
| 10:00 - 11:00 am | Lively Latke Learnings Nancy Wolfson-Moche Learn about the history of latkes in the Hanukkah story and how to get creative in your latke recipes. This workshop will prepare you for The Great Latke Challenge and give you a leading edge against your competitors. We will be making latkes and eating them too! |
| 11:00 am - 12:00 pm | Food Photography Elsie Moche Hone your photography skills and dig deeper into the Food Conference. There are plenty of sessions to photograph and write about for the blog. |
| 1:00 - 2:00 pm | The Great Latke Challenge Have you ever wanted to be on the Iron Chef? Can you create the most unique, silliest, biggest, or smallest latke? Show off your skills at the Great Latke Challenge! |
| 2:00 - 3:30 pm | Sun, Soil, Water, Air. Everything We Eat and Everything We Wear! We will adventure to the farm to see what is growing in December, meet the chickens, and collect compost for seed balls that you can take home and plant in the spring. |
| 4:45 - 6:30 pm | Welcoming Shabbat Shoshana Leis Shoshana Leis from Romemu will lead a fun-filled Kabbalat Shabbat service of song and prayer. |
| 8:30 - 9:45 PM | Night Hike Experience a winter night as the owls do. Leave your flashlights at home and walk with an experienced guide around the lake trail. |
| 8:30 - 9:45 PM | Games Games Galore Come hang out with us for an evening of fun-filled games. Charades, Apples to Apples, Jenga, Settlers of Catan. We've got it all! |
Saturday
| | |
| --- | --- |
| 9:00 - 10:00 am | Shabbat Shalom Shoshana Leis Creative Shabbat morning prayers. |
| 10:00 - 11:30 am | Good Morning Sunshine! Stretch out and dance! Kid-led yoga and dance. |
| 10:00 - 11:30am | Cave Exploration Hike up to the mountain caves and explore the forest. |
| 11:30 am - 12:00 pm | Kiddush We will join our families and friends in the Great Hall to make Kiddush. |
| 12:00 - 1:15 pm | Theater 101 Laura Evonne It's time to bring our veggie pillows to life! Whether you like to write, act, direct, sing, narrate, or anything in between, there is room for you in our play. |
| 3:00 - 4:00 pm | Hike to the Overlook We will hike up the Red Trail to the famous Overlook. Learn about the forest and play forest games on the way. |
| 3:00 - 4:00 pm | Goats and Games Meet our goats, feed them some hay, and then let's play indoor games in Arts and Crafts. |
| 4:00 - 5:00 pm | Play with Your Food Create beauty using food. We will make vegetable critters and mandalas and then eat our creations. |
| 5:00 - 5:45 pm | Pickle Jam! Visit the Cultural Center where we make our ferments, jams, and store the Adamah veggies. You will get the chance to taste our many treats. |
Sunday
| | |
| --- | --- |
| 9:00 - 10:30 am | Cooking For a Blessing Nancy Wolfson-Moche Food not only nourishes our bodies, it also nourishes our hearts. We will bake delicious treats to share with seniors living at Geer Village Senior Center, just down the road in Canaan, CT. |
| 10:30 - 11:30 am | Create a Cookbook Laura Evonne We will put all of the recipes and learning we have done throughout the conference into a hand-bound book. You design the cover and binding! |
| 11:30 am - 12:00 pm | Cleanup and Closing Circle Thank you for joining us at the Kids' Food Conference! |
Testimonials
Camp Teva offered our two children the opportunity to enjoy their own programming with attentive and warm staff and a variety of games and activities, appealing to all five senses. Parents were always welcome, and we were confident knowing they were in good hands at all times, and our kids would return eager to share details of their day.
Camp Teva opened my 8 year old daughter's world to the wonderment of the outdoors. We are avid hikers, yet the Camp Teva counselors are intuitive to the talents and curiosities of each individual child. Tailoring their daily experiences as a group, and exploring the natural world with music, silliness, crafts, and and outdoor adventure. Every day my daughter came to me at meals telling me how amazing her day had been so far. It gave me great comfort so that I could focus on my journey at Isabella Freedman knowing Camp Teva had my daughter wrapped in fun!
I loved hiking and visiting the farm animals. I met new friends I'm still in touch with. My camp counselors were so much fun. I can't wait to come back!
My children learn so much, absorb so much love, and have the time of their lives.