Teva offers accessible curricula to enhance your events as a way to engage participants of all ages in Jewish earth-based activities. These activities range from hour-long programs to short activities depending on the needs of your learning environment. Click on any of the titles or images below to view and download a step-by-step guide to running these activities.

Teva In a Box brings participants to the intersection of Judaism and sustainability for a small taste of Hazon's experiential education curriculum. These activities can be run from twenty minutes to over an hour, depending on the age of the students and the depth of content you'd like to include.


Teva Tabling provides quick and easy hands-on interactions with Jewishly rich content from Hazon's outdoor, food, farming, and environmental education portfolio. Tabling activities can be done in as short as a few minutes or can be incorporated into a longer program.

Teva Tunes offers the best of Teva's songs and ruach. These songs incorporate themes of Jewish liturgy and sustainable living with catchy tunes and melodies to enliven any prayer service or event.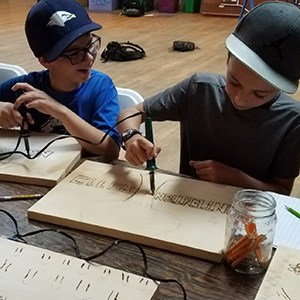 In Betzalel's Workshop, we hope to engage the creative and spiritual passions of those who participate in Jewish crafting. By creating and working with ritual objects from local, organic, ethically sourced, and recycled materials, participants will learn both the centrality of environmental responsibility to Jewish life, as well as a sense of ownership and pride over their participation in Jewish ritual. We feel that, by creating the basic object of a ritual, with all its flaws, character, and uniqueness, children are drawn closer to ritual. By creating an alternative to mass-produced, store-bought Judaica, we create an avenue towards creative, participatory Judaism.