Hazon creates healthier and more sustainable communities in the Jewish world and beyond. We were founded in 2000 and one important part of our continued growth is to deepen our working relationship with rabbis. We value the work you do as a rabbi and leader within the Jewish community. We want you to know that we're here to help and support your community. We also hope you will help us expand our unique programming and learning opportunities that are reshaping modern Jewish communities.
Newsletter
It is our hope that the Hazon newsletter for rabbis and spiritual leaders activates or continues your own sustainability journey and provides a resource for you and your community as we respond to the needs of our generation.
Webinars

Hazon offers webinars for rabbis and spiritual leaders.
High Holiday Sermon Swap and Learning Webinar w/ Dr. Richard Schwartz​ (Watch the recording here.)
A Passover That Is Free for All: Worker, Animal, & Climate Justice with Shamayim (watch the recording here);
The Ecological Roots of Passover: The Promise of the Land Haggadah with Rabbi Ellen Bernstein on her new Haggadah (watch the recording here)
"Be Strong and Courageous" – Facing the Challenges of Pastoral Care in a Time of Social Distancing (watch recording here), from The Interfaith Center
Sermons from the Hazon Clergy Community
Please take a look at sermons and resources from clergy in our Hazon community:
Hazon and We Are the Weather
We Are the Weather: Saving the Planet Begins at Breakfast by Jonathan Safran Foer
We are reaching a tipping point of sorts – not only in terms of extreme weather events – but also in relation to people's consciousness of them. A growing number of people in the Jewish community – and Hazon as an organization – feel strongly that we ought to be "doing something" about this. Hazon is here to catalyze and support Jewish institutions and Jewish leaders, as Jewish tradition compels us to respond to this crisis.
We are encouraging the Jewish people to start to change how we eat, and we're also encouraging Jewish institutions to join the Hazon Seal of Sustainability, to commit to future change, and as part of that to develop a food policy for the institution and not just a kashrut policy, narrowly construed. Learn more on our Environmental Teshuva page. 
Want a copy of this book? It is a superb, readable, and very Jewish explication of how and why and in what ways our food choices matter. We would be happy to send a copy to members of the Rabbinical Council, including new members, just contact becky@hazon.org. And download a free copy of Hazon's We Are the Weather Discussion Guide for Jewish Communities here.
Check out Rabbinical Advisory Board Member Rabbi Mark Cohn's Discussion Guide to We Are The Weather here.
Educational Resources
Hazon has published a series of curricula and other educational resources. Among them are two sourcebooks, both containing large numbers of texts – Jewish and not, traditional and contemporary.
Food For Thought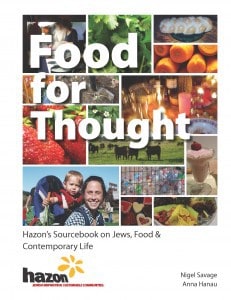 Written by Nigel Savage and Anna Hanau, Food for Thought is designed to encourage participants to think critically about the food that they eat and the ways their food choices affect the health of their community and the planet. Food for Thought is is a 130-page sourcebook that draws on a range of texts from within and beyond Jewish traditions to explore a range of topics relating to Jews and food.
Food For Thought includes traditional Jewish texts, in Hebrew and English, and a range of contemporary Jewish and non-Jewish texts.  It is designed to be accessible to people with little Jewish background as well as rigorous and challenging for someone with more extensive Jewish learning.
Hazon Shmita Sourcebook
Written and compiled by former Shmita Project Manager Yigal Deutscher, with the support of Anna Hanau and Nigel Savage, The Shmita Sourcebook is designed to encourage participants to think critically about the Shmita Cycle – its values, challenges, and opportunities – and how this tradition might be applied in a modern context to support building healthier and more sustainable Jewish communities today.
The Shmita Sourcebook is a 120-page sourcebook that draws on a range of texts from within Jewish tradition and time, tracing the development and evolution of Shmita from biblical, historical, rabbinic, and contemporary perspectives.
Hazon Seal of Sustainability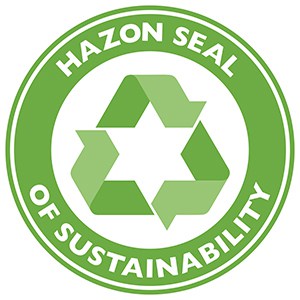 The Hazon Seal of Sustainability provides guidance and support to advance sustainability-related education, action, and advocacy in the Jewish community. Participating institutions receive:
A roadmap to healthier food, less waste, meaningful JOFEE education, a lower carbon footprint, and more
A network of Jewish and other faith-based organizations committed to sustainability, learning with and from one another
An annual certification to celebrate success and highlighting the progress of leaders in the field of sustainability
Hazon Bike Rides
Each year Hazon organizes Jewish environmental bike rides in New York and Israel, with opportunities for rabbis to participate as riders or support riding members of their communities.