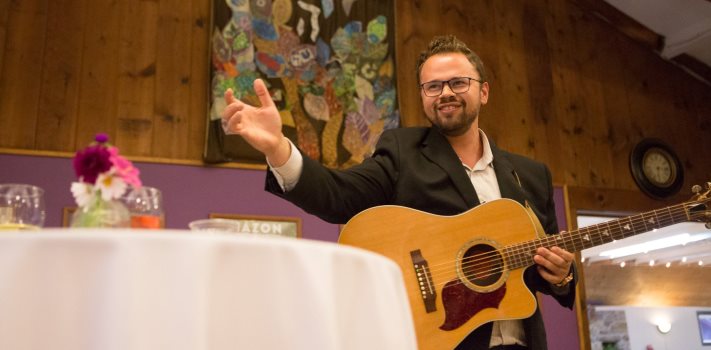 Thank you for visiting Hazon's page specifically for rabbis and spiritual leaders!
For the last 20 years Hazon has been guiding leaders and institutions to think more critically about their food choices and their impact on the environment.
Hazon develops, networks, and provides resources for those growing into leadership – people changing existing institutions or building new organizations and communities that live the values we cherish and the world needs. These individuals become part of a powerful movement of like-minded people within and outside the Jewish community who take responsibility for fixing what has gone awry in our relationship to the world and for designing a more sustainable future for all.
As the the Jewish Lab for Sustainability, Hazon's work has never been more relevant.
We're in a global environmental crisis.
Jewish tradition compels us to respond.
Hazon is building a movement of rabbis and spiritual leaders
that strengthen Jewish life & contribute to a more
environmentally sustainable world for all.
Become a Member of the Rabbinical Council Today!
Caring for the welfare of our planet, for our children and childrens children's sake is a Jewish value.
The choices we make as individuals and a community in offsetting our carbon footprint, is a Jewish value.
Acknowledging the need for planetary teshuva while certain species are extinct of nearing extinction is a Jewish value. And in reality, unless clergy call it that, how might the legacy of this generation look to our descendants? The time to act is now.
We look to you to help raise the banner of change as it relates to our food choices, our energy choices, our purchasing choices, we will provide the resources for you to be an ambassador of this work, and we will look to you as a resource to us in perpetuating and scaling the mission of Hazon
More than ever, we look to you as the spiritual gate-keepers of our generation, to join our movement, become a member of the Rabbinical Council, consider how you might engage in this discussion, we need you;.
If you'd like to schedule a time to connect, or if you'd like to be in touch about anything relating to the work of Hazon and our work with rabbis and spiritual leaders, please do not hesitate in reaching out
With much love and respect,
Isaiah Rothstein
rabbi-in-residence
Hazon