As the the Jewish Lab for Sustainability, Hazon's work has never been more relevant. We're in a global environmental crisis. Jewish tradition compels us to respond. Hazon is building a movement of rabbis and spiritual leaders that strengthen Jewish life & contribute to a more environmentally sustainable world for all. The Hazon Rabbinical Council is a mutually beneficial and supportive avenue for Hazon to help catalyze a broad spectrum of religious leaders to use Hazon as a portal for education and action, helping them be stronger leaders in creating a healthy and sustainable community in the Jewish world and beyond. Join our community!
Rabbinical Council Members
Co-chaired by Rabbi Mark Soloway and Rabbi Josh Ratner
Trail Blazers: $1000 a year or more:
Rabbi Angela Buchdahl, Central Synagogue, New York, NY
Rabbi Neil Blumofe, Congregation Agudas Achim, Austin, Texas
Rabbi Marc Cohn, Temple Emmanuel, Winston-Salem, NC
Rabbi Fred Margulies, Pushing the Envelope Farm, Geneva, IL
Rabbi Elizabeth Miller, Larchmont Temple, Larchmont, NY
Rabbi Anat Moskowitz, Congregation Bnai Torah, West Minster, NY

Rabbi Jay Moses, Wexner Foundation, Columbus, OH

Rabbi Joshua Ratner, JLENS, Woodbridge, CT
Rabbi Keith Stern, Temple Beth Avodah, Newton Centre, MA

Rabbi Marc Soloway, Congregation Bonai Shalom, Boulder, CO 

Rabbi Nahum Twersky, New York City, NY
Bridge Builders: $360 a year or more:
Rabbi Noah Arnow, Kol Rinah, St. Louis, MO
Rabbi Phyllis Berman, ALEPH, Philadelphia, PA
Rabbi Lester Bronstein, Bet Am Shalom Synagogue, White Plains, NY
Rabbi Sam Feinsmith, Institute for Jewish Spirituality, Chicago, IL
Kohenet Paula Freedman, Brooklyn, NY
Rabbi Garth Silberstein, Kenesset Israel Torah Center, Sacramento, CA
Rabbi Brian Immerman, Congregation Mishkan Israel, Hamden, CT
Rabbi David Ingber, Romemu, New York, NY
Rabbi Gloria Rubin, Oakland, NJ
Rabbi Sid Schwarz, Kenissa, CLI and Hazon, Rockville, MD
Rabbi Burton Visotksy, Jewish Theological Seminary, New York, NY
Lamp Lighters: $180 a year or more:
Rabbi Katy Allen, Jewish Climate Action Network, Wayland, MA

Rabbi Elliot Baskin, Congregation Har Shalom, Greenwood, CO

Rabbi Birdie Becker, Temple Emanuel-Pueblo, Pueblo, CO
Rabbi Julianne Benioff, Mishkan Shalom, Ashland, OR
Rabbi Tiferet Berenbaum, Temple Har Zion, Mt. Holly, NJ

Rabbi Deborah Bronstein, Congregation Har HaShem, Boulder, CO

Rabbi Professor Jonathan Brumberg-Kraus, Wheaton College, Norton, MA
Rabbi Yael Beuchler, Solomon Schechter, Westchester, NY
Rabbi Hanania Cohen, Frum Farm, Denver, CO
Kohenet Shamira Chandler, Romemu, Brooklyn, NY
Rabbi Robin Damsky, Inthegardens.org, Durham, NC
Rabbi Nate De'Groot, Hazon, Detroit, IL
Rabbi Bruce Elder, Hakafa, Glencoe, IL
Rabbi Jonah Geffen, Sharei Tzedek New York, NY
Rabbi Ilan Glazer, Torah of Life, Silver Spring, MD
Rabbi Fred Greene, Congregation Har HaShem, Boulder, CO
Rabbi Jill Hammer, Kohenet, New York, NY
Rabbi Hazzan Rachel Hersh, Adat Shalom, Bethesda, MD
Rabbi Lauren Herrmann, The SAJ Synagogue, Philadelphia, PA
Rabbi Evan Krame, The Jewish Studio, Rockville, MD\
Rabbi Claudia Kreiman, Temple Beth Zion, Brookline, MA
Rabbi Aharon Ariel-Lavi, Hazon, Tshuvah, Israel
Rabbi Radall Mark, Shomrei Torah, Wayne, NJ
Cantor Bat-Ami Moses, Columbus, OH
Rabbi Micah Peltz, Temple Beth Shalom, Cherry Hill, NJ
Rabbi Aaron Philmus, Temple Torat Yisroel, Rhode Island, NY
Kohenet Jessica (Yapeth Perla) Rubin, Roots and Trails, Essex Junction, VT
Rabbi Isaiah J. Rothstein, Hazon, Brooklyn, NY
Rabbi Richard Rudnick, Jewish Health Care Center, Worcester, MA
Rabbi Jan Salzman, Ruach haMaqom, Burlington, VT
Rabbi Daniel Sayani, Brooklyn, NY
Rabbi Hugh Seid-Valencia, JCC Los Gatos, Los Gatos, CA
Rabbi Jeremy Sher, OrganicTorah.org, Oakland, CA

Rabbi Jacob Siegel, JLENS, Eugene, OR

Hannah Spiro, Hill Havura, Washington, DC
Rabbi Sarah Tasman, Tasman Center for Jewish Creativity, Washington, DC
Rabbi Becca Walker, MSU Hillel, East Lansing, MI
Rabbi Daria Jacobs-Velde, Oseh Shalom, Laurel, MD
Rabbi Joshua Jacobs-Velde, Oseh Shalom, Laurel, MD
Rabbi Ezra Weinberg, Washington Heights YMCA, New York, NY
Rabbi Gabi Weinberg, The Tikvah Fund, New York, NY
Rabbi Jay Weinstein, Congregation Simchat HaLev,  Syosset, NY
Rabbi Elchanan Weinbach, Congregation Shaarey Israel, Suffern, NY
Rabbi Paula Winnig, Jewish Community Center, Indianapolis, IN
Rabbi Sara Zacharia, Queens College Hillel, New York, NY
Rabbi Lina Zirbarini, Kehillat Shalom Synagogue, Cold Spring Harbor, NY
Benefits of Rabbinical Council membership:
Public recognition on the Hazon website where you will be listed as part of the Rabbinical Council.

Receive the Hazon Rabbinical Council monthly newsletter

10% off three retreats of your choice up at the home of Hazon, Isabella Freedman Jewish Retreat Center, and 15% off all Hazon bookstore purchases.

Invitation to exclusive, quarterly webinars led by thought leaders in the field of environmental sustainability and climate justice.

One free print copy of a Hazon publication of your choice.

Hazon can promote your Jewish outdoor, food and environmental events online. Send us links to your programs and we'll share them with our communities. Let's collaborate!

Opportunities to teach at Hazon bike-rides, retreats, and conferences.

Become instantly eligible to become a member of Hazon Seal of Sustainability, for your synagogue or institution, and gain access to community micro-grants, and access to discounts on sustainable product purchasing for your synagogue/institution.

One-on-one mentoring and support for your sustainability ideas and goals
A Note from Rabbi Marc Soloway, Co-chair of Hazon's Rabbinical Council
I feel proud to be the chair of Hazon's reignited Rabbinical Council and not because of some grandiose notion of what I can give to Hazon, but rather for the enormous potential that comes from genuine partnership, or brit. I feel that I've both given to Hazon, and gained from it, and in chairing the Rabbinical Council, I hope to help to extend that give-and-take to a growing number of rabbis.
There is no doubt that Hazon has played a substantial role in helping me refine my rabbinate and enliven the mission of my shul. As a congregational rabbi in a relatively small community, in a region that deeply cares about issues of sustainability and the environment, Hazon's excellent programming and thought-leadership have helped me become a better rabbi, and they've helped my shul become a better shul. We have a clearer vision. Our zero-waste Kiddush program, our very successful CSA going into its 6th season, and (somewhat remarkably) our more recent involvement with Jewish chicken and goat co-ops have all grown directly or indirectly from our relationship with Hazon. Each spring, our goats have very cute kids and I have learned how to milk their mothers! In our initial training, there were three rabbis, ordained Orthodox, Conservative and Reform, men and women, who did not know the difference between an udder and a teat, now proudly owning our metal milking pails.
Something big is happening in the Jewish world and the so-called Jewish Outdoor Food and Environmental (JOFEE) movement is at its heart. I am not suggesting that everything that happens in the Jewish community connected to food or sustainability only comes from Hazon, but rather that there are some very powerful possibilities through partnership. It is unclear what the future roles of the denominations in Judaism will bring, but very clear that pan-denominational alliances between rabbis and congregations, united by a shared value of creating a more sustainable Jewish world and world for all, is a big part of the future.
My observations about the possibilities for engagement have been wonderfully surprising. For some in our community on the periphery of involvement, our work around food and sustainability has ignited a spark inside them and brought them much more into the center of synagogue life through volunteering and participating. I experienced a similar phenomenon on the two Israel Rides I did with Hazon. Many people who literally "come along for the ride" end up engaging in Israel in a radically new way through the encounters with environmental activists and especially the inspiring presence of alumni of the Arava Institute, who model with passion the merging worlds of grassroots peace-building and commitment to creating a more sustainable Middle East. Just one more example of a partnership that creates deep connections with real issues at the heart of it all.
So, the question is not "what can Hazon do for me?" Nor even, "what can I do for Hazon?" but rather "what can we do for each other? How can we become partners?" Will you join me as a "Riding Rabbi" on a Hazon environmental bike ride this year – you can have a great time, and use it to raise issues and enthusiasm in your community? Would you like to think about launching a CSA in your community, or getting the Hazon Seal of Sustainability certification, or deepening your understanding of shmita – or the Farm Bill? If you are not yet on the Rabbinical Council, join us in this extraordinary journey of hope, growth and transformation.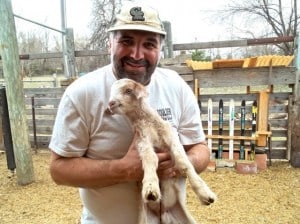 Rabbi Marc Soloway has served as the rabbi of Congregation Bonai Shalom in Boulder, Colorado since 2004. He has always loved food, perhaps a little too much, and in recent years has thought more deeply about where this food comes from, how it is produced and how all of that fits with deep Jewish obligations and values. Marc has ridden twice in the Hazon-Arava Institute Israel Ride in 2008 and 2010. Marc co-chaired two Hazon Food Conferences on the west coast in 2010 and 2011, he is on the Hazon Steering Team in Colorado as well as the Jewish Life team for the Rocky Mountain Jewish Food Summit in April 2012. Marc was instrumental in bringing Boulder's first Jewish CSA through Hazon, which is now a collaboration of five synagogues and the JCC with two weekly drop-off sites. Marc is also a proud member of a Jewish goat and chicken co-op across the street from his synagogue. Marc was very active with the Limmud Conference in the UK, serving as co-chair in 1996 and 1997 and he was a founding board member of Limmud Colorado in 2008, which has informed his work with Hazon. He was in Ghana as part of the second AJWS Rabbinic Delegation, volunteering with a grantee in the south, as well as a fellow of the Rabbis without Borders program with CLAL. Marc is also a graduate of the 5th Rabbinic Cohort of the Institute of Jewish Spirituality. Before becoming a rabbi, Marc was an actor, storyteller and massage therapist in his native London and currently is the narrator of a documentary film about the Baal Shem Tov.
Boulder, CO
Rabbi Ratner oversees JLens advocacy in the corporate and investment arena on social, environmental, and Israel-related concerns. He previously served as the director of the Jewish Community Relations Council in Connecticut, the Associate Rabbi at Yale University, and the Rabbi at Congregation Kol Ami in Cheshire, CT, from 2012-2014. Ordained by the Jewish Theological Seminary in May 2012, he was a Joseph Neubauer Fellow and also earned a Master's Degree in Midrash and a Certificate in Pastoral Care. During rabbinical school, Josh worked as a Public Policy Fellow for the Rabbinical Assembly and as a Rabbinic Fellow for the Jewish Council for Public Affairs. He also received training in congregation-based community organizing, traveled to Mexico as part of an American Jewish World Service Rabbinical School Delegation, and was part of the original rabbinical student cohort of CLAL's Rabbis Without Borders fellowship program. Josh was an attorney for five years prior to entering rabbinical school. Rabbi Ratner believes that Judaism offers unique language and wisdom for addressing environmental stewardship and food justice. He has been inspired by Hazon's successes, particularly with its food conferences, CSAs, and Shmita consciousness-raising, and looks forward to helping Hazon continue to play a leading role in articulating a compelling vision for Jewish sustainability and immersive experience. Josh is married to Dr. Elena Ratner and they are the proud parents of Dimitri, Eli, Gabby and Sasha.
New Haven, CT