May Is Bike Month
Start Riding Today!
May is National Bike Month, a time to appreciate all that is wonderful about bicycles and the many reasons to ride them. Whether you're a seasoned cyclist, or it's your first time in many years, now is the perfect time to start riding. There are no special skills required beyond the knowledge of a few hand signals. You don't even need a separate wardrobe; just a bike. It's not only the most environmentally-conscious way to travel, but it's often the most convenient way to get around, and it is enormously satisfying to know that you've traveled somewhere using your own two legs. Cycling gives you a deeper appreciation of your surroundings; you'll see the world around you with new eyes from the seat of your bike. Many who commute by bike will say it's the best way to start the day.
And did we mention it's just plain fun?
---
It's Like Riding a Bike
What's so Jewish about cycling?
By Jake Wilkenfeld-Mongillo, Communications Manager, Hazon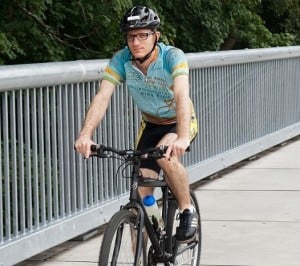 When did bike-riding as an adult become a "thing?" One moment I was riding around the suburban Connecticut neighborhood where I grew up, the next moment I was old enough to drive, and my bike was rust. Now that I'm in my late 20s, it's a "thing." I don't necessarily mean a thing as in a trend (though it's clearly trendy in some spheres). I had to get a bike, a helmet, get a lock—because how is it ever going to fit in my tiny Brooklyn apartment—and learn to ride in traffic—to work! Let's not forget that I was not even a particularly athletic kid to start. Energy and endurance are at a premium now.
And what's so Jewish about biking?
Continue Reading "It's Like Riding a Bike…"
[line]
Congratulations to Our California Riders!
3rd Annual Hazon California Ride and Retreat is This Weekend
We wish all of the participants on the 2012 Hazon California Ride and Retreat a good ride and congratulations on their fundraising!
Join us at the Finish Line!
You're invited to our closing ceremonies from 2 PM to 3 PM on Sunday, May 13th at the Jewish Community High School of the Bay (1835 Ellis Street, San Francisco, CA) to join with us in celebrating a successful weekend and in honoring our community's accomplishments!
[blue_message]
Support a Rider | Make a General Donation
---
Healthy Sustainable Shavuot Menu
Ahhhh…Shavuot. The Jewish holiday that commemorates when Jews received the Torah on Mt. Sinai. The holiday that celebrates the first fruits of the season. And the (only?) Jewish holiday where vegetarians don't feel marginalized by a table crammed with meat-heavy dishes.
See Our Collection of Shavuot Recipes
---
Hazon Hosts Wilderness First Aid Class
May 31, 2012, 8 AM – 5 PM
BJE (Bureau of Jewish Education), 639 14th Ave., San Francisco, CA
June 1, 2012, 8 AM – 5 PM
Congregation Beth El, 1301 Oxford St., Berkeley, CA
Wilderness First Aid (WFA) is the specific discipline of first aid which relates to care in remote areas, where emergency medical services will be difficult to obtain or will take a long time to arrive. Hazon is partnering with Foster Calm to offer a WFA class with lots of hands-on skills practice.
Additional Reading: Pikkuah Nefesh in the Wilderness – Saving a Life
---
Isabella Freedman Jewish Retreat Center's
"If Not Now Society" Induction
Please join Hazon at Isabella Freedman Jewish Retreat Center for their inaugural "If Not Now Society" Induction.
Wednesday, May 30, 2012
6:00 PM – 9:00 PM
Central Synagogue
123 East 55th Street, New York, NY
The "If Not Now Society" will serve as a salute to visionary leaders who have made a tremendous impact on Isabella Freedman and the world.
More Information and Registration
---
Inside the Activists' Studio 2012
Finding Your Voice in a Global Movement
Join us to learn from and be energized by local Jewish change-makers and to celebrate the multitude of ways we are working to create a more just world.
May 20th, 3 – 8 PM
The Elisabeth Irwin High School
40 Charlton Street, Greenwich Village, New York, NY
$8-18, sliding scale.
Inside the Activists' Studio 2012 will help us explore the parameters of a global movement and find our place as Jewish social justice activists within it. Learn tools to help reflect on what's most important to you, amplify your voice, and participate in a meaningful way in the global effort towards a more just world.
More Information and Registration
---
Shavuot on the Mountain with Wilderness Torah
May 25-28, 2012
Join Wilderness Torah on Memorial Day weekend for a Shabbat and Shavuot camping festival in Anthony Chabot Regional Park in Oakland. Celebrate, learn, and connect with the natural world and community.
2, 3, and 4-day options available.
More Information and Registration
---
Celebrate Rainbow Day and Shabbat Shmitah!
Remember the rainbow covenant on Shabbat Behar
You can find Torah, prayers, and liturgies, lesson plans about seed-saving, learning from Hoshea and Ezekiel, Kabbalahn and midrash, and project ideas—39 in all—that you can use to celebrate Rainbow Day (May 18-19, 2012) and to remember the first covenant of the Torah, God's covenant with the land and with all creation, this week and every week. This year Rainbow Day falls on Shabbat Behar, when we read about the Sabbatical (Shmitah) year covenant with the land, perhaps the most visionary part of the Sinai covenant.